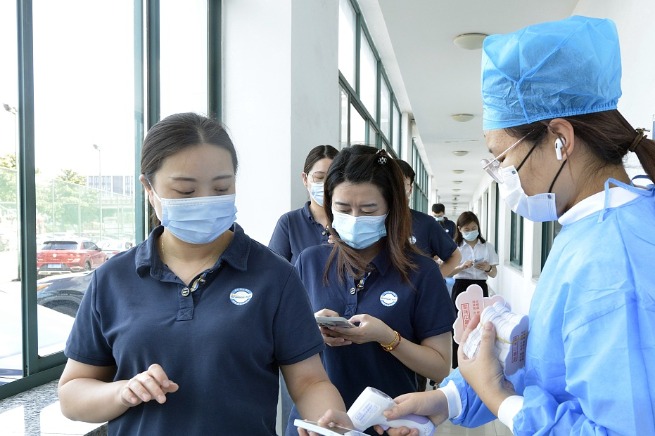 Workers line up to take nucleic acid test at a company in Wuxi, Jiangsu province, July 1, 2022. [Photo/chinanews.com]
Suzhou of Anhui province and Wuxi of Jiangsu province have implemented effective measures to control the spread of COVID-19 after more than 100 infections were reported on Friday.
Anhui reported nine local confirmed cases of COVID-19 and 98 asymptomatic carriers on Thursday, with Sixian county in Suzhou registering the most infections, including the nine confirmed cases and 95 asymptomatic carriers, the provincial health commission said on Friday.
Now Suzhou has 40 areas classified as high-risk and eight as medium-risk. Sixian county has implemented mass nucleic acid testing and restrictive measures in all the residential communities and villages to contain the spread of the virus.
As of Thursday, Anhui has 135 asymptomatic carriers under observation in designated hospitals.
The current outbreak emerged on Sunday when three cases were detected in Sixian county during regular nucleic acid testing for groups of people at high risk of infection.
The current infection has spread to some neighboring cities, such as Hefei in Anhui, and Nanjing, Wuxi and Huai"an in Jiangsu.
Jiangsu provincial capital Nanjing reported one confirmed case and one asymptomatic case among people who had been quarantined as close contacts of the infected from Sixian, according to the Nanjing Health Commission.
Wuxi reported 10 positive infections on Friday morning. It has sent all the infected cases to designated hospitals while workers disinfect their homes, workplaces and some areas that they had visited.
Zhong Chao, who lives in Wuxi's Liangxi district, said that he was asked to go back home for quarantine on Thursday.
"Workers of the neighborhood committee delivered chicken wings, eggs, rice, vegetables and cooking oil," he said. "Medical workers provided door-to-door service to give me a PCR test around midnight.
"The residential building I live in has 49 floors," said Zhong. "I cannot imagine how exhausted those medical workers must be. Many people really have sacrificed a lot to contain the virus."
As of Friday morning, the city traced and put under quarantine more than 3,200 contacts of the infected cases. Of the 1,745 samples collected from their living environment, 58 turned out to be positive for COVID-19.
As of 2 am Friday, Wuxi had finished nucleic acid testing of 4.69 million people.