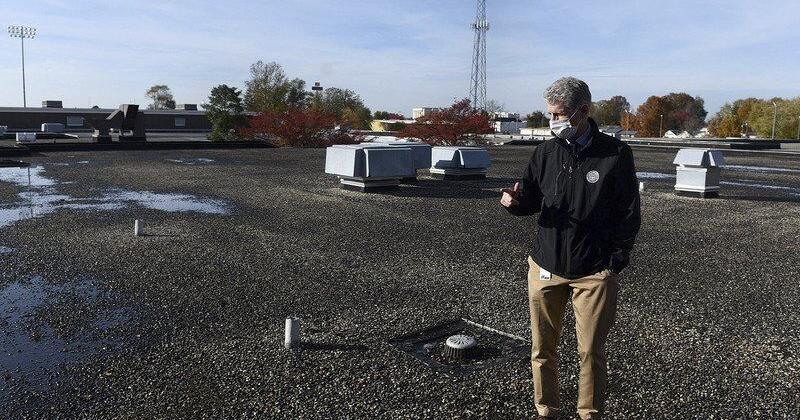 The year 2021 resulted in some major changes for the Vigo County School Corp., including the closing and repurposing of two elementary schools and a narrowing of high school facility construction/renovation options.
As the year ended, controversy arose over the proposed closing of a third elementary school, Meadows, with a "listening session" scheduled for Jan. 5. A board decision is expected at the Jan. 10 school board meeting.
The district continued to respond to the COVID-19 pandemic, which lead to controversy over universal masking as the 2021-22 school year began.
Those opposed to required masking spoke up at school board meetings and they conducted a protest in front of the VCSC administration building in August. Many believed masking should be a parent's decision, and some threatened to take their children out of VCSC schools if the policy didn't change.
As students prepare to return to school on Jan. 3 after the end-of-year holiday break, district and health officials are closely monitoring another COVID surge as the omicron variant rises nationwide.
The past year "has provided points of pride and memory-making moments, as well as challenging conversations and opportunities for growth," said Katelynn Liebermann, VCSC interim spokeswoman. "We look to 2022 as our next best year. Our focus continues to be to provide our youngest learners to our graduating seniors with a high quality educational experience."
Tribune-Star file/Joseph C. Garza Keep the three: Vigo County School Corporation Superintendent Rob Haworth shares the feedback he received from the public on the future of the three county high schools: keep all three. Haworth shared the corporation's proposed amended strategic plan during a news conference on Tuesday, Oct. 19 at the VCSC administration building in West Terre Haute.

JOSEPH C. GARZA

High schools
On Dec. 27, the district narrowed options for a high school project to two proposals calling for a combination of new construction of academic facilities and renovation of non-academic spaces; polling shows voters are unlikely to approve a referendum calling for three new high schools, said Rob Haworth, VCSC superintendent.
Haworth will present his final recommendation during a second hearing in mid-January, at which time the board will be asked to make a decision on whether to go forward with a project and referendum to be placed on the May ballot.
The school board will be making a decision with long-term consequences, Haworth has said. He described it as a "generational decision," one that benefits not only students and educators, but also the community's ability to attract and retain people and new business.
Option 1 would use a $160 million referendum for new academic spaces and $100 million through existing debt service and short term bonds for renovation projects of non-academic spaces over time.
But by using existing debt service, the high school renovations would take more time and might be in competition with other VCSC schools that need projects, Haworth said. "That is a longer march to get your high schools where you want them."
Option 2, which involves a $260 million referendum, calls for new academic spaces at all three high schools as well as renovated non-academic spaces. All three schools would be done at the same time.
Option 2 represents one cohesive project, Haworth said. It also "leaves us room to use (existing) debt service for other school projects as needed."
School closings, repurposing
The district closed two elementary schools, Deming and West Vigo, and repurposed them. Deming is now an early learning center, while West Vigo is the new home of the administration building, formerly located at 686 Wabash Ave.
The 2020 strategic plan called for the closing of a third elementary school, and an elementary consolidation committee has recommended closing/repurposing Meadows Elementary. The third school closure has brought more vocal opposition.
A protest took place Dec. 11 in downtown Terre Haute and a large group of parents, educators, students and more attended the Dec. 13 Vigo County School Board meeting, most in opposition to the closing. A petition also is circulating. Families and educators went door-to-door Dec. 22 to pass out flyers and place signs in several locations.
Meadows parents cite a lack of transparency in the process, and they've also asked for more information regarding net savings from last year's school closures and projected savings from the closure of Meadows.
The elementary closings are part of VCSC efforts to reduce operating costs and bring the number of schools in line with enrollment, which has been declining over many years.
In recommending Meadows, the consolidation committee took into account enrollment; age and condition of the building; and the ability to move students to neighboring schools "in a fashion that worked best for families," officials have said.
Meadows students would be redistricted to Davis Park, DeVaney, Franklin and Lost Creek elementary schools, with most going to Davis Park.
Improved teacher pay
The district also improved teacher pay, raising the minimum to $39,000 this year and $40,000 next year for beginning teachers. The agreement with the Vigo County Teachers Association brings back a salary schedule, or steps, with each step carrying a $1,000 pay increase.
The agreement provides most returning teachers a $4,000 boost in pay over two years, most of it on the salary base, but some of it a stipend in 2021-22 as teachers are placed on the new salary schedule.
Statewide, K-12 schools received a significant boost in state funding from the Legislature during the 2021 budget-writing session, with the expectation that teacher minimum pay would be raised to $40,000 a year for beginning teachers.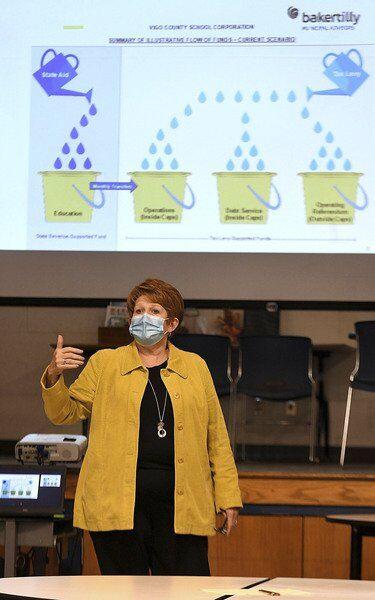 Tribune-Star file/Joseph C. GarzaHow the buckets work: Donna Wilson, chief financial officer of the Vigo County School Corp., explains school funding during the school corporation's meeting at Lost Creek Elementary on Nov. 4.

JOSEPH C. GARZA

ESSER funding
The Vigo County School Corp. has been awarded $47 million in federal COVID relief funds, with funds to-date spent on such areas as Chromebooks, COVID stipends for staff, virtual school costs and building improvements to address air quality.
Funds also have been used to address learning loss, including after-school remediation and tutoring as well as summer school. ESSER III requires that at least 20% be dedicated to learning loss.
Broken down, the district has been allocated $3.4 million through the CARES Act, which passed in 2020. This year, it learned it would receive $13.6 million from ESSER II and $30.5 million from ESSER III.
Much of the original CARES spending, when the pandemic first began, was used for Chromebooks and to address other immediate needs.
Broad overall uses for ESSER II and III include accelerated learning, supporting educators, sustainable innovation, updating technology and other infrastructure.
Other ESSER uses include providing mental health supports; projects to improve indoor air quality of schools; and facility improvements to reduce transmission and exposure to environmental health hazards.
ESSER funding also will be used for HVAC improvements. "If we are successful in the [proposed facility] referendum, those funds could be used at more schools across the district. If we are not, many of the funds would be devoted specifically to our high schools to address HVAC needs," Bill Riley, former VCSC spokesman, stated in October.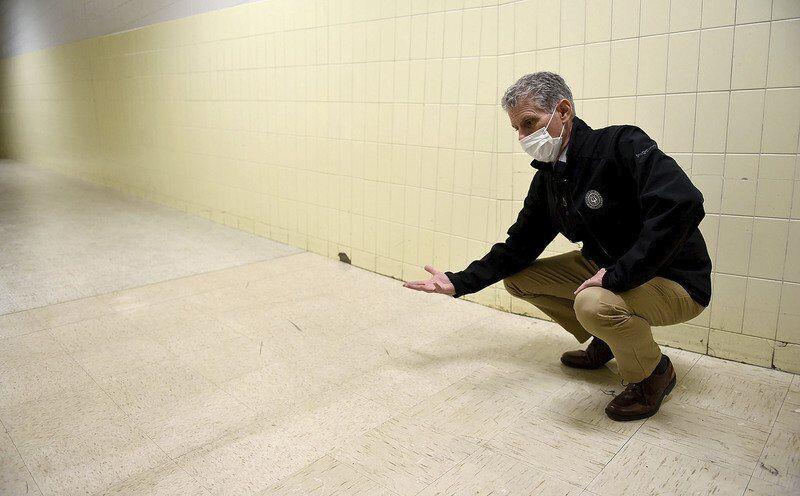 Tribune-Star file/Joseph C. Garza Old pipes, big problems: Vigo County School Corporation Superintendent Rob Haworth talks about the time a fire suppression supply line had failed and pushed water into a hallway of the band area at Terre Haute South during a tour of the facility on Tuesday, Nov. 16. A 15-foot hole had to be dug into the ground to reach the pipe and repair it.

JOSEPH C. GARZA

Updated strategic plan
As part of its updated strategic plan proposal, the Vigo County School Corp. wants students to graduate from high school with at least 30 hours of one of the following: dual college credit, industry credentials or career certifications that "add greater value" to a diploma, Haworth has said.
The goal is to have that in place for the Class of 2027, or this year's seventh graders. The Vigo County School Board has not yet acted on the updated strategic plan.
The 30 hours are important, according to Haworth, because "labor economists say that two-thirds of U.S. citizens need industry-recognized certifications, industry and business credentials or college degrees to thrive."
Other components of the updated plan include:
•A proposed new FITE [fabrication, innovation, technology and engineering] Center, a career-focused center serving students in collaboration with local labor, industry and higher education.
• An international residency program that would bring high school students from other countries to Vigo County schools.
• A statewide online school that would help the district increase enrollment and revenue. The district would use its own curriculum and teachers to deliver instruction online.
Details of the full strategic plan, titled "Uncommon," can be found at tinyurl.com/vcscuncommon.
Sue Loughlin can be reached at 812-231-4235 or at [email protected] Follow Sue on Twitter @TribStarSue.