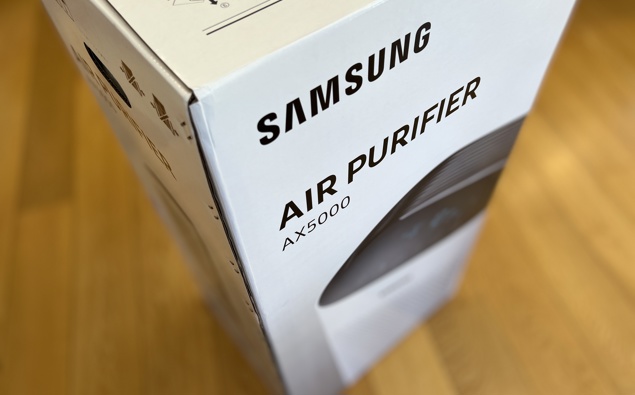 Never have we been more concerned with air quality.
Justifiably so; once upon a time it might have just been dust, pollen and pollution we were worried about, now of course there are a fair few new airborne threats we're pretty leery of.
And that's before you get to most people's preference to live in an environment free of cooking and pet smells. Well… that's certainly my preference, anyway. I don't mind the cooking smells when I'm actually cooking – but waking up to them the next day? Not so much.
So my initial thought is; surely I can "gadget" my way out of this?…
Samsung agrees. It has an entire range of AX5000 domestic air purifiers available and I've been cranking up the AX60T5080 at my place in an effort to clean up my act – or at least my air.
Getting it out of the box was a bit of a mission; it weighs over 10 kilos and is pretty tightly packed in there. The good news is, once out of the box it's effortless to move around as it rests on four almost frictionless casters. Actually, compared to most of my other gadgets this one requires very little setup at all; a few bits of sticky plastic to be removed, a filter to be unpacked and reinstalled, plug it in and you're pretty much good to go.
Yes, although this is technically a smart device, it doesn't have to be. I switched it on and was immediately presented with a set of illuminated controls on a clear (but not intrusive) display showing me the relevant data about the air in my home I was about to clear. There's also a status LED strip that sums everything up in a glance; cool, calm blue means all systems normal, red is a warning you're breathing all kinds of bad stuff.
If you decide you'd like to be able to access the AX60T5080 remotely, or you'd like to take advantage of some of its automated scheduling capabilities, that's where Samsung's SmartThings app comes into play. Pairing with my phone was straight-forward enough, although slightly tedious – not quite the one-touch NFC bump Samsung offers on its smart TVs. Once you've added the air purifier to your list of SmartThings devices you can monitor the air quality, turn it on and off from you phone and set up schedules for it to run – different times on different days if you like. The SmartThings app now even has a dedicated Pet Care setting, co-ordinating appliances like TVs and air purifiers to keep your fur babies company and free of weird smells while you're out of the house.
But technically, what does the AX60T5080 actually do? Well, there are three layers of filter, easily accessed by removing the relatively stylish magnetic front cover. Firstly, there's a washable (and vacuumable) pre-filter for all the big bits, like pollen and pet dander. Then there's an activated carbon filter to soak up any harmful gases. This is attached to a genuine HEPA layer which takes care of ultrafine dust and even bacteria. Unfortunately, filters are the downside of air purifier ownership – they don't last forever and need replacing regularly. The carbon/HEPA filter for the AX60T5080 retails for about $130 – something to keep in mind if you're planning on adding air purification to your budget.
However, at least being a "smart" device, you'll be notified exactly when the filter is due to be switched out – you don't have to do it based on a purely arbitrary "recommended" period.
The other main feature of the AX60T5080 is its three-way airflow system; it blows clean, filtered air from a big vent at the top and two smaller vents on either side. This means your up-to 60 square-metre room is freshened up pretty damn quick, although I've found it also means you're subjected to quite a draft if you're sitting anywhere near it while it's operating. Fine in summer. Not so fun on a cold night in winter. I'd prefer some way to vary the airflow – obviously you can increase or decrease it but you can't divert it away from one vent to another.
You can set the AX60T5080 to sleep mode though. This turns off the LED display and reduces fan noise to an almost imperceptible 21dBA – essential for bedroom use.
Which might be right where you want it if you suffer from asthma, severe allergies or just super-annoying hay fever like I do, especially at this time of year. Dust, pollen and other nasties make many people's lives a misery but consistent use of an appliance like this can dramatically improve things – which might also mean a dramatic reduction in the amount of medication required to treat symptoms. (Suddenly that filter doesn't sound so expensive after all)
There are two sensors built into the side of the AX60T5080 – one for particles and one for gases. You'd be surprised how often dangerous gases can build up to high levels in your air-tight, sealed-up, cosy little home – especially if you have an internal garage. It's not just engine pollutants that can sneak their way in, as I already mentioned, stale cooking smells and pet odours are no fun for anyone and too much CO2 can lead to drowsiness and even headaches. We use gas for cooking and I often get alerts from my indoor weather station to warn me about CO2 levels around dinner time.
The carbon filter in the AX60T5080 is all over it. I see stark differences in these readings every time I use it.
Has it miraculously cured my hay fever yet? I don't think Samsung would be bold enough to make any such medical claims but there's definitely something about coming home to a room full of fresh air. If you're prone to a nose full of trouble like me, you have even more serious respiratory concerns, or maybe you just can't stand waking up to the smell of last night's takeaways, Samsung could have the smart solution you're looking for.
Click here for more information and pricing on the Samsung AX60T5080 air purifier with Wi-Fi.