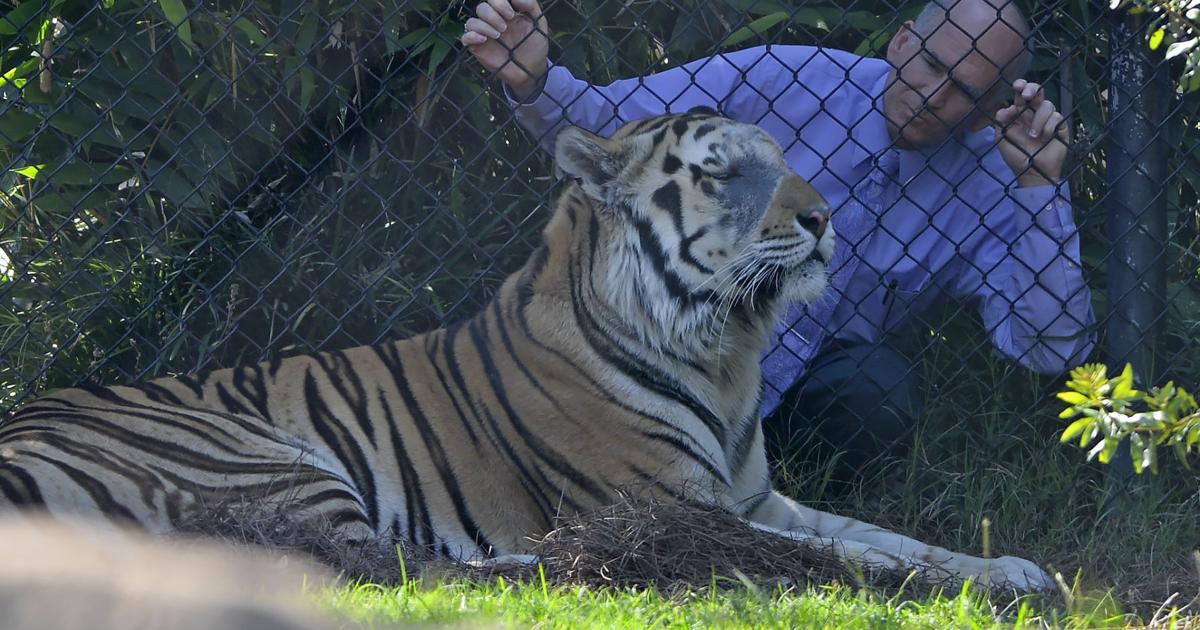 Mike matters.
A scroll through Mike the Tiger's Facebook page put this thought into perspective for David Baker.
LSU School of Veterinary Medicine's Professor of Laboratory Medicine, David Baker, who also serves as the primary caregiver for the university's live mascot, shares a moment with the late Mike VI during a visit on Sept. 30, 2016. Mike VI died from terminal cancer in October 2016.

STAFF PHOTO BY HILARY SCHEINUK

Baker is Mike the Tiger's veterinarian. Well, that is, until Sept. 23, when Baker bids his final farewell to the campus.
After 27 years, Baker is retiring from his position as a professor of laboratory medicine in the LSU School of Veterinary Medicine. He's boxed up everything in his office and is ready to travel north, where he'll begin a new job at a biopharmaceutical company.
In 26 of the 27 years he's spent at LSU, he's worked as Mike's veterinarian. Actually, he's been the official vet for three Mikes — V, VI and VII.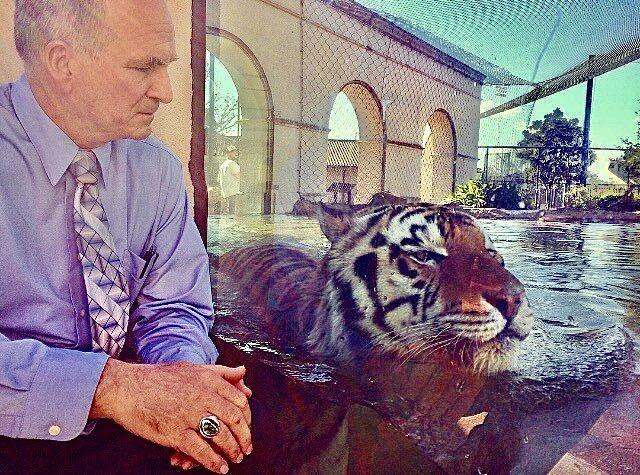 David Baker watches from outside the Mike the Tiger Habitat as Mike VII takes a swim. Baker, a professor of laboratory medicine in LSU's School of Veterinary Medicine, is the tiger's primary caregiver. He is retiring from LSU at the end of September.  

PROVIDED PHOTO BY GINGER GUTTNER

When Louisiana went into its COVID-19 lockdown in March 2020, cats had yet to be diagnosed with COVID, but Baker knew through his background in infectious diseases that Mike VII was vulnerable.
"It turns out that cats and primates are exquisitely susceptible to this virus," Baker said.
So, he asked that a barrier be placed around the tiger habitat, creating a further distance between fans and Mike VII.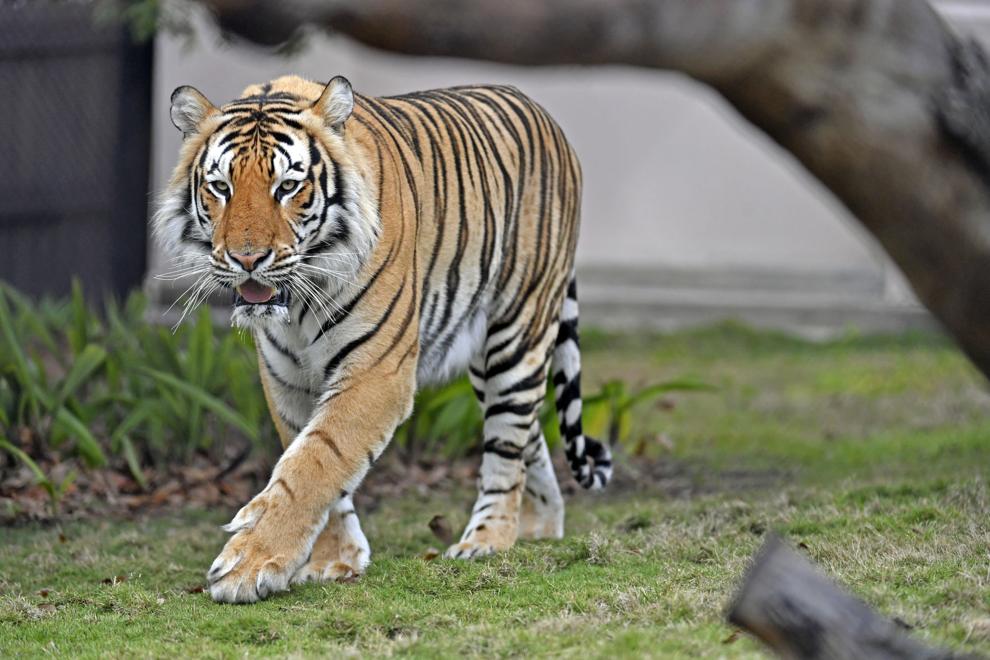 LSU's Mike VII saunters around his habitat on campus while enjoying cooler temps Saturday, March 21, 2020, in Baton Rouge, La.

STAFF PHOTO BY HILARY SCHEINUK

"It was in early March when it was clear that we were in a pandemic," Baker said. "It was about a week before the tiger in the Bronx Zoo was diagnosed with COVID. So, just based on my knowledge of coronaviruses, I asked our students to stop touching him."
Baker refers to the student caretakers who help him with Mike. Two are hired each year, meaning Baker has worked with more than 50 in his 26 years at the school.
That's his favorite part of the job, mentoring his students and watching their growth. It was one of his student workers who detected the asymmetry in Mike VI's face, which led to his cancer diagnosis.
But the student caretakers faced another problem during COVID.
"We scratch him and play with Mike a lot, but I had to ask them not to touch Mike during the pandemic," Baker said. "They also had to wear a mask, wear gloves, wear shoe covers and disinfect their hands before and after. And I stopped touching him."
Mike may have been protected from COVID, but he definitely was affected by the precautionary changes. Baker has since written an unpublished case report on how the mascot developed feline idiopathic, which causes cystitis. Cat owners will recognize this as a stress condition that causes inflammation of the urinary bladder, which causes the passing of small amounts of blood in the urine.
Baker and the caretakers removed their masks and resumed touching Mike once they received their COVID vaccinations, and the tiger's bladder condition instantly went away.
Mike V
When Baker was appointed to the position, Mike V was 6 years old. The tiger had been raised at LSU and died at age 17.
Baker then searched for and chose Mike VI, a favorite among LSU fans. That Mike had an affectionate nature and was always hamming it up for his own fans outside his habitat.
But being Mike's vet also had a downside — Mike was diagnosed with spindle cell sarcoma, a terminal cancer, in May 2016, and Baker had to be the one to euthanize him in October of that year.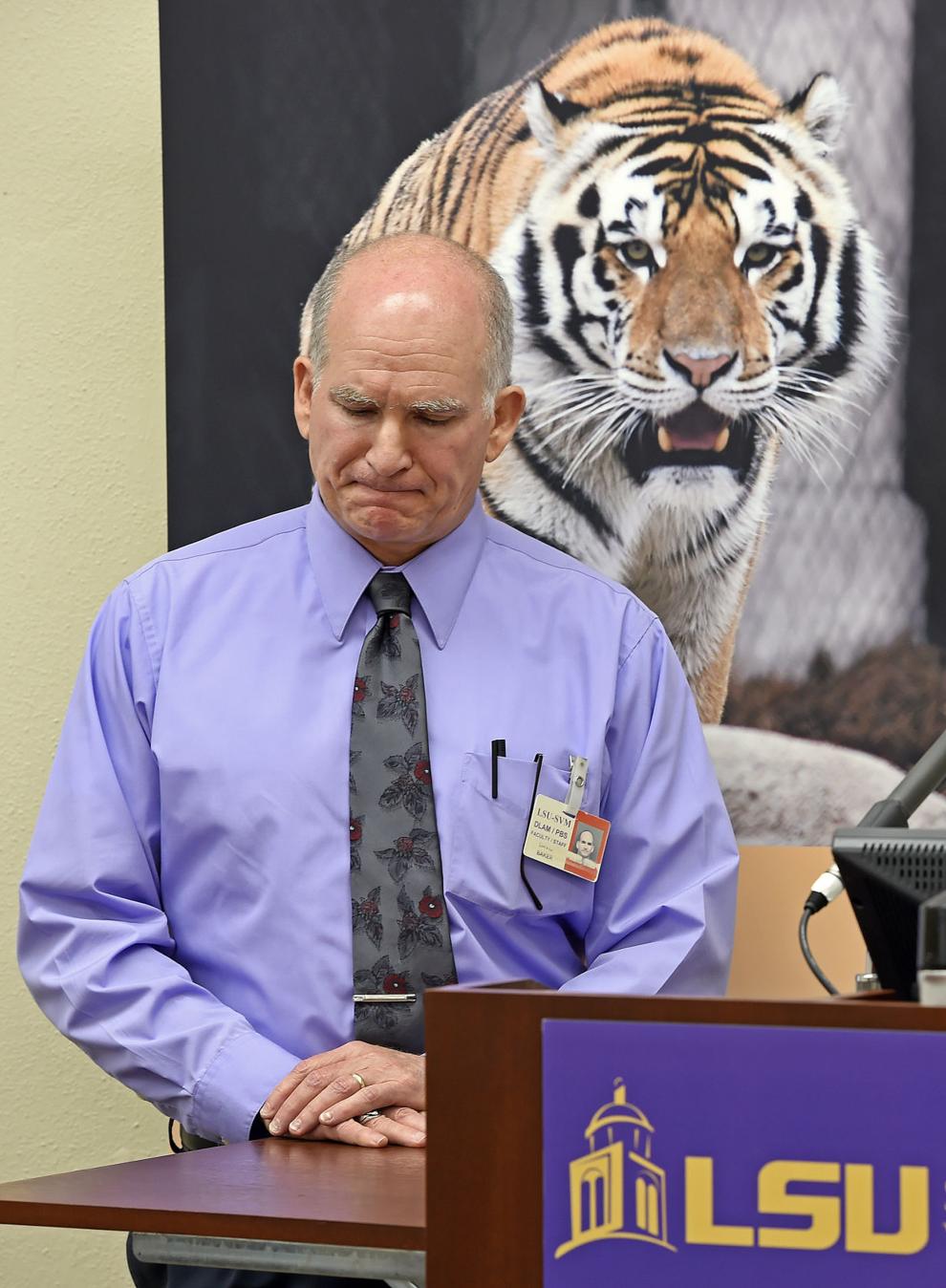 David Baker announced that LSU's live tiger mascot, Mike VI, had been diagnosed with a spindle cell sarcoma, a terminal cancer, in a May 23, 2016, press conference.

STAFF PHOTO BY BILL FEIG

And though he knew fans loved the tiger, it was during that time that a single Facebook post showed Baker how much Mike truly meant to some.   
Mike VI's cancer
"With Mike VI, when he developed his cancer, there were aspects of that, that I absolutely had not anticipated and that I think I grew from," Baker said.
On the morning of the news conference to reveal Mike's cancer diagnosis and prognosis — which was terminal, Baker explained that the veterinary team would do "what we that could to treat him and that I would euthanize him when the time came." Baker said a woman he didn't know posted on Mike's Facebook page words that have stuck with him.
Her message?
"She said, 'See? You and Mike can fight cancer together,'" Baker said. "And that really affected me, because it showed me that it mattered to people, how we cared for this animal."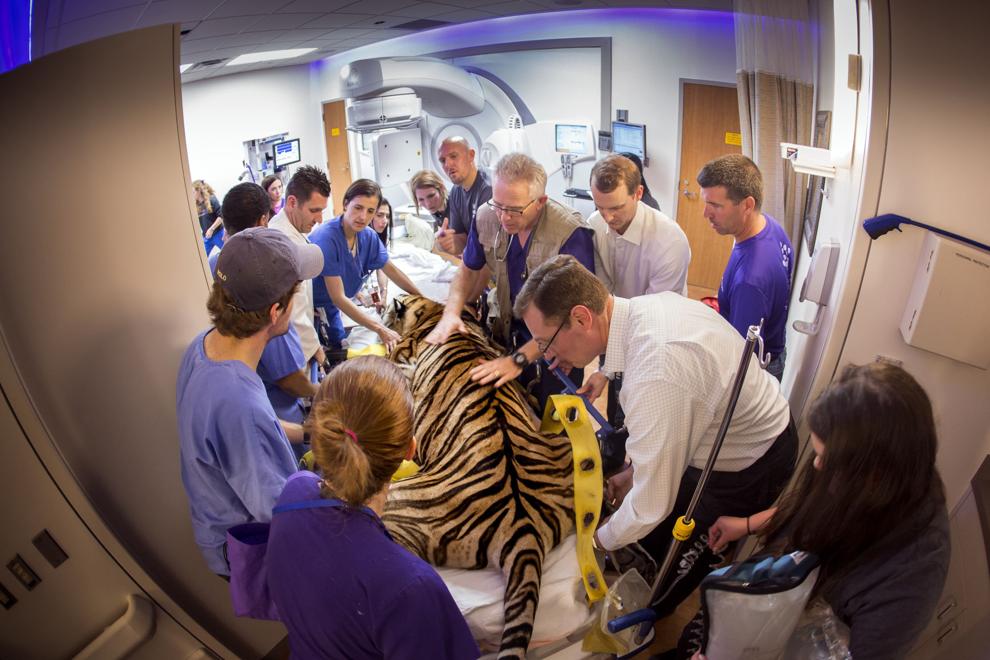 A precise dose of radiation was delivered to LSU's live tiger mascot, Mike VI for cancer treatment at the Mary Bird Perkins Our Lady of the Lake Cancer Center on Wednesday, June 1, 2016.

PROVIDED PHOTO BY EDDY PEREZ/LSU SCHOOL OF VETERINARY MEDICINE

But it didn't stop there.
Each week we'll highlights the best eats and events in metro Baton Rouge. Sign up today.
"After he died and we did a renovation of the habitat before we got Mike VII, I would go over there just to check on the progress of the renovation," Baker said.
One day at the habitat, a woman approached him and said she had been diagnosed with cancer at the same time Mike was.
"Obviously, she had survived, but those things really affected me because it suggested in ways that I still don't understand, how we managed that animal and cared for him really mattered to people and somehow gave them hope in their own struggle," he said. "And I really hadn't anticipated that."
Baker relayed this message to the university's provost, telling him Mike's cancer treatment was important.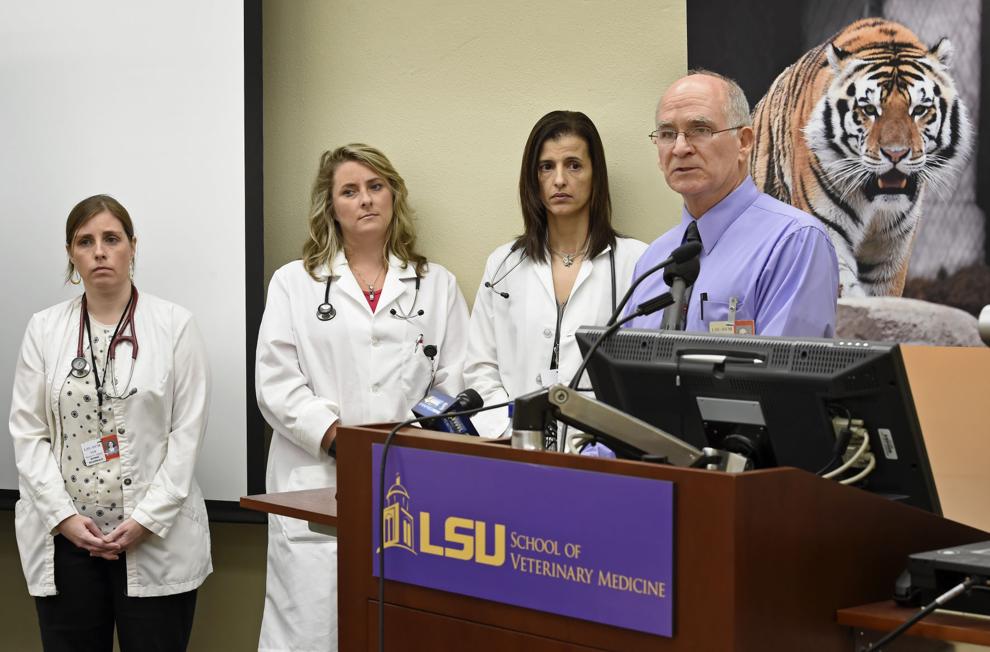 From left, Veterinarians Dr. Bonnie Boudreaux, oncologist; Dr.Nathalie Rademacher, radiologist; Dr. Patricia Queiroz-Williams, anesthesiologist; and Dr. David Baker, DVM, have a press conference update on LSU live mascot Mike the Tiger's medical condition concerning his cancer and treatments on Wednesday Oct. 5, 2016.

STAFF PHOTO BY BILL FEIG

"I told him how we handle this really matters, that we need to do this not only for the animal's sake but for these people who have their own struggles," Baker said.
Though Mike VI's prognosis wasn't good, he did receive precise doses of radiation at the Mary Bird Perkins Cancer Center. The radiation helped sustain him in his final months.
LSU's live tiger mascot, Mike VI, has been diagnosed with a spindle cell sarcoma, a type of cancer. Currently, Mike's attitude and demeanor are unchanged, and he does not appear to be in pain. Mike's veterinarian, David Baker, DVM, Ph.D., right, answers questions at a press conference about the tiger's condition pointing out the tumor spot with a laser pointer Monday morning May 23, 2016.

STAFF PHOTO BY BILL FEIG

Baker knew it mattered, just as it did when he chose and brought Mike VII to the university in 2017. Fans were ecstatic, closely following the process, counting the days when they could congregate at the habitat to see their new mascot.
Not a football fan
Thinking back now, this was a lot of responsibility hoisted on a guy who had never attended a collegiate football game before coming to LSU.
It's true. Baker didn't have much experience with football, much less tigers.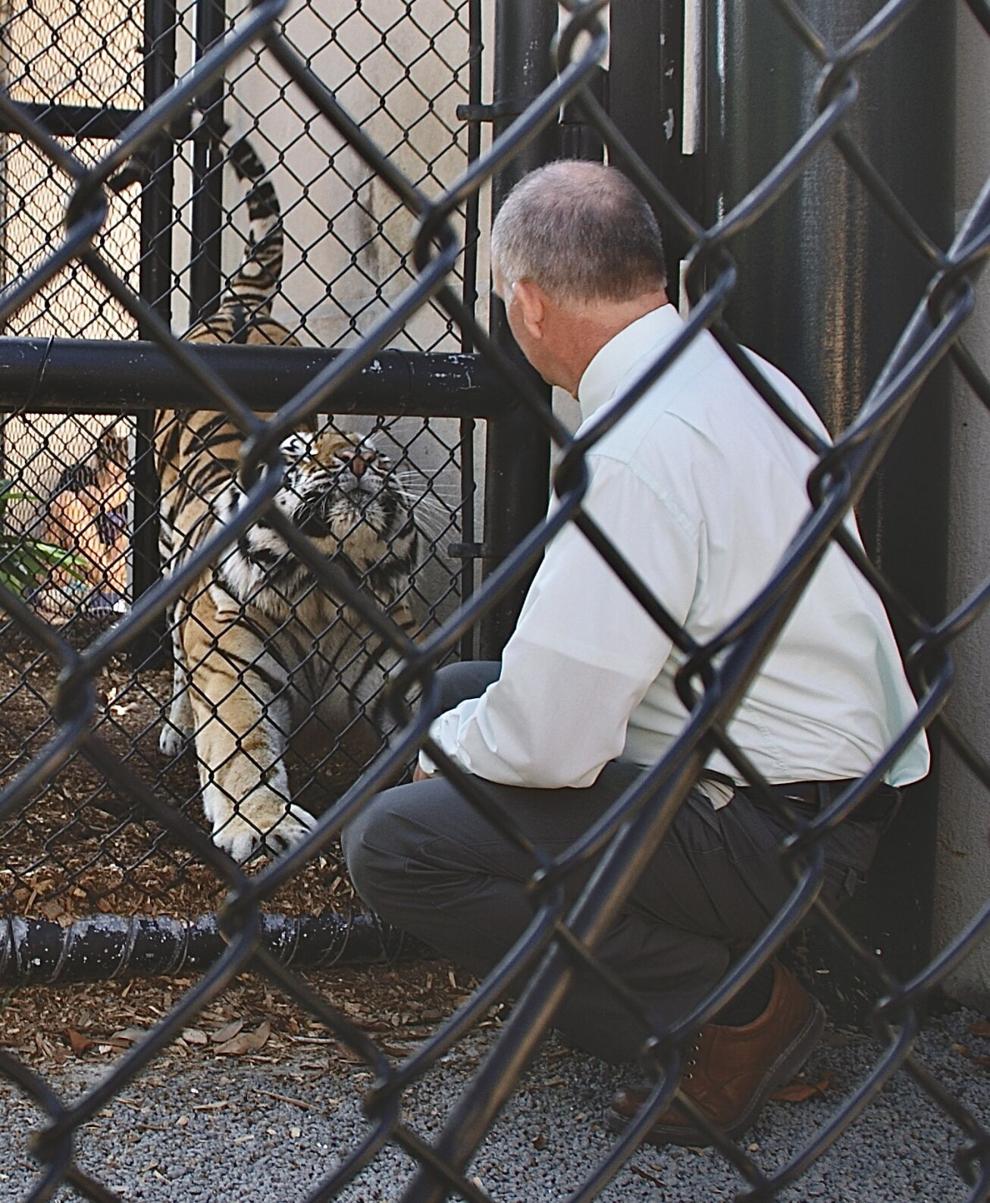 LSU's live tiger mascot, Mike VII, greets his primary caretaker, David Baker, at the Mike the Tiger Habitat.  

PROVIDED PHOTO BY GINGER GUTTNER

"I'd never worked with big cats, and in fact, I didn't even know LSU had a tiger," he said. "I didn't know the team was called the Tigers. I had never even been to a college football game."
Baker was a student at the University of California, Davis, a Division II school in the NCAA.
"And actually, they were national champions for most of the decade or more that I was there, but I never went to a game," he continued. "Those were $7, and I didn't have that. For me, it was all about the academics."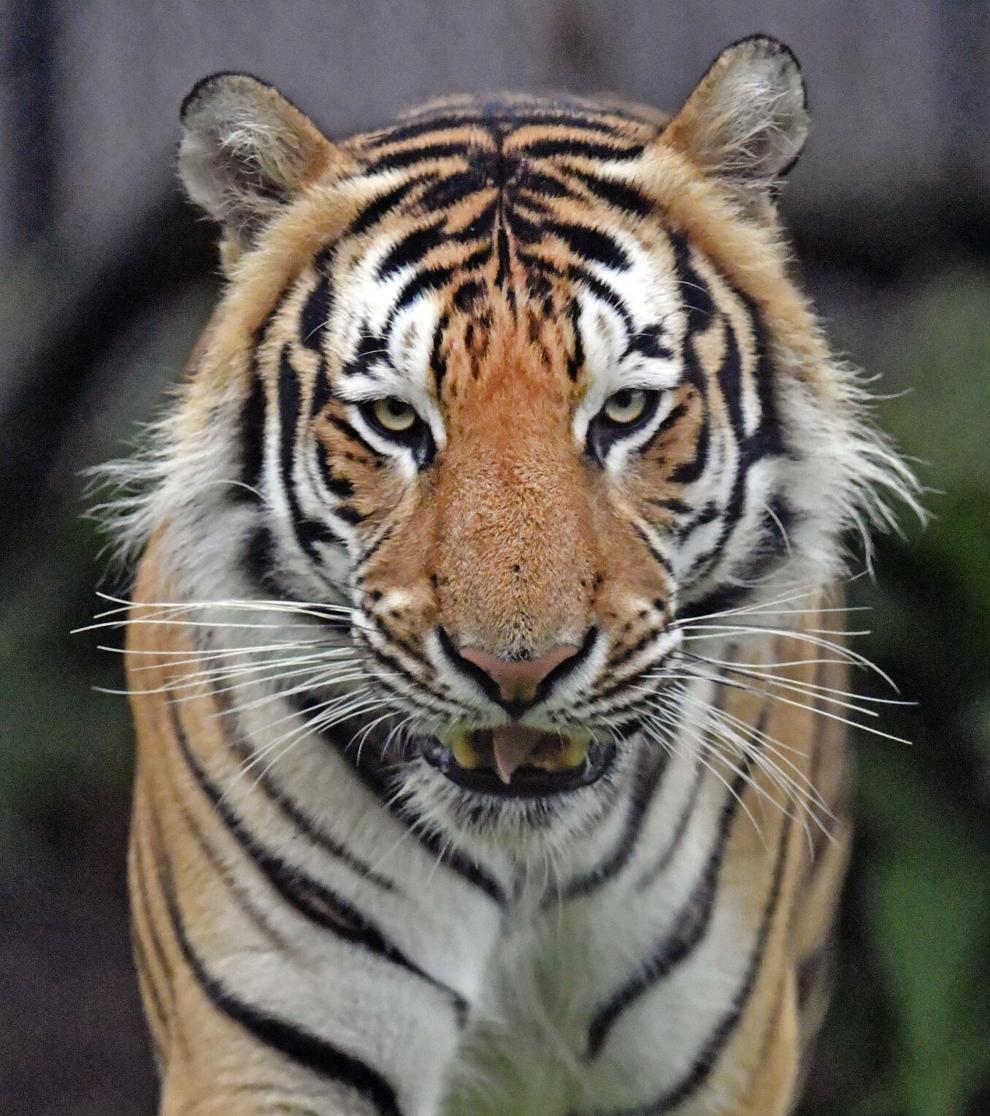 LSU's Mike VII stares down passerby as he paces in his habitat as his keepers ready his indoor facility for the night, Tuesday, September 28, 2021, in Baton Rouge, La.

STAFF PHOTO BY HILARY SCHEINUK

Baker did volunteer work at the Los Angeles zoo while in college, working mostly with elephants and chimpanzees. Mike not only was his introduction to big cats but collegiate football. Baker has attended only three LSU football games in their entirety, but he rode with Mike during the pregame ceremonies before every home game.
That is, with Mikes V and VI. They traditionally were loaded in the mascot's golden transport trailer, a cage topped by the LSU cheerleading squad.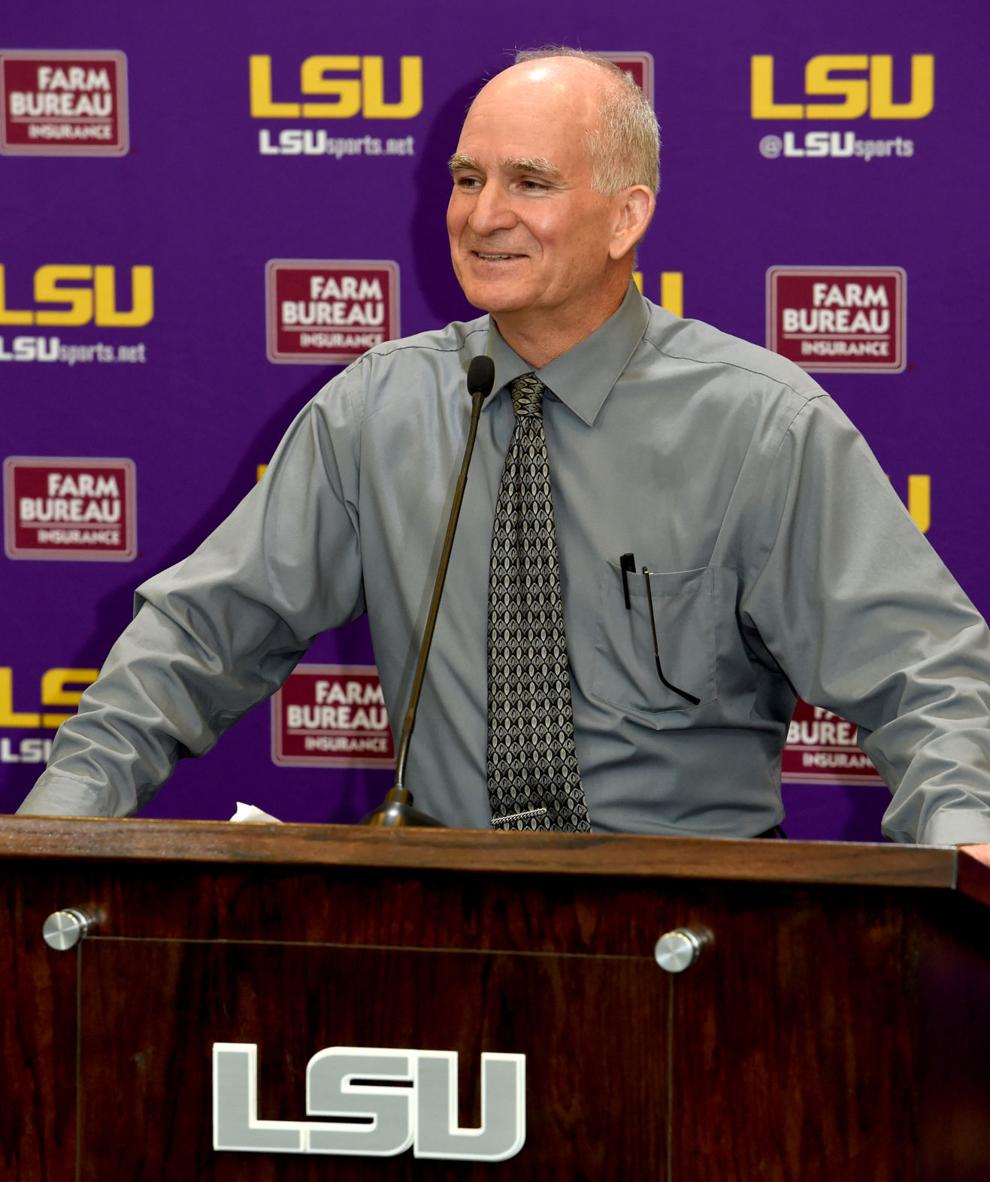 Dr. David Baker, LSU's Attending Veterinarian, explains that the university's new live mascot, Mike VII, will not attend football games in Tiger Stadium, but will be available for fans to see in his upgraded habitat.

Advocate Staff Photo by PATRICK DENNIS

"We never had to coax the tigers into the trailers," Baker said. "They willingly walked into it, and they knew what was coming up."
Time's change
But in January 2017, Baker, as Mike's spokesperson, announced in a news conference that the university would discontinue the tradition with a new tiger.
"Times change; public perception changes," Baker said at that time. "The mascot program has changed, has evolved over the course of 80-plus years and it continues to evolve. Many, many years ago, when Mike was brought onto the field, if he didn't roar, someone would poke him with a stick. Can you imagine doing that now?"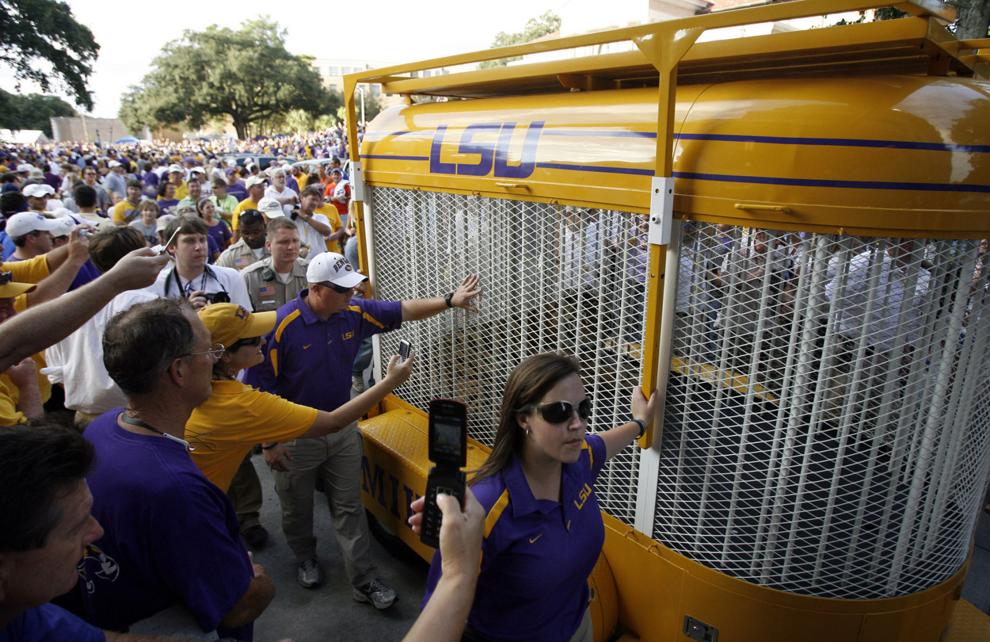 Florida at LSU football Saturday, Oct. 6, 2007, from Tiger Stadium in Baton Rouge. Mike the Tiger makes his way toward Tiger Stadium through a throng of LSU fans. (Photo by Chuck Cook, NOLA.com | The Times-Picayune archives)

CHUCK COOK

The university also indicated that Mike VII not being allowed at football games could be a crucial difference in whether LSU is able to become an accredited tiger sanctuary.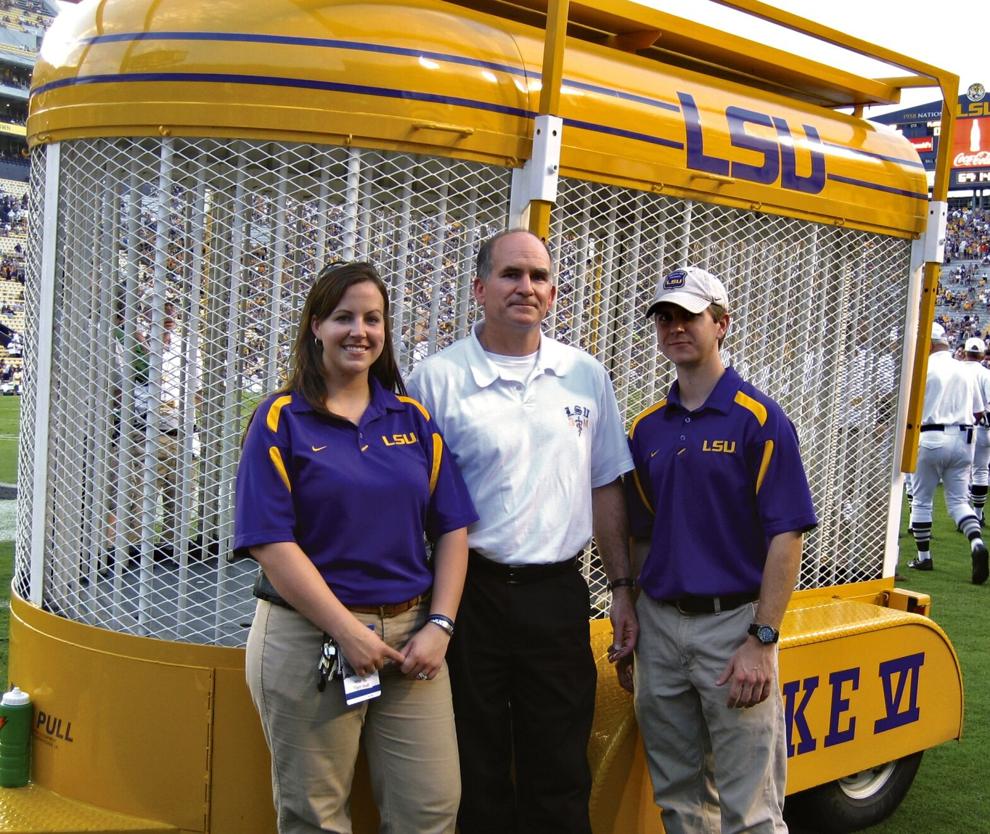 David Baker, center, poses Mike's 2006 student caretakers Wendy Oubre, left, and Wesley Lee. Both helped care for Mikes V and VI.

PROVIDED PHOTO BY GINGER GUTTNER

Those are just some of the stories from Baker's tenure at LSU. He admits he's not really a cat person with the exception of Mike. He is looking forward to his new position in the private sector but will miss his co-workers, students and the friends he's made in Baton Rouge.
And he especially will miss his church family at Christ Covenant Church.
As for Mike VII, Baker isn't planning a sentimental farewell.
"Do you think he would understand?" he asked. "I have provided the best care possible his entire life, and he wouldn't understand if I was telling him goodbye."