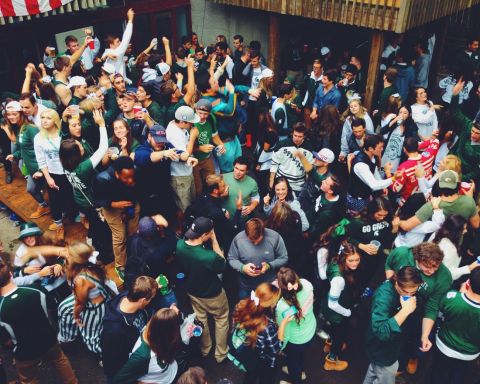 If possible, the infected person should do their own laundry. Some experts recommend using hot water.
Laundry exposed to monkeypox should not be mixed with other washing, according to the CDC, which offers cleaning and disinfecting guidelines here.
"In the washing machine, regular soap is enough to get rid of the virus from those sheets," Heldt said.
Mask mandates? Nope.
While it's unclear the extent to which monkeypox can be inhaled, the virus is "not known to linger in the air and is not transmitted during short periods of shared airspace," according to the CDC.
In "instances where people who have monkeypox have traveled on airplanes, no known cases of monkeypox occurred in people seated around them, even on long international flights," the CDC said.
What are universities doing to prepare? 
Public universities are already informing students and staff about the virus and coordinating with local health departments.
Among them are Eastern Michigan University, which has a website where people can learn more about monkeypox, Michigan State University, which told students and parents in an email it's "closely monitoring the virus," and the University of Michigan, which has has published a question-and-answer with two public health experts to help the campus community better understand the virus. 
Central Michigan University sent an email to students, staff and faculty Thursday outlining how monkeypox spreads, information about the vaccine and resources for people who may have symptoms or may be stressed about the possibility of another illness.
"There are plans for isolation spaces for students living on campus who contract monkeypox and need to self-isolate until the infectious period has passed," said George E. Kikano, CMU's vice president for health affairs and dean of the College of Medicine. 
Wayne State University will provide areas to isolate and deliver meals to students on campus who get infected, said registered nurse Laurie Lauzon Clabo, the school's chief health and wellness officer.
Clabo, who is also the dean of Wayne's nursing school, said the university will soon distribute education materials online and in print about the virus to students about what the virus is, how it spreads and what to do if someone gets monkeypox.
That includes an acknowledgment that while the vast majority of patients have been men who've had sex or intimate close contact with other men, the disease can spread to anyone.  
"It's really, really important that people understand this is not a gay disease. This is not a traditionally sexually transmitted illness," she said. "This is transmitted by prolonged close physical contact. And I think that this sort of myth about this being a gay disease is dangerous to our society. It helps us not recognize how easily this could be transmitted."