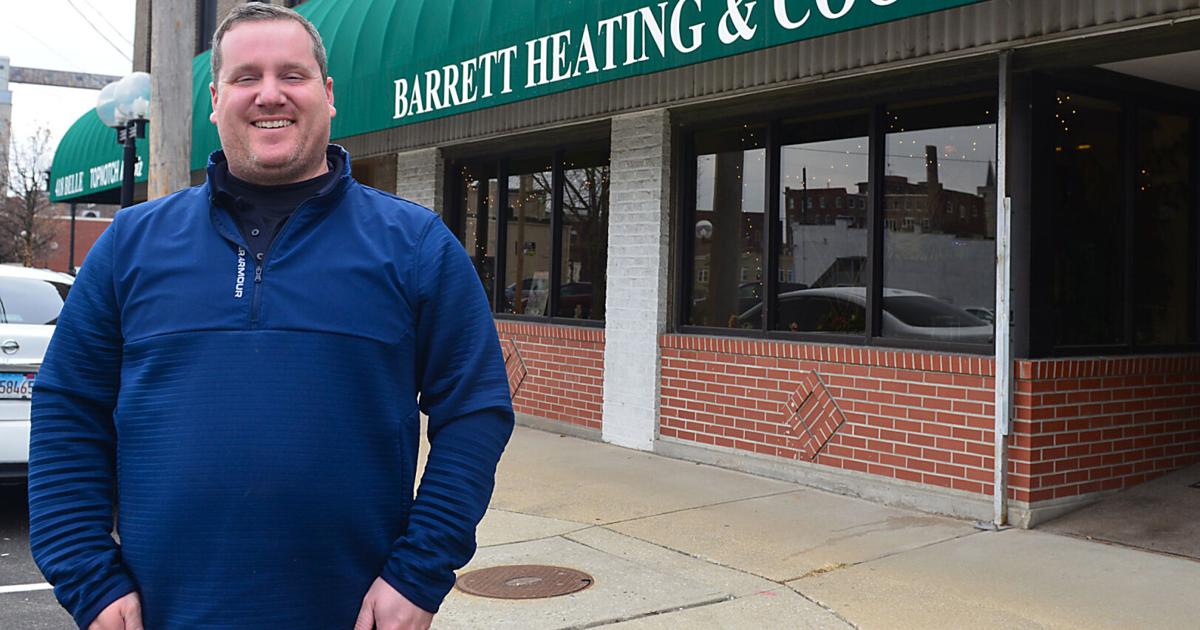 Air conditioning and heating are mainstays of modern life. What might have once been considered a luxury is now an essential part of everyday living. It is hard to imagine struggling through a frigid winter with nothing more than a wood stove and a fireplace or sweltering indoors when the thermometer outside inches into the 80s and 90s in the Midwestern humidity.
Barrett Heating & Cooling in Alton has maintained a reputation for reliability and service for 126 years. The company was established on April 22, 1896 by James J. Barrett. Throughout the decades, the Barrett family has changed, updated and expanded the business to stay current in the field. From the coal and oil-fired gravity furnaces of the early 20th century to the advanced designs of modern-day variable-speed compressors and high-tech electronic thermostats and control boards, Barrett Heating & Cooling has kept pace with the ever-evolving technologies in the industry.
After 126 years, the company remains family-owned and operated. Ed Barrett is the sales manager for Barrett Heating & Cooling and is a fifth generation descendent of the company's founder. He notes that estimates for work by the company are free, including for services such as indoor air quality solutions and duct cleaning. "I'll come out and look at all of the ducts and registers to assess the work needed," he says. "Estimates on work is free."
The company specializes in residential, light commercial and new construction work. They repair and maintain existing equipment as well as do new installations. Among the equipment they work on are Lennox furnaces, air conditioners and heat pumps, Geo Comfort Geo-Thermal heat pumps, Mitsubishi Electric heat pumps as well as Lochinvar, American Standard and Buderus equipment.
In addition, the company installs and maintains Generac generators, which will provide electrical power to entire households in the advent of a power failure. "We see more interest in the Generac systems because of increasing awareness of the dangers of loss of power if something affects the power grid," says Barrett. Storms and unanticipated interruptions to power feeds pose a risk not only to heating and cooling systems but to refrigerators, deep freezers, Internet service and other electrical and electronic devices.
Barrett Heating & Cooling also provides indoor air quality solutions. The company sells Aprilaire humidifiers and Space Guard air cleaners. Humidity control equipment, duct cleaning, high-efficiency filters and air scrubbers can all play an important role in maintaining the quality of the air in a home.
The company sells and installs water heaters. "We haul away the old equipment," says Barrett. "The existing water heating equipment is often extremely heavy due to the sediment buildup over years of use and can pose a problem for homeowner when attempting to remove it."
Barrett Heating & Cooling offers a variety of maintenance plans, ranging from basic spring and fall equipment inspections on either heating or cooling equipment to inspections and repair on all equipment, including humidifiers. Maintenance plans include discounts on parts, priority service on emergency work, elimination of overtime charges and reduced diagnostic fees. "Maintenance agreements are a way to keep costs down by reducing fees and keeping equipment running well," says Barrett.
The company provides emergency service callouts as well as support when parts need to be ordered. "Customers can call twenty-four hours a day," says Barrett. "We can also provide temporary heaters and window air conditioning units if time is needed to acquire parts." 
Installation and service technicians are EPA and Nate (North American Technician Excellence) certified. Barrett explains that technical personnel undergo ongoing training to stay current on modern and evolving technologies. He also notes job openings are available for anyone EPA certified in the field. 
Barrett Heating & Cooling accepts cash, checks and credit cards for payment. They can also provide financing. The company does not consider jobs complete until the customer is satisfied and it offers a money back guarantee for one year after work is performed.
Barrett Heating & Cooling is located at 500 Belle Street in Alton. They are open from 8am until 4:30pm Monday through Friday and from 8am until noon on Saturday. Service or requests for estimates can be scheduled by calling them at 618-465-3731 or on their website at barrettheating.com. Detailed information about products and services offered by the company can be found at their website as well as information on maintenance plans, financing and special offers. The website also lists the 42 towns and cities in their service area.