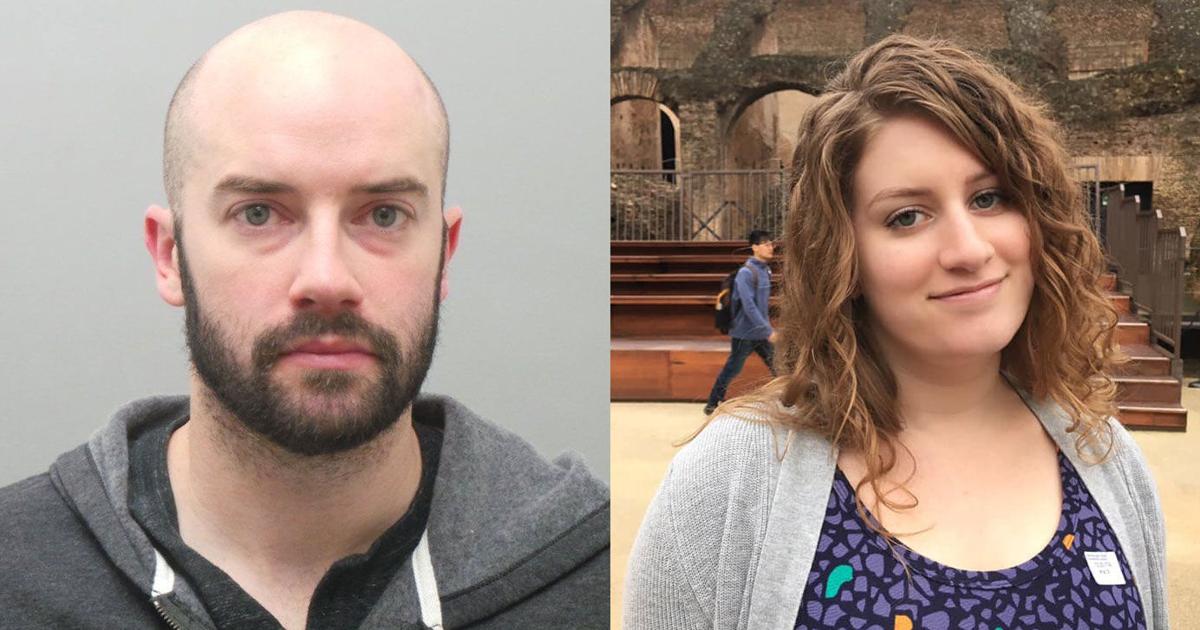 CLAYTON — A St. Louis County jury on Thursday decided Beau Rothwell deliberated when he killed his pregnant wife, rather than murdering her in what he described as a "red haze" of rage.
After three days of testimony, the jury found Rothwell, 31, guilty of first-degree murder, tampering with physical evidence and abandonment of a corpse. Sentencing will be July 8. First-degree murder carries a sentence of life without parole.
Rothwell testified Thursday that he and his wife had argued at their St. Louis County home on Nov. 11, 2019, about his extramarital affair. He struck his wife in the head from behind with a mallet, he said, followed her as she stumbled toward the garage door and then delivered a fatal blow.
"In the heat of everything, I hit her again," Rothwell told the jury. "I believe I cracked her skull, she fell unconscious and fell down the stairs."
He said he never planned to kill his 28-year-old wife, Jennifer Rothwell, who was six weeks pregnant. The deadly encounter arose after he refused to reveal the identity of his mistress. He testified that his wife was angry, told him he could keep his "mystery bitch" and said the pregnancy was the result of an affair with another man.
People are also reading…
"All this happened in just moments," he said.
The killing set off a series of efforts to clean up the crime scene and conceal what he'd done: buying bleach and paper towels to disinfect the house, driving her body an hour north to an area near Troy, Missouri, wrapping a plastic bag around her head with duct tape, dumping her naked body in the woods and covering her in brush. He said he got the idea to remove her clothes from watching TV crime shows about hiding evidence but couldn't explain why he did it. He then discarded a tarp he had used to hold her body along with soiled cleaning supplies in a business trash bin off the highway during his early morning drive home from Lincoln County.
He testified to abandoning her car on Olive Boulevard early that morning to make it appear as though she had car trouble on her way to work. He said he sent text messages to her phone that day to make it seem as though he was worried about her. He also participated in search parties with her relatives and co-workers.
Police found multiple bottles of bleach inside the Rothwell home near Creve Coeur, along with a wet, blood-stained carpet. Investigators relied on DNA evidence to confirm the blood belonged to Jennifer Rothwell.
Beau Rothwell testified he was in "panic mode" and trying to appear normal.
"It was this feeling of needing to keep up the facade," he said.
On Wednesday, the jury was shown multiple text and Facebook messages, some sexually explicit, between Beau Rothwell and his mistress, as well as a list of pros and cons about leaving his wife that he had compiled.
Beau Rothwell's lawyer, Charles Barberio, said in opening statements Tuesday that the couple began dating while both were studying engineering at the University of Missouri-Columbia; they moved to St. Louis for work. They had struggled since 2018 to have a child, then Beau Rothwell lost interest in 2019 and began having an affair. They learned she was pregnant at the end of October 2019.
Jennifer Rothwell was an engineer at MECS Inc. in Chesterfield. Beau Rothwell worked at Ambitech, now called Zachry Engineering, in the St. Louis area.
Throughout the trial, the prosecution sought to portray Beau Rothwell as a meticulous planner in nearly every aspect of his life, eliciting testimony about work and home obligations and methodical planning to achieve a pregnancy. His defense lawyers drew testimony from the couple's co-workers who said Beau Rothwell was level-headed and that there were never signs of abuse in the couple's relationship.
Assistant Prosecutor Tom Smith told jurors in closing arguments Thursday that Beau Rothwell's claim that he killed his wife in a "red haze" was a lie and that the evidence of premeditation and his efforts to cover up his crimes "speaks for itself." He reminded the jury of a pathologist's testimony that the force of the second and fatal blow could not have been accidental.
"He deliberated when he got the weapon," Smith said. "He deliberated when he drew it back. He deliberated when when he brought it down on her head. It was all part of his plan."
Barberio urged jurors to acquit his client of first-degree murder, while finding him guilty of abandoning her corpse, evidence tampering and voluntary manslaughter. He said Beau Rothwell "clearly" lost control of his actions because he believed his wife's claim during the argument that the baby was not his after months of a passionless marriage and countless fruitless attempts to get pregnant. A paternity test later confirmed Beau Rothwell to be the father.
"The state is trying to turn this extramarital affair into some sort of motive or deliberation," Barberio said. "There simply isn't any evidence that he ever planned to do it."
Shake off your afternoon slump with the oft-shared and offbeat news of the day, hand-brewed by our online news editors.