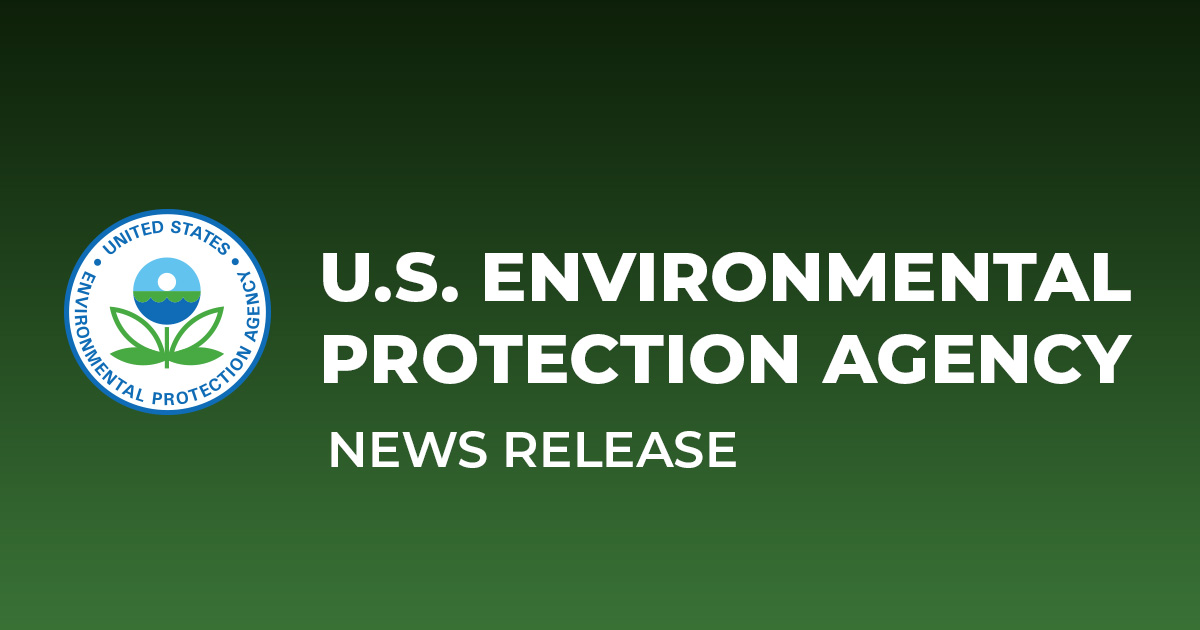 February 27, 2023
PHILADELPHIA (Feb. 27, 2023) – The U.S. Environmental Protection Agency is awarding $91.9 million to Pennsylvania from President Biden's Bipartisan Infrastructure Law that communities can use to upgrade essential water, wastewater, and stormwater infrastructure that protects public health and treasured water bodies.
Nearly half of the funding, which comes through this year's Clean Water State Revolving Fund (CWSRF), will be available as grants or principal forgiveness loans helping underserved communities across America invest in water infrastructure, while creating good-paying jobs.
"President Biden's Bipartisan Infrastructure Law is delivering an unprecedented investment in America that will revitalize essential water and wastewater infrastructure across the country," said EPA Administrator Michael S. Regan. "Not only will these funds expand access to clean water and safeguard the environment, but more underserved communities that have been left behind for far too long will be able to access them."
"Communities across Pennsylvania rely on water and sewage infrastructure to keep their communities clean and safe every day," said U.S. Senator Bob Casey (Pa.). "Thanks to the infrastructure law, Pennsylvania is receiving nearly $92 million to upgrade this essential infrastructure to protect communities across the Commonwealth from contamination, flooding, and more. Once again, the infrastructure law is working to keep Pennsylvanians safe—and creating jobs."
Specific projects for this year's funding have not yet been announced, but examples of projects targeted to receive CWSRF Bipartisan Infrastructure Law funding from last year include:
Today's announcement is part of the $2.4 billion announced as part of the second wave of funding made possible by the Bipartisan Infrastructure Law and builds on the Biden-Harris Administration's commitment to invest in America. In May 2022, EPA announced the initial allotment of $1.9 billion from the Bipartisan Infrastructure Law to states, Tribes and territories through the CWSRF. That money is supporting hundreds of critical water infrastructure projects around the country.
"The Clean Water State Revolving Fund program is a powerful partnership between EPA and the states," said EPA Mid-Atlantic Regional Administrator Adam Ortiz. "Pennsylvania communities can use this additional funding to make a difference with water infrastructure projects that protect public health, ecosystems and waterways throughout Pennsylvania."  
President Biden's Bipartisan Infrastructure Law makes more than $50 billion available for water and wastewater infrastructure improvements across the country between Fiscal Year (FY)  2022 and FY 2026. EPA is committed to ensuring every community has access to this historic investment and has centralized increasing investment in disadvantaged communities within its implementation. This investment in water infrastructure is creating jobs while addressing key challenges, including climate change and emerging contaminants like per- and poly-fluoroalkyl substances (PFAS). The implementation of the Bipartisan Infrastructure Law calls for strong collaboration, and EPA continues to work in partnership with states, Tribes, and territories to ensure that communities see the full benefits of this investment.
In addition to today's announcement, the 2023 Drinking Water State Revolving Fund allocations and program updates are forthcoming, pending the release of the seventh Drinking Water Infrastructure Needs Survey and Assessment. EPA anticipates releasing the information in the coming weeks.
The CWSRFs have been the foundation of water infrastructure investments for more than 30 years, providing low-cost financing for local projects across America. For more information, including state-by-state allocation of 2023 funding, and a breakdown of EPA CWSRF funding available through the Bipartisan Infrastructure Law, please visit: http://www.epa.gov/cwsrf 
Additional Supporting Quotes
"I'm thrilled to see the bipartisan infrastructure package delivering for Pennsylvania," said U.S. Representative Brian Fitzpatrick (PA-01). "This crucial funding will help ensure that our communities have access to clean drinking water, and I'm proud of the bipartisan effort to pass this law."
"As a member of the House Ways & Means Committee, I fought hard for the bipartisan infrastructure bill exactly so we could fund critical projects like this," said U.S. Representative Brendan F. Boyle (PA-02). "These upgrades are critical for ensuring equitable community access to safe and clean water, protecting public health, and supporting economic growth. This funding will also result in good paying middle-class jobs for many of my Philadelphia constituents. As a member of the bipartisan Congressional PFAS Task Force, I place a priority on ensuring the reliability and safety of our water infrastructure systems. This funding is in alignment with my continued efforts over the years to ensure that our water infrastructure systems are up to date and operating safely."
"I was pleased to welcome President Biden and Vice President Harris to my district earlier this month for the announcement of $500 million in federal financing for water upgrades and lead service removal," said U.S. Representative Dwight Evans (PA-03). "This latest announcement is another example of how the Infrastructure Investment and Jobs Act continues to deliver for Pennsylvanians!"
"Some of the greatest infrastructure and environmental challenges facing our region involve the need to address critical water, wastewater, and stormwater projects," said U.S. Representative Mary Scanlon (PA-05). "I'm thrilled to see another wave of clean water infrastructure funding flowing into Pennsylvania, made possible by the Bipartisan Infrastructure Law. The new funding will protect the health of Pennsylvania's children and families and create good-paying jobs by supporting these essential projects and ensuring our most underserved communities can access the investments."
"This funding is essential in improving Pennsylvania's water infrastructure and quality, and creating green infrastructure projects which will increase jobs for the Commonwealth," said U.S. Representative Chrissy Houlahan (PA-06). "My community saw firsthand the devastating effects of dangerous stormwater run-off from Hurricane Ida and why it is crucial our water infrastructure is up to date. These mitigation projects will protect us from the next storm and alleviate the funding burden from local municipalities."
"Clean drinking water is one of our most precious resources and something we can't take for granted. We need to keep it that way, especially water that comes from our taps," said U.S. Representative Matt Cartwright (PA-08). "I am excited about the opportunities that will be made available to communities in the 8th District and across our nation when it comes to repairs, expansions and more. Access to these funds will help grow our economy and enhance our quality of life."
"The derailment disaster in East Palestine just over the state line from my district and constituents shows just how precious clean water is, and how important it is to protect it," said U.S. Representative Chris Deluzio (PA-17). "I am so grateful that we can count on the Bipartisan Infrastructure Law to provide this massive federal investment in our communities to provide the funds they need to upgrade and advance our water infrastructure. This is a big win for public health and safety in western Pennsylvania and all across America."