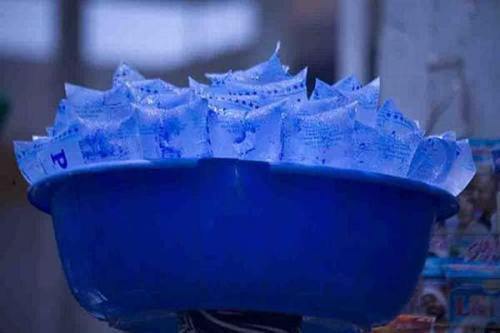 Table water producers in Aba, the commercial heart centre of Abia State have threatened to relocate to Akwa Ibom State, an emerging industrial state in the South-South geo-political zone, if the unbearable tax regime of the Ikpeazu administration persists.
They have already sent a warning signal to the authorities by withdrawing their products and services since May 26 2022, citing unfriendly activities of government revenue collectors and touts.
The umbrella body of the producers of the ubiquitous pure water (sachet water) said its decision to withdraw its services and products is the last resort to protect their businesses​ from a total collapse.
They said they have been going through an excruciating and extremely difficult situation with government revenue collectors which has left them indebted and out of business due to the activities of some people who are masquerading as government revenue collection agents and uncountable touts.
Their Chairman, Ejikeme Uzoma, says the decision to withdraw their products and services will remain in force until the situation that necessitated their strike action is adequately addressed by the government.
He said that the regime of multiple taxations, harassment of their members by all manners of touts, and constant seizure of the operational vehicles of their members by those posing as government revenue collectors have made Aba unfavourable for business.
He said that all the harassment coupled with the already harsh business environment is threatening to force them out of business, hence their resolve to alert the people, and authorities of the state of their predicament.
Uzoma further noted that, if nothing is done urgently to address the issues at hand, it will not be long before his members will close shop.
"Let me state here clearly that Aba has become a kind of dumping ground for all manners of touts. These touts, go about harassing and intimidating our members on a daily basis under the guise of collecting one type of revenue or the other.
"Daily, the operational vehicles of our members are Impounded for no just reason. The immediate cause of our strike action now is the decision by the Abia State Signage and Advertising Agency (ABSAA) to levy our members a yearly rent of One hundred thousand naira (N100,000) as against the normal N10,000. We have been paying.
"Under the Abia state Revenue Harmonization law of 2020, we have been paying ten thousand naira. But all of a sudden, we received a letter from ABSAA that we should be paying one hundred thousand naira.
"And when we queried the decision, they said we should pay fifty thousand naira. The question is, how many of our members are having up to fifty thousand naira as their overall capital?
"Besides that, and despite the existence of the Abia state harmonized Revenue Law, we are harassed and intimidated by touts to pay all manners of taxes. Now the situation has reached a choking point, that we can no longer tolerate it. That is why we are embarking on this strike action, to draw attention to our plight", he said.
Uzoma is therefore calling on Governor Okezie Ikpeazu to urgently come to their aid before the Aba table water producers are completely driven out of business.
"Our members are of the firm belief that the governor is not aware of the activities of these touts and all the illegal revenue collectors.
"We believe that it was the Governor's honest intentions to control this ugly situation within the state Revenue collection system that goaded him into signing the state Revenue Harmonization law in 2020.
"So we are calling on him to come to our rescue now, to save our businesses from collapse, as well as save several thousands of jobs which our members generate", he adds.
One of the industry player told this reporter that Akwa Ibom could be a destination for most of them if the multiple tax regime continues.
There are a lot of thriving Igbo businesses in Akwa Ibom as the Udom administration continues to push for the industrialization of the state.