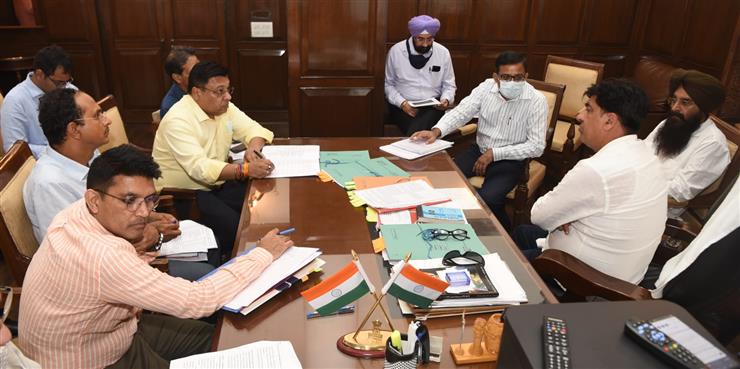 CHANDIGARH: Water Supply and Sanitation Minister Bram Shankar Jimpa issued directions that the structure of 15 ongoing potable canal water supply projects in Punjab is completed at the earliest. He was holding a meeting with the top officials of the departments of water supply and sanitation, water resources and local government to bring about better coordination among them.
About 1700 villages of Amritsar, Tarn Taran, Gurdaspur, Patiala, Fatehgarh Sahib, Fazilka and Ferozepur districts will get potable canal water through these projects, said the minister.
He said that better facilities could be provided to the people of the state through proper coordination between these departments and the Bhagwant Mann-led government was fully committed to ensure holistic development of the state.
Jimpa directed the officials of these departments to work in coordination and execute the proposed projects on time. He said that in many areas of Punjab, many projects get delayed due to lack of coordination between the two departments, while such works can be carried out easily with mutual coordination. He categorically directed the officers to work in coordination therefore people do not have to bear the brunt of lack of coordination among the departments.
He directed officials to ensure clean drinking water excess to people and said the water tanks should be cleaned on time. Arrangements for water sampling and testing should be conducted time to time.
He said that RO should be installed immediately in areas of the state where water is not potable. He said that in many arsenic-affected areas, arsenic-iron removal plants are being started with the help of IIT Madras so that people can drink pure water.
Jimpa also directed officials of the water resources department to finalise the taping point from the Sutlej River near Nurpur Bedi. The proposed project will ensure supply of potable surface water to 350 villages of Kandi region besides Hoshiarpur city, Garhshankar and Mahilpur blocks. He said that the entire Hoshiarpur district would be connected with surface water supply.
The Water Supply and Sanitation Minister asked the officials to work dedicatedly and implement the government schemes on time to fulfill CM Mann's dream of providing tap drinking water to every household in the state.
Jimpa directed the officials of the Local Government Department to inspect the 59 STPs being built in urban areas. He also directed to explore the possibilities of treating the dirty water of nearby villages. Apart from this, he also directed to make efforts regarding the solid and liquid waste management in the urban and rural areas.