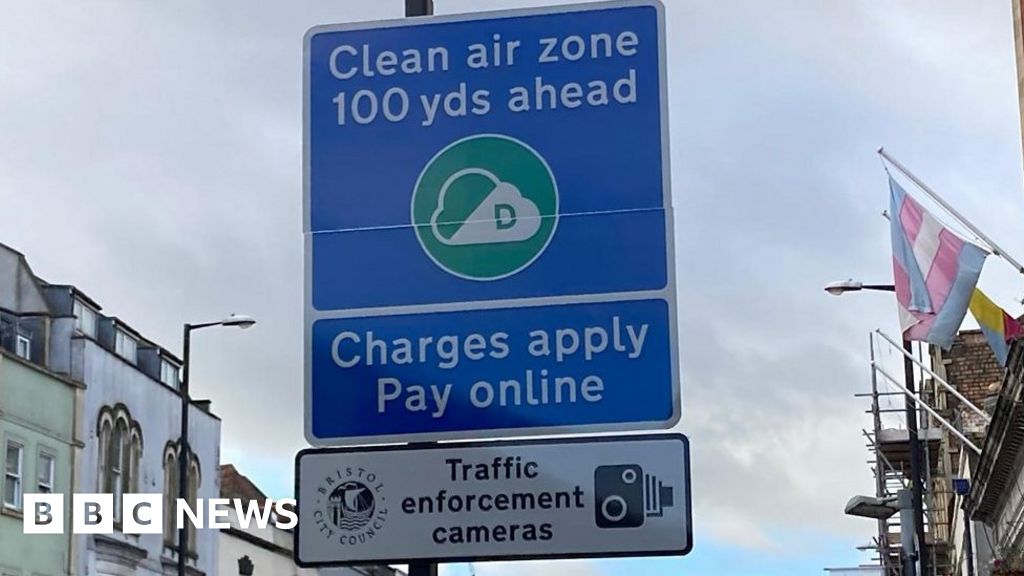 By Clara Bullock & Alex Seabrook
BBC News
6 hours ago
Image caption,
It is hoped the Clean Air Zone (CAZ) will reduce air pollution in the city
Transport boss refused to say how many drivers have been fined in Bristol's Clean Air Zone.
The scheme has been running for four months, but details of its impact on traffic and pollution remain unclear.
Drivers pay about £7m in total each year to Bristol City Council for about 230,000 parking and bus lane fines.
Clean Air Zone fines are adding "many more" to that total, although the exact figures have not yet been revealed.
During a recent cabinet meeting, questions were raised about how many PCNs have been issued to drivers who fail to pay the Clean Air Zone charge on time.
Labour Councillor Don Alexander, cabinet member for transport, said: "Parking services currently issue about 100,000 parking and 130,000 bus lane PCNs each year.
"The number of Clean Air Zone PCNs is adding more to this total."
The Clean Air Zone launched on 28 November last year.
People driving older and more polluting vehicles are charged a fee to drive into a zone around the city centre, of either £9 or £100, depending on the vehicle size.
Drivers who fail to pay this charge are issued a fine, but it's unclear how many drivers the council has fined since the scheme was introduced.
Council bosses are "not going to comment on particular figures" until November later this year.
A report will then be published looking at all of the details of how the Clean Air Zone has worked in practice a year since it launched.
This would likely include the total number of fines issued, as well as an analysis of how much air pollution has gone up or down.