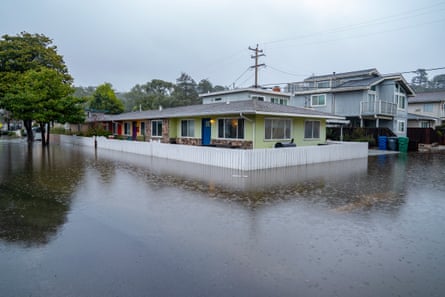 Facing a budget shortfall, California's governor Gavin Newsom proposed billions of dollars in cuts to climate spending – slashing subsidies for electric vehicles, funding for clean energy, wildfire prevention and programs to help low income residents cope with extreme weather.
The Democratic governor's announcement, which came amidst a week of torrential rains, deadly winds and flooding, drew sharp criticism from environmentalists. Facing a potential $22.5bn budget deficit, Newsom has suggested pulling back $3bn to address inflation and $750m to pay down unemployment insurance debt. But the bulk of his spending cuts slash programs for climate crisis and transportation.
Overall, Newsom has proposed cutting $6bn from a $54bn multi-year climate spending package that he had touted as "the most aggressive action on climate our nation has ever seen".
"Newsom has made a lot of really big promises," said Leah Stokes, an associate professor at UC Santa Barbara specializing in energy, climate and environmental politics. "So it is disappointing to see cuts on the climate spending, because this really needs to be the top priority for the state."
As global heating brings more severe droughts and more intense storms – like the one that California is weathering this week – cutting funding for climate crisis adaptation "right now is pennywise and pound foolish", said Laura Deehan, state director for the non-profit advocacy group Environment California.
The brunt of the budget cuts could fall on low income communities across the state, who are disproportionately exposed to pollution from fossil fuel infrastructure and are struggling to survive yearly cycles of drought, wildfire, heat waves and storms.
Among the governor's line-item cuts is a delay or cut in funding for programs to help vulnerable communities cope with extreme heat. Other cuts come from programs that would restore wetlands and protect cities from coastal storm surges.
"These really intense winter storms are happening just a few months after we went through really intensive, extreme heat waves," said Alexis Sutterman, energy equity program manager at the California Environmental Justice Alliance. Cuts to programs addressing extreme weather feel counterintuitive, they said.
And for communities dealing with legacies of environmental racism, being de-prioritized in the budget can feel "like an extra blow", they added.
Streets are flooded during a storm in Rio Del Mar, California. Photograph: Lipo Ching/EPA
During a press conference to present his budget, the governor said he was trimming climate and transportation programs "because of the magnitude of those budgets: unprecedented".
Newsom notes in his budget proposal the state will "pursue additional federal funding" to supplant cuts to climate and programs. With billions of potential climate investment coming in from the Inflation Reduction Act, Newsom said it was a "smart place" to consider cuts.
The reductions would also be restored if there is enough funding next year.
Newsom's January budget proposal is only a starting point. It will kick off months of negotiations, after which the governor will release a revised budget for legislators to consider and pass by 15 June.
As the governor positions himself to potentially run for federal office and perhaps – as many politicos have speculated, president – his handling of a deficit after years of surplus, and what issues he chooses to prioritize, will be scrutinized nationally.
Newsom has touted progressive policies and priorities on climate and education, while also pitching himself as fiscally prudent and adept at maintaining a balanced budget.
Despite a potential $6bn in cuts, the remaining $48bn investment in climate programs is "unprecedented", Newsom said.
Funding for electric and zero-emissions vehicles will likely be a major point of debate.
The governor proposed a $745m reduction in programs to expand zero-emission vehicle (ZEV) infrastructure in law income neighborhoods, and a $1.5bn reduction in funds for zero-emission trucks, buses and transit. Some of those cuts would be offset by funds from the federal government, which passed a landmark infrastructure law in 2022 that prioritizes programs to combat climate crisis.
But the reductions also come after Newsom campaigned against a ballot measure to fund the transition to electric vehicles, siding with Republicans and against fellow Democrats and environmental groups. Newsom had argued that Prop 30, a wealth tax to fund ZEVs and infrastructure was unnecessary given that the state had already allocated $10bn toward the cause.
A lack of funding for ZEVs and infrastructure programs could undermine the governor's own climate crisis goals, environmentalists said. In 2020, Newsom issued an executive order banning the sale of gas-powered vehicles by 2035.
"California has been speeding toward this clean air, clean car, clean energy future," said Deehan. "The proposed budget really would hit the brakes, when we should be speeding up."