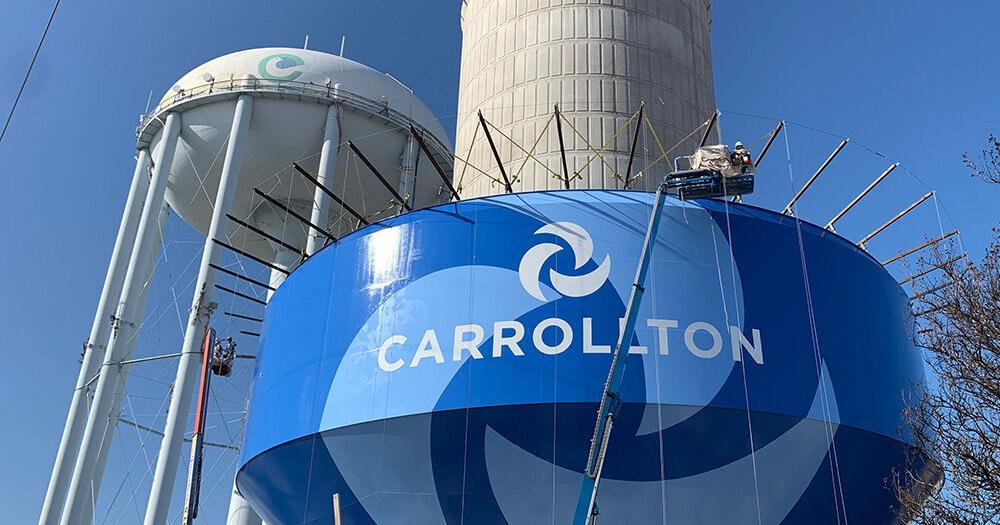 After 47 years, the Carrollton water tower on Josey Lane near Newman Smith High School is being replaced.
Carrollton engineers raised the 46-foot tall bowl of the new elevated storage tank on Friday. It will be the third tower to feature the city's new blue aesthetic following the towers constructed on Marsh Lane and Hutton Drive in 2016 and 2015, respectively.
The lifting process began early in the morning with periodic pauses to adjust the bowl as needed.
Andrew Combs, capital improvements program division manager, said observers were requested to stay on the east side of Josey Lane for safety purposes while the tower was being lifted.
A special industrial crane and rig were used to lift and maneuver the 400,000-pound bowl into its final position approximately 121 feet above ground level.
A city press release said it will take several days to secure the bowl to the concrete support column and create a water-tight seal before the interior finish-out can begin. The tower's final height will be 176 feet.
The press release said the current Josey Lane tank is being replaced with the new, two-million-gallon water tank to meet anticipated future needs of Carrollton based on a 2014 evaluation. Once the new water tank is fully installed, the old tank will be dismantled. The city said construction is ahead of schedule, and full dismantling of the old tower is scheduled to be complete by next year.
The city said Carrollton periodically rotates its water towers to meet the needs of its growing population and to maintain high water quality regulated by the U.S. Environmental Protection Agency. Funding for the project was approved in a Carrollton City Council meeting on March 23.
The current water tower was built in 1975 and is Carrollton's oldest operating water tower, standing at 171 feet tall and holding 1.5 million gallons of water.
Winston Henvey