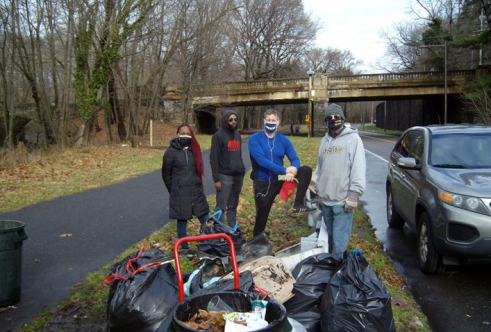 Mini-grant Awardees 2021-2022
Cobbs Creek Ambassador Clean up Along Cobbs Creek Park in 2020.
This project/program was funded (in part) by the Pa. Department of Health's Preventive Health and Health Services Block Grant.
Feet First Philly is Philadelphia's only pedestrian advocacy group. The group is sponsored by Clean Air Council. For the second consecutive year, the Council and Feet First Philly partnered with the Philadelphia Department of Public Health to provide funding for neighborhoods to improve walkability in their communities. The projects awarded are located throughout Philadelphia and all seek to enhance public spaces.
This mini-grant program was created to allow community groups, residents, and even local businesses to become active in improving public spaces, by using community-led designs to improve safety and beauty. This program demonstrates ways in which a small amount of funding can have a big impact on neighborhoods when residents lead the effort. A historic lack of investment in public spaces in Philadelphia's communities of color is a chronic problem, this mini-grant program prioritizes those neighborhoods that have historically been overlooked. 
In the first year of the mini-grant program, Feet First Philly funded seven amazing projects. This year, over 60 residents, businesses, and community organizations submitted applications. Thanks to the city funds which were supplemented by our generous donors, the program will be able to support a total of nine mini-grants this year.
The projects selected will implement unique strategies to address different barriers to public spaces in their neighborhood. Feet First Philly recently announced the first 5 projects and will announce the additional four winners in the near future.
Cobbs Creek Ambassadors will expand its efforts in cleaning up the Cobbs Creek Trail. This year, the group "aims to establish a Trash, Trees, and Trails (T³) mission, a more holistic approach to engaging neighbors in the park's revitalization."
Norris Square Neighborhood will install community bulletin boards in front of two of their garden spaces to provide various information to neighborhood residents and create more welcoming spaces for neighbors to enjoy.
Southwest Community Development Corporation will create an outdoor space for community members to access and engage in various activities. This space will act as a pocket park for the neighborhood.
ACHIEVEability will increase safety, cleanliness, and neighborhood pride by beautifying the 60th Street Commercial Corridor between Arch and Chestnut Streets.
Hansberry Garden and Nature Center will enhance a meadow as a local walking destination with a welcome sign, seating area, and other amenities.
The additional four awardees will be announced soon. Follow Feet First Philly on Facebook, Twitter, and Instagram for updates on the additional projects!
For more information contact Titania Markland, Transportation Outreach Coordinator, [email protected].