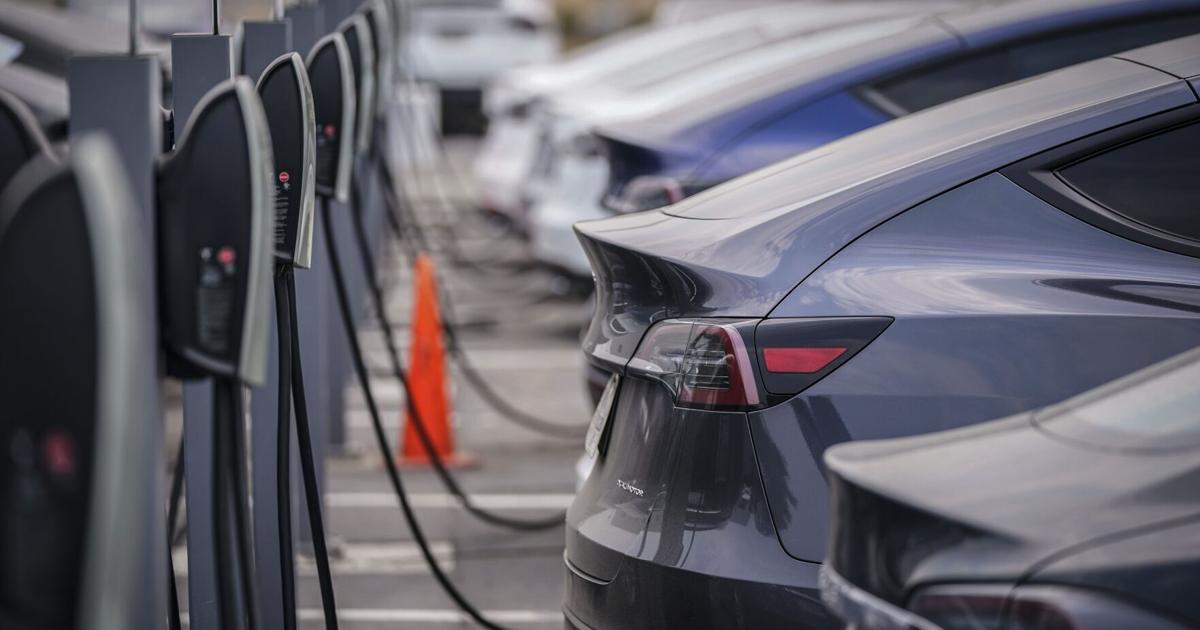 The new episode of [email protected] shares stories around love. Love for a sports team, love for tattoos, arts and music. [email protected] is presented by Massey Cancer Center from the Virginia Wayside Furniture studio
Ever rolled down your car window to get some fresh air? Well, if a bill allowing more transportation pollution had passed the Virginia Senate this week, we would have all been keeping those windows up — and for decades to come.
In January, the Virginia House passed a bill to weaken the commonwealth's pollution standards for cars. Thankfully, eight state senators recently shut down this dangerous proposal. Now, Virginia's stronger pollution standards for vehicles will stay on the books. These rules will clean our air, protect lives and save households hundreds of dollars each year while helping Virginians take full advantage of investments from recently passed federal bills.
The U.S. Clean Air Act allows states to bypass weaker federal regulations and adopt stronger pollution rules to safeguard the health of their residents. In 2021, the Virginia General Assembly did just that — it voted to adopt state-led clean car standards that will cut much more pollution compared to outdated EPA rules.
People are also reading…
Our zero-emission vehicle standard, dubbed "Advanced Clean Cars II" (ACC II), will gradually require more electric vehicles (EVs) be sold in our state from 2026 to 2035. Unlike gas- and diesel-powered cars, EVs do not generate the carbon pollution that harms our environment, or nitrogen oxides and soot, which cause asthma, lung disease and even heart attacks and strokes. ACC II is the best tool available to Virginia lawmakers to clean the air around our roads, save lives and cut costs for drivers.
Virginia auto dealers support the clean cars rules because they are also good for business. Without these laws, car manufacturers deliver fewer EVs to the state, decreasing the options available to buyers. Limiting consumer choice often results in Virginians shopping out of state, which hurts the local economy.
For these reasons, more than a dozen other states have adopted state-led tailpipe emissions standards, establishing a network of states opting for cleaner air, consumer choice and stronger economies.
Clean car standards in Virginia will be doubly powerful because of a separate bill passed in 2020: the Virginia Clean Economy Act. The Act requires that the two utilities in the state, Dominion Energy and Appalachian Electric Power, produce only renewable electricity by 2045 and 2050, respectively. This legislation means our EVs will be charged using clean rather than dirty electricity.
As an energy policy analyst, I used my organization's Virginia Energy Policy Simulator to assess the impact of ACC II when combined with the Clean Economy Act, and the results are remarkable. Adopting ACC II will cut 76 million tons of carbon pollution through 2050 — the same effect as planting 98,000 acres of trees every year until 2050. These policies will also prevent nearly 3,000 asthma attacks, 5,000 incidents of bronchitis and respiratory illness and over 160 premature deaths in Virginia over the same period.
The icing on the cake: on top of tax credits from the Inflation Reduction Act, keeping ACC II in Virginia will save our households an average of $580 per year from 2026 to 2050.
Due to lower maintenance costs, cheaper fuel and new federal tax credits, most EVs are cheaper over the first three years of ownership than their gas counterparts. The up-front cost of new EVs will continue to decline in the coming years thanks to fast-falling costs for battery technologies. Adopting zero-emission vehicle standards actually helps lower the costs of EVs even further by encouraging automakers to increase production. States can also lower sticker prices by offering purchase incentives or pausing sales taxes.
Virginia is making great progress, but we cannot falter now. Having passed a 2020 law to provide the most equitable EV rebate in the country, legislators now find the rebate "lost in the sea of competing budget priorities." The rebate, which was supposed to go into effect in January 2022, would provide $2,500 to new and used-car buyers, and would jump to $4,500 for low-income buyers. These stand atop the Inflation Reduction Act's tax credits, which offer up to $7,500 to buyers of new EVs from now until 2032.
The state can also support EV adoption by building an effective charging network. Currently, 50-plus mile gaps remain between fast-charging stations on almost all major interstates in Virginia. By leveraging $100 million in federal funding set aside for Virginia to install chargers, the state could quickly begin to relieve range anxiety from Abingdon to Arlington.
Thanks to eight members of the Senate's environmental committee, our breathable air and strong economy are safe for now. These senators should continue to embrace Virginians' support for EVs and keep our commonwealth moving forward.
From the Archives: When hurricanes were front page news in Richmond
Camille
Hurricane Camille, August 1969
Camille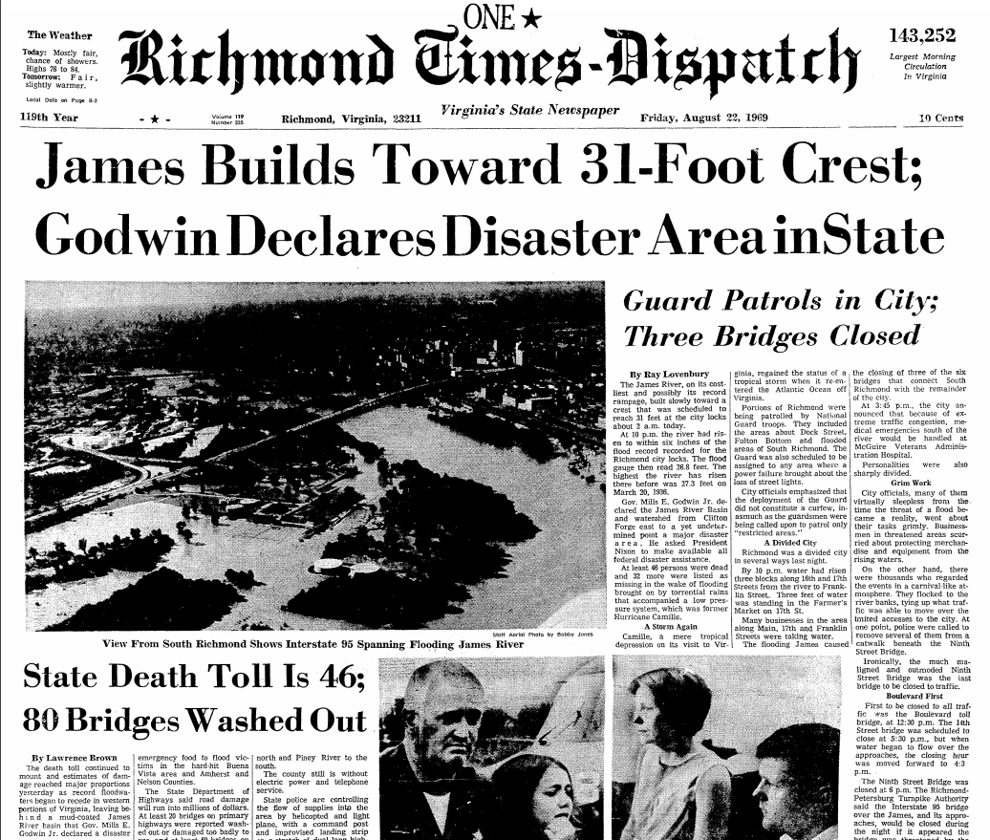 Hurricane Camille, August 1969
Connie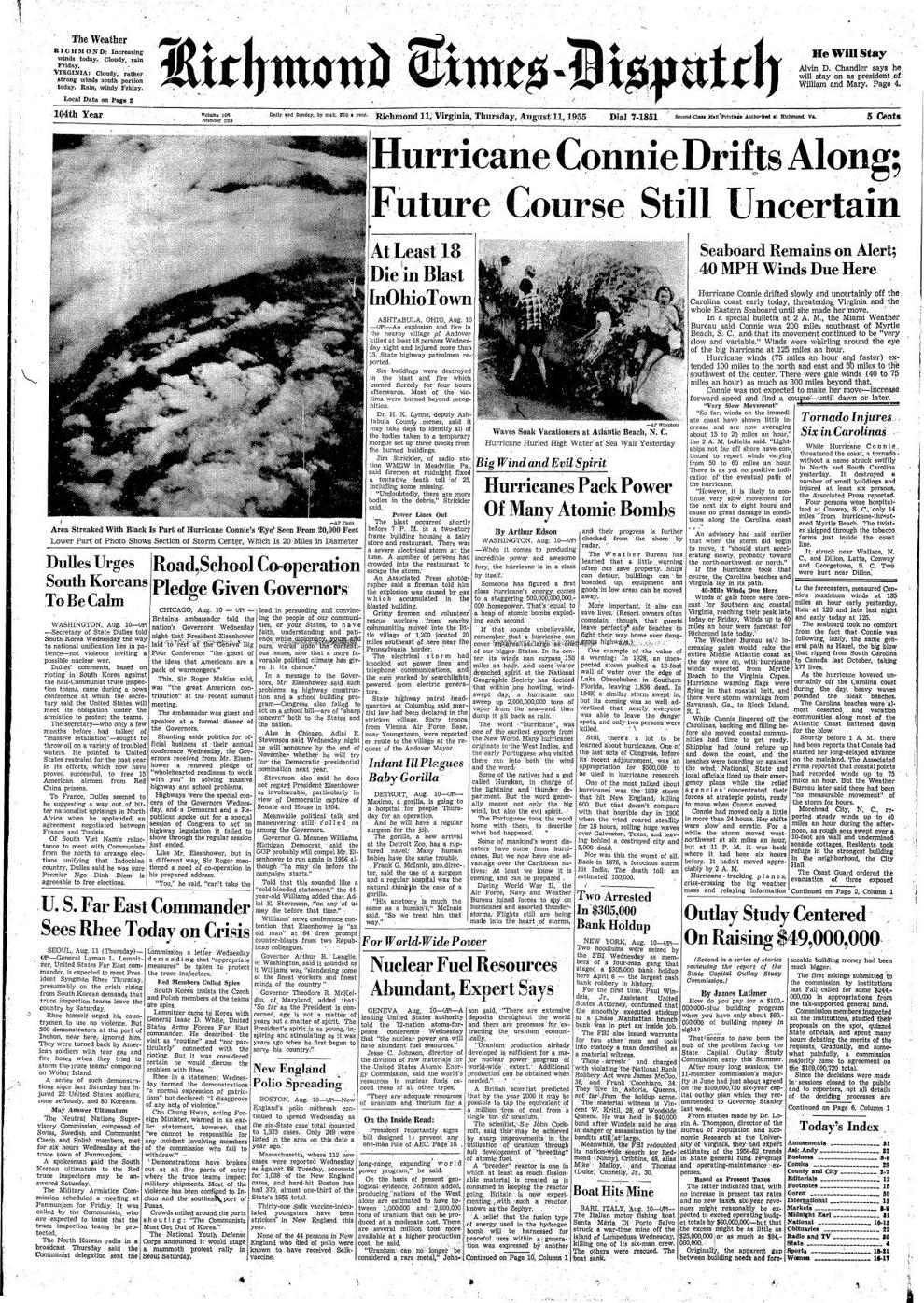 Hurricane Connie, August 1955
Connie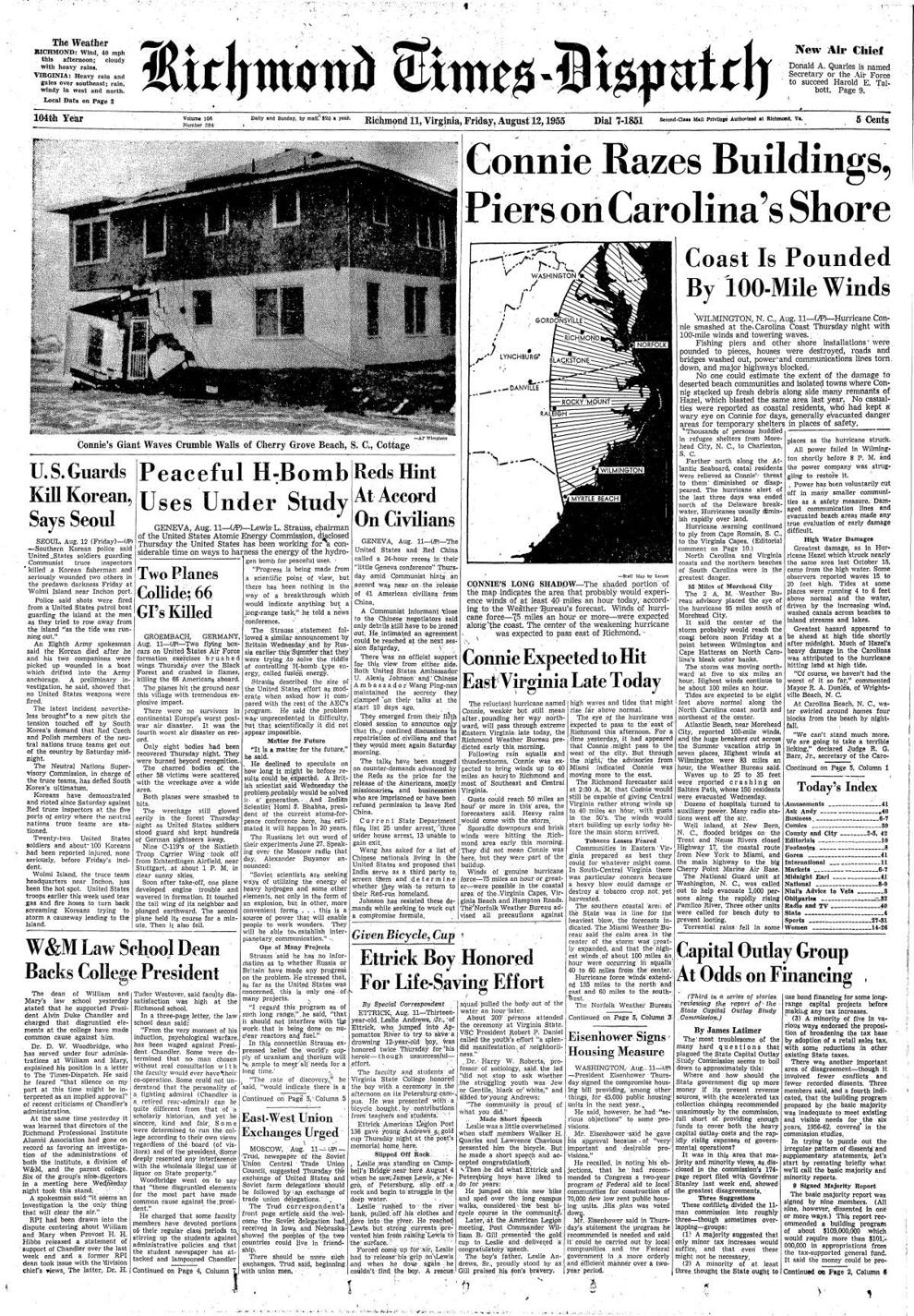 Hurricane Connie, August 1955
David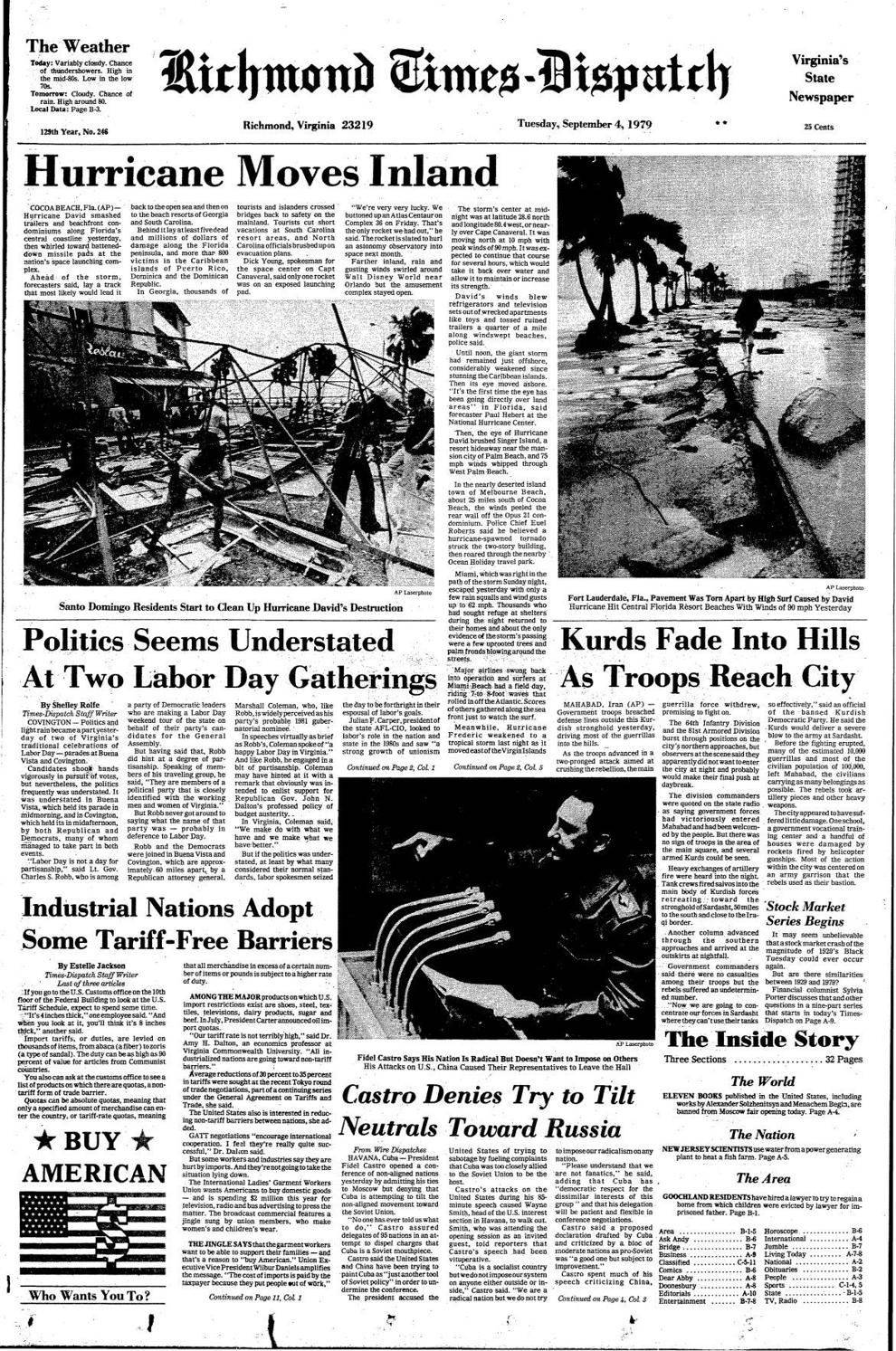 Hurricane David, September 1979
Donna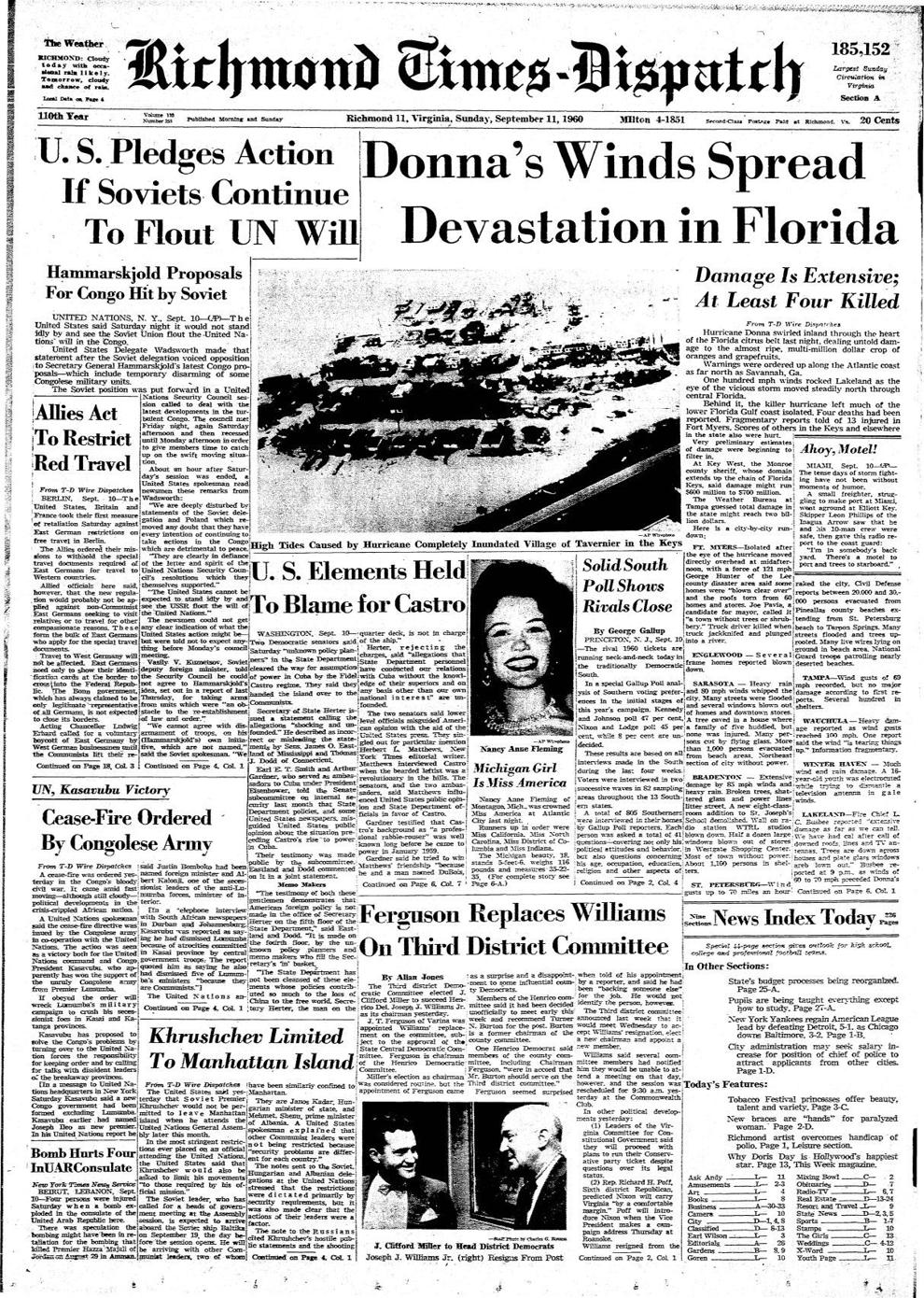 Hurricane Donna, September 1960
Donna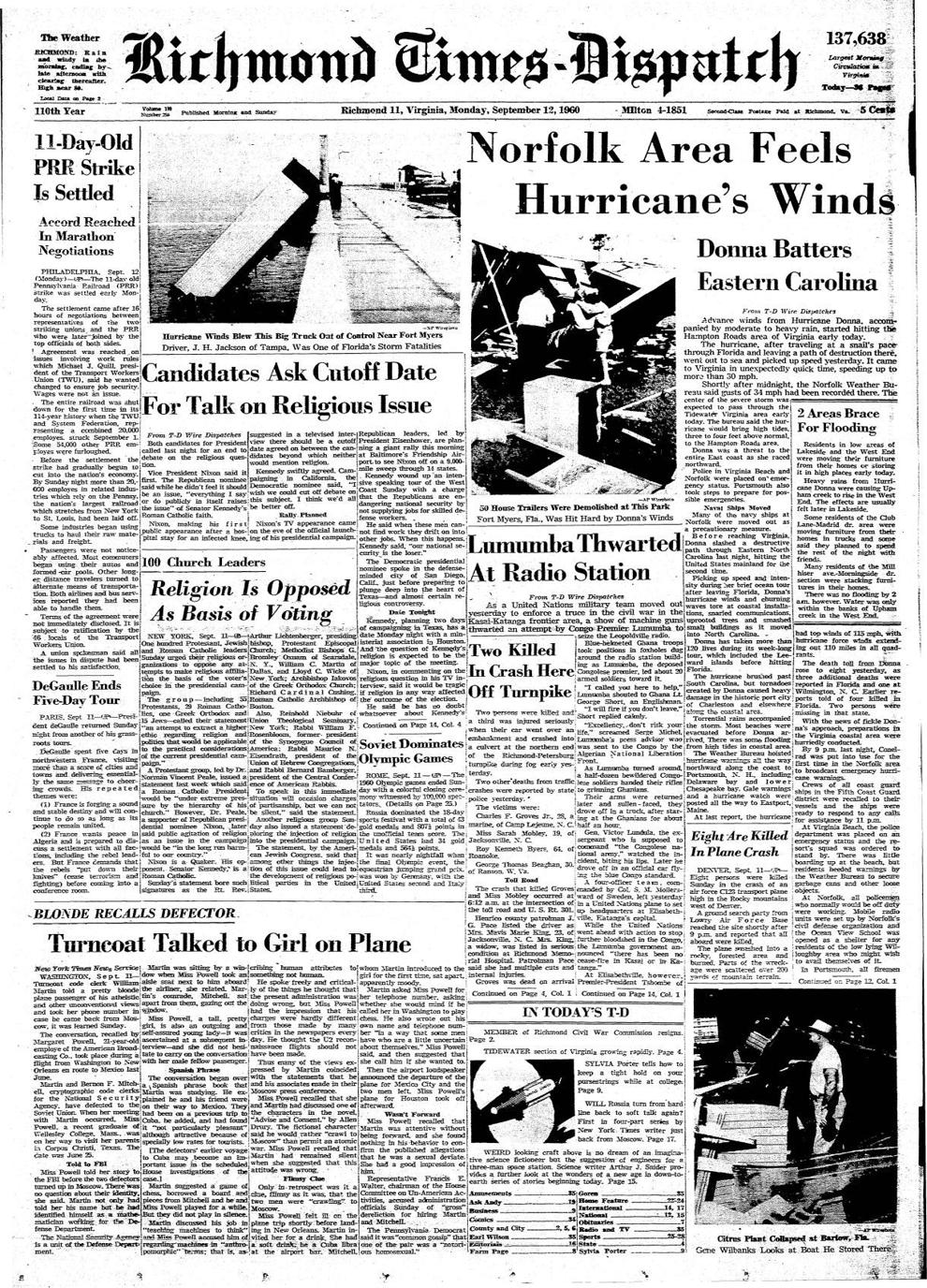 Hurricane Donna, September 1960
Emily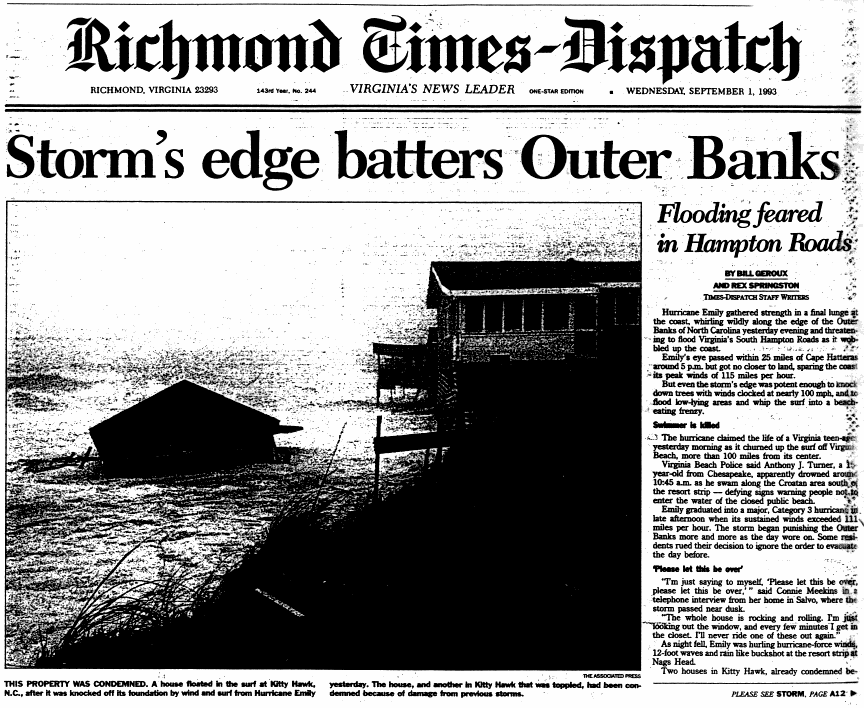 Hurricane Emily, September 1993
Floyd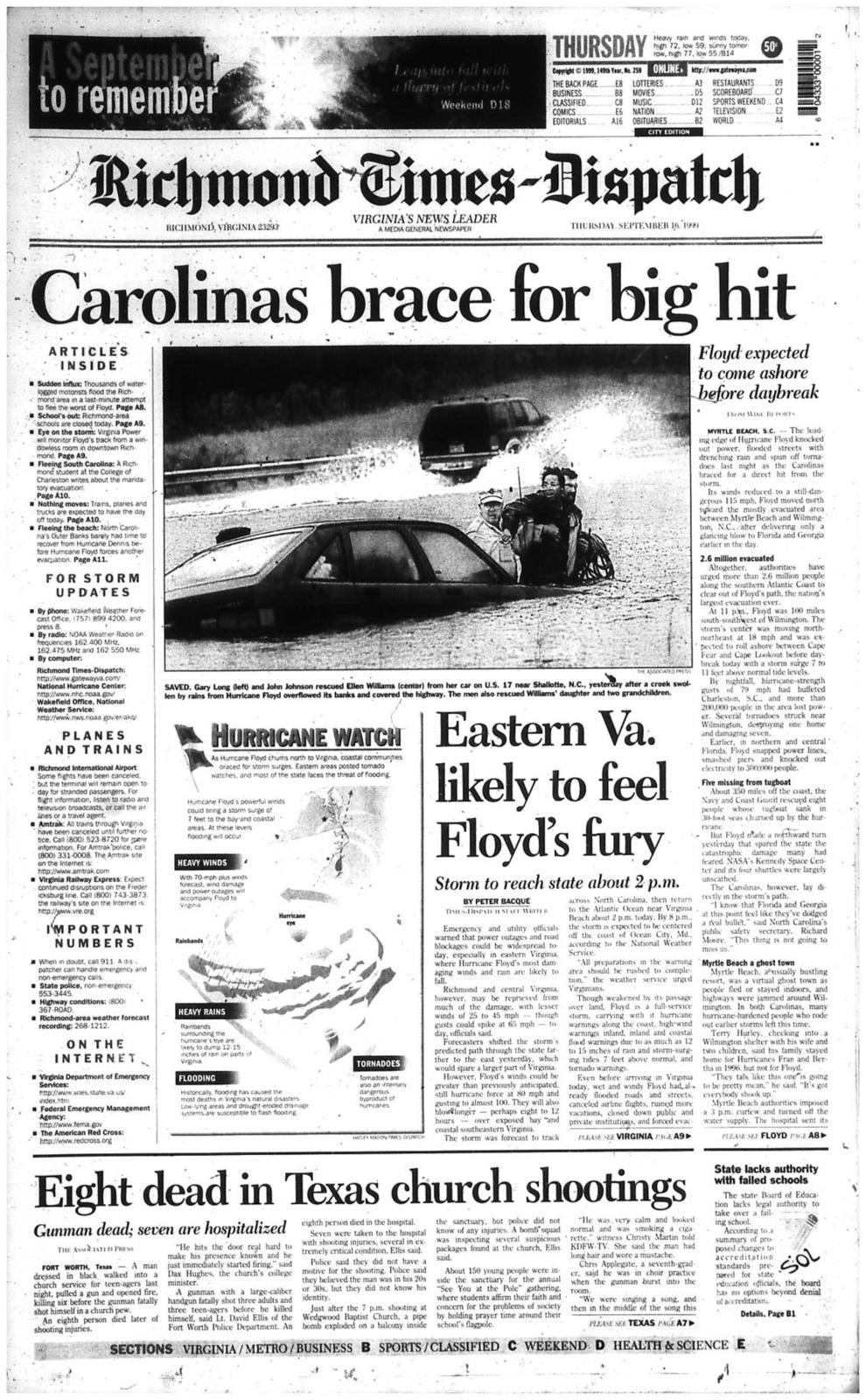 Hurricane Floyd, September 1999
Floyd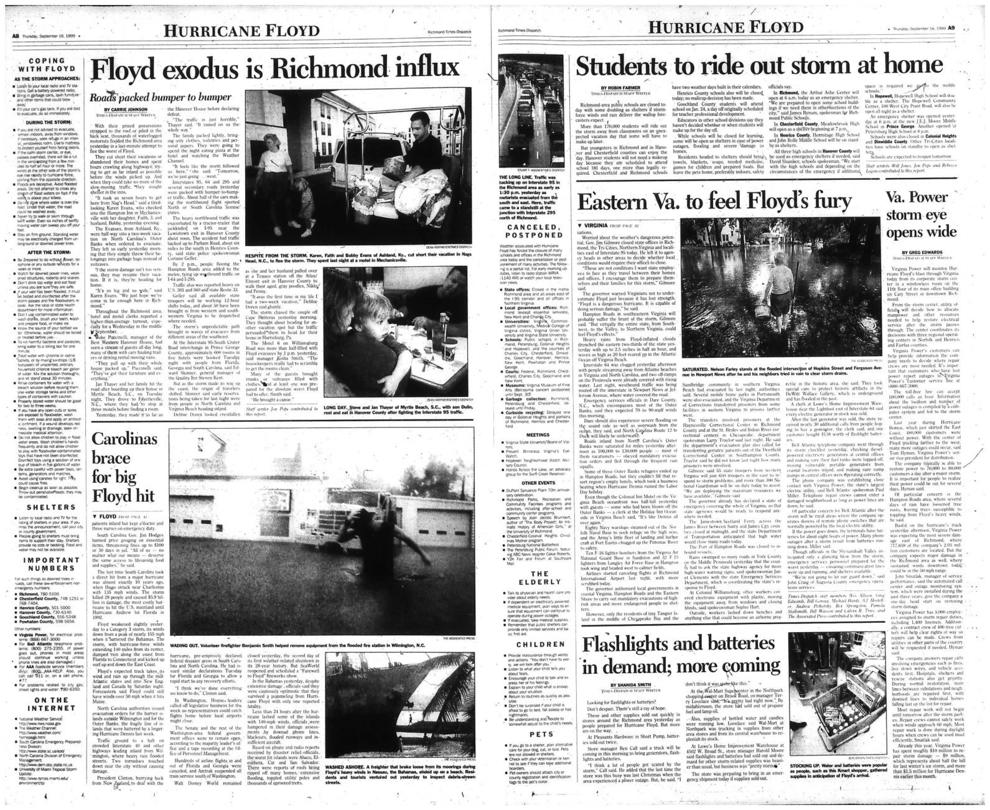 Hurricane Floyd, September 1999
Fran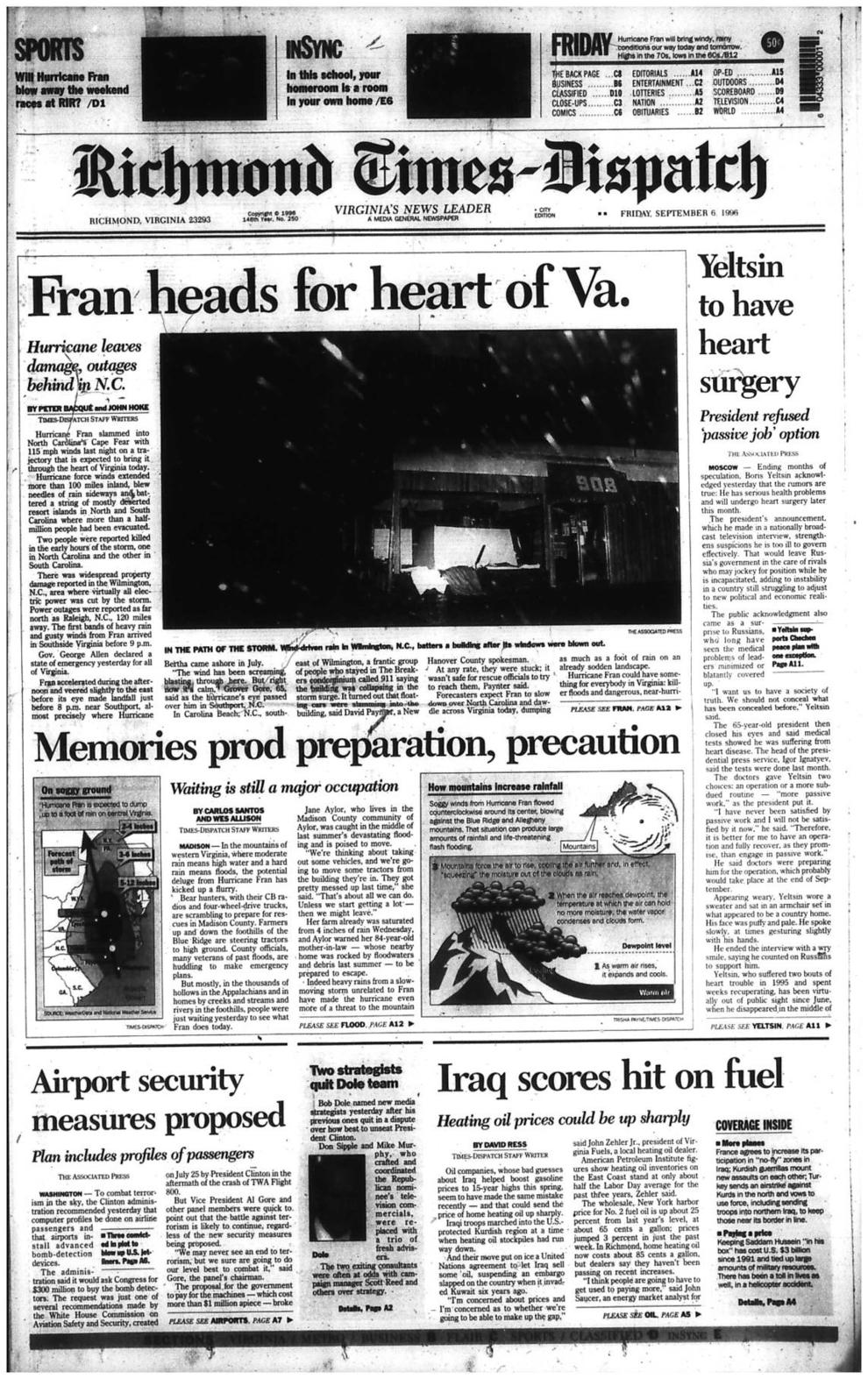 Hurricane Fran, September 1996
Fran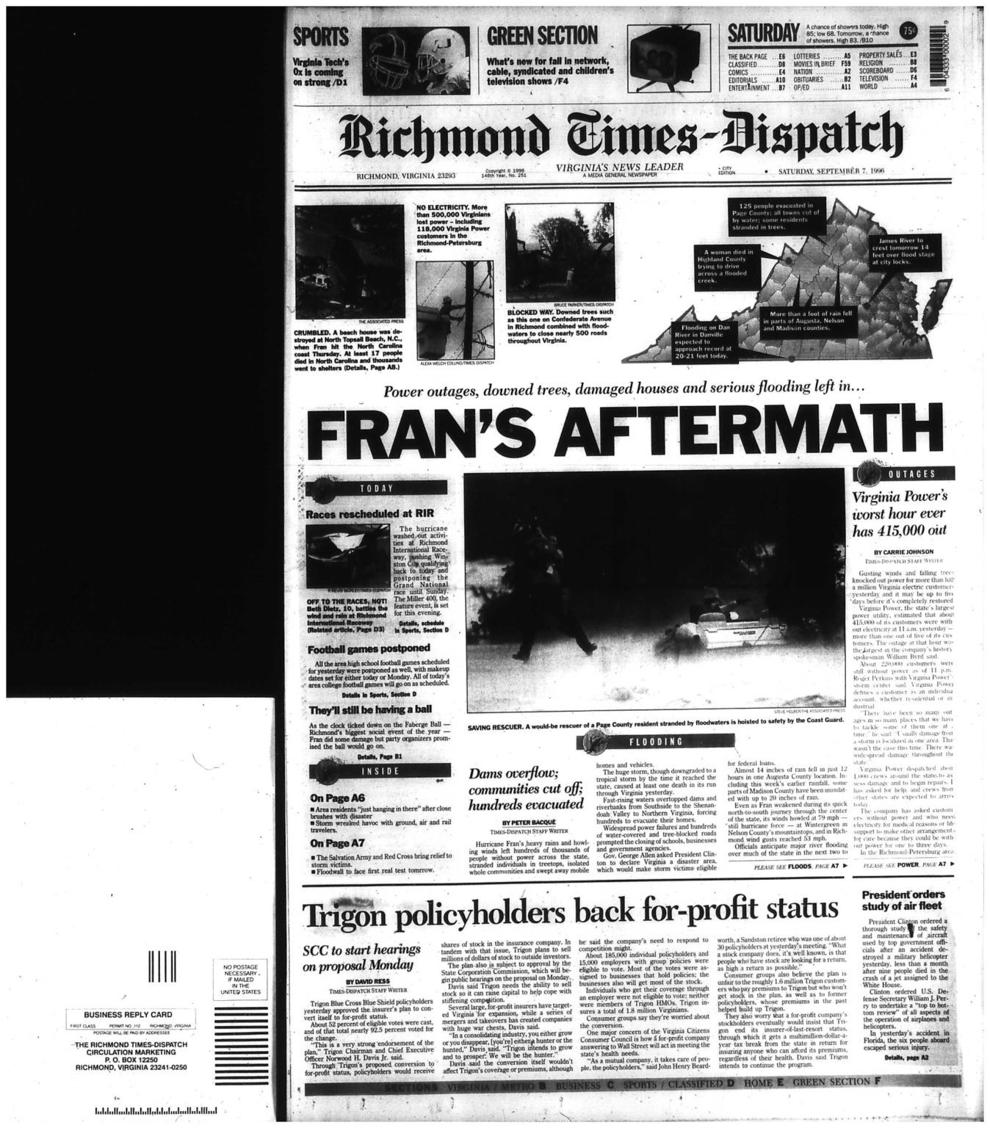 Hurricane Fran, September 1996
Gloria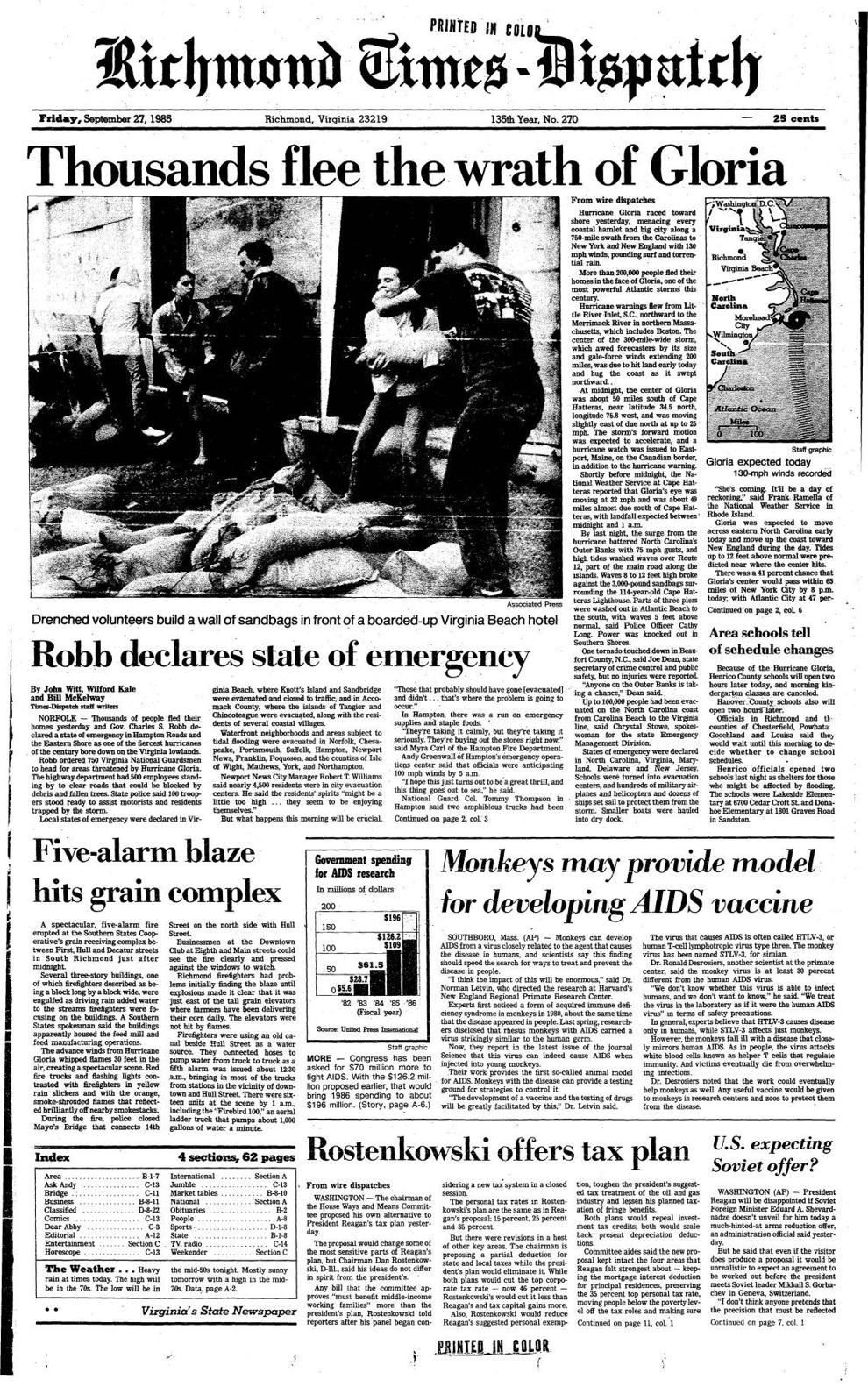 Hurricane Gloria, September 1985
Gloria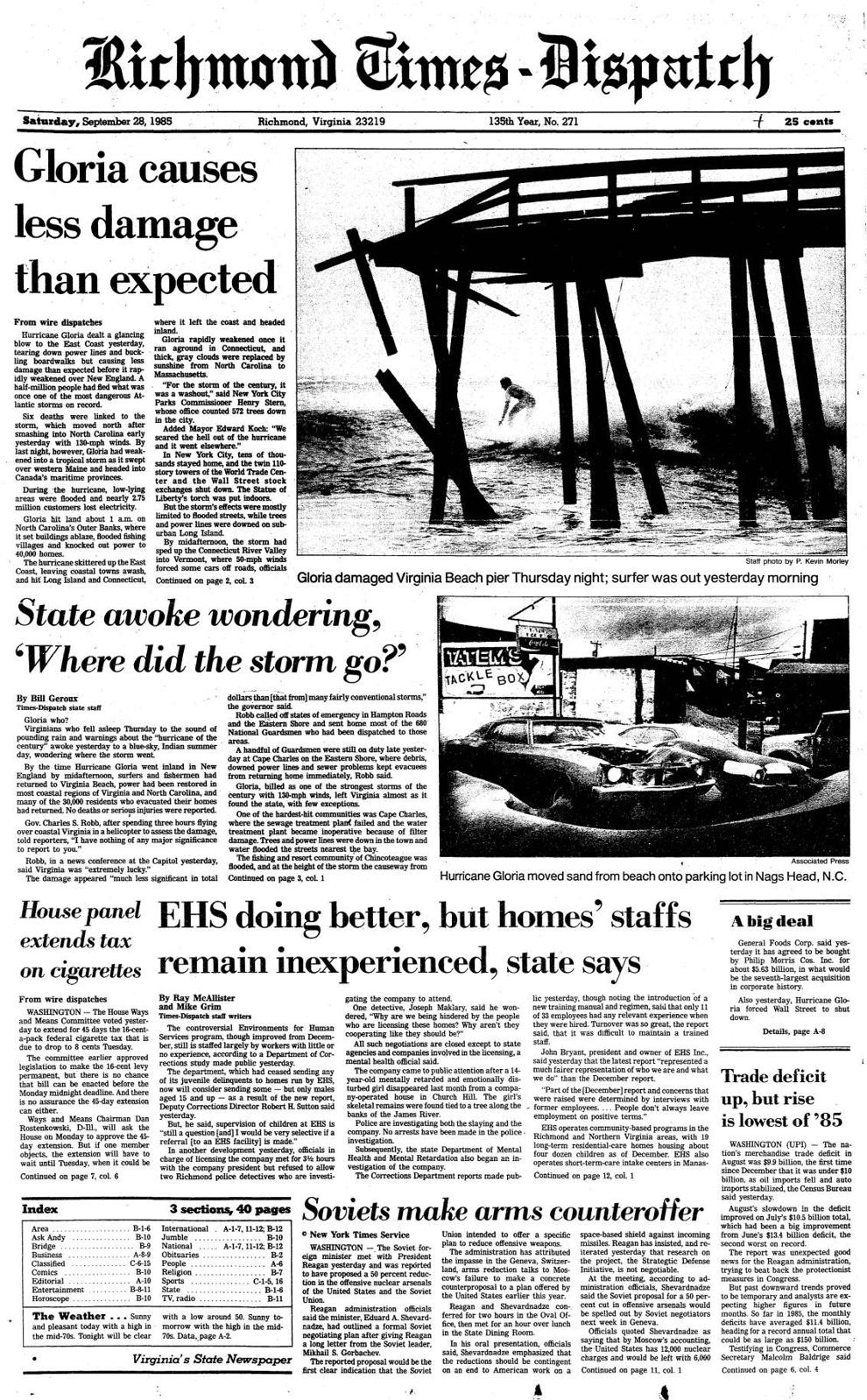 Hurricane Gloria, September 1985
Gloria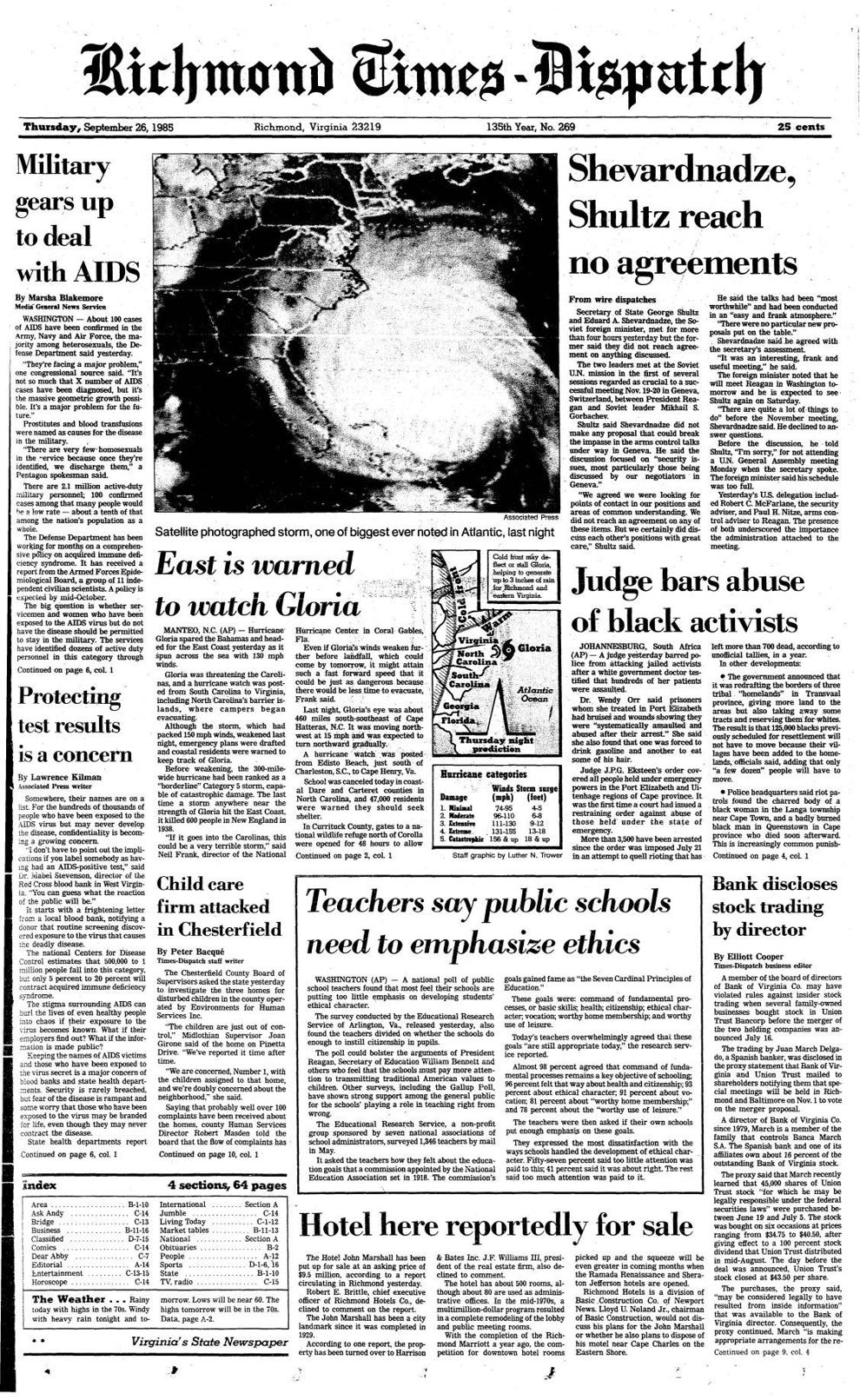 Hurricane Gloria, September 1985
Hazel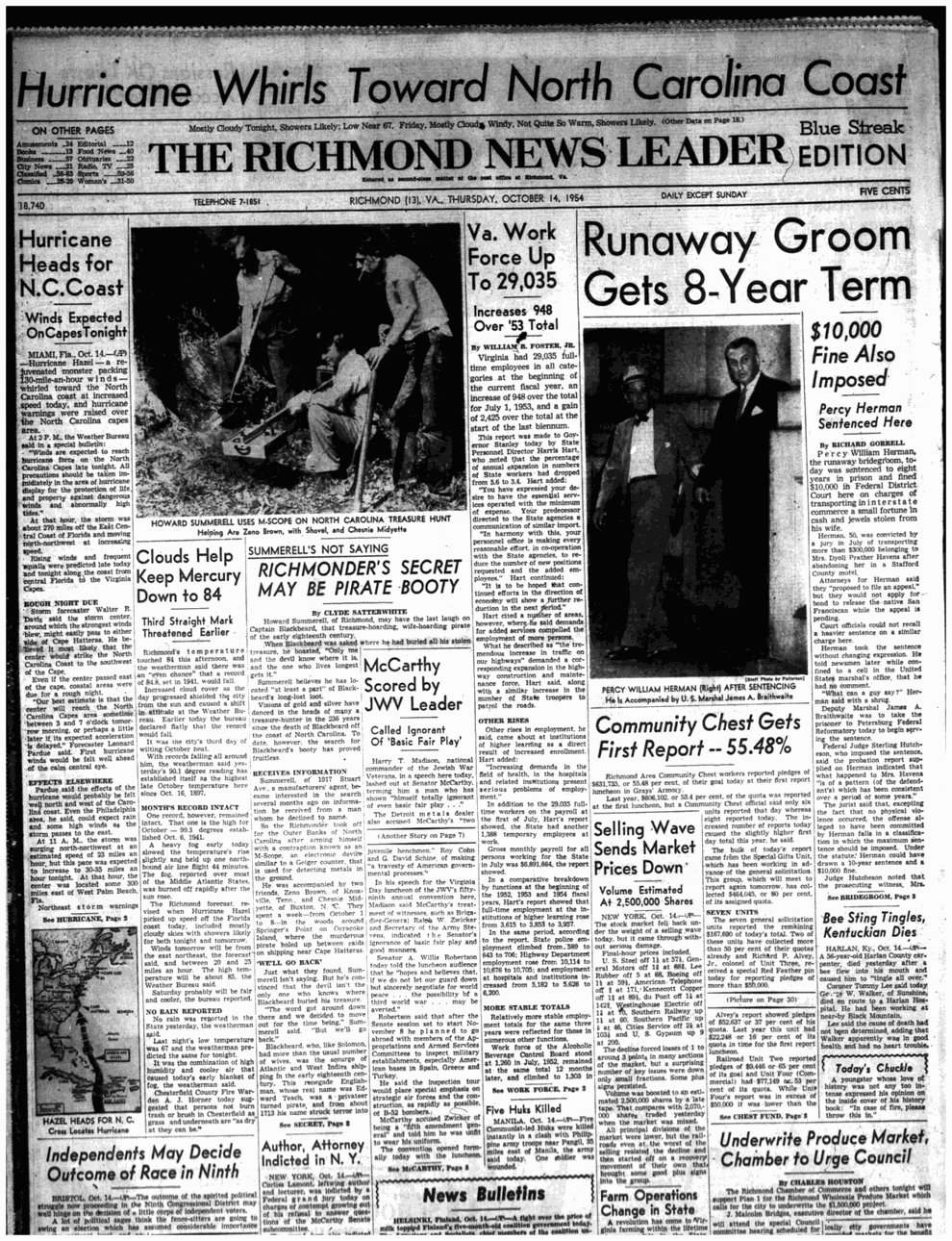 Hurricane Hazel, October 1954
Hazel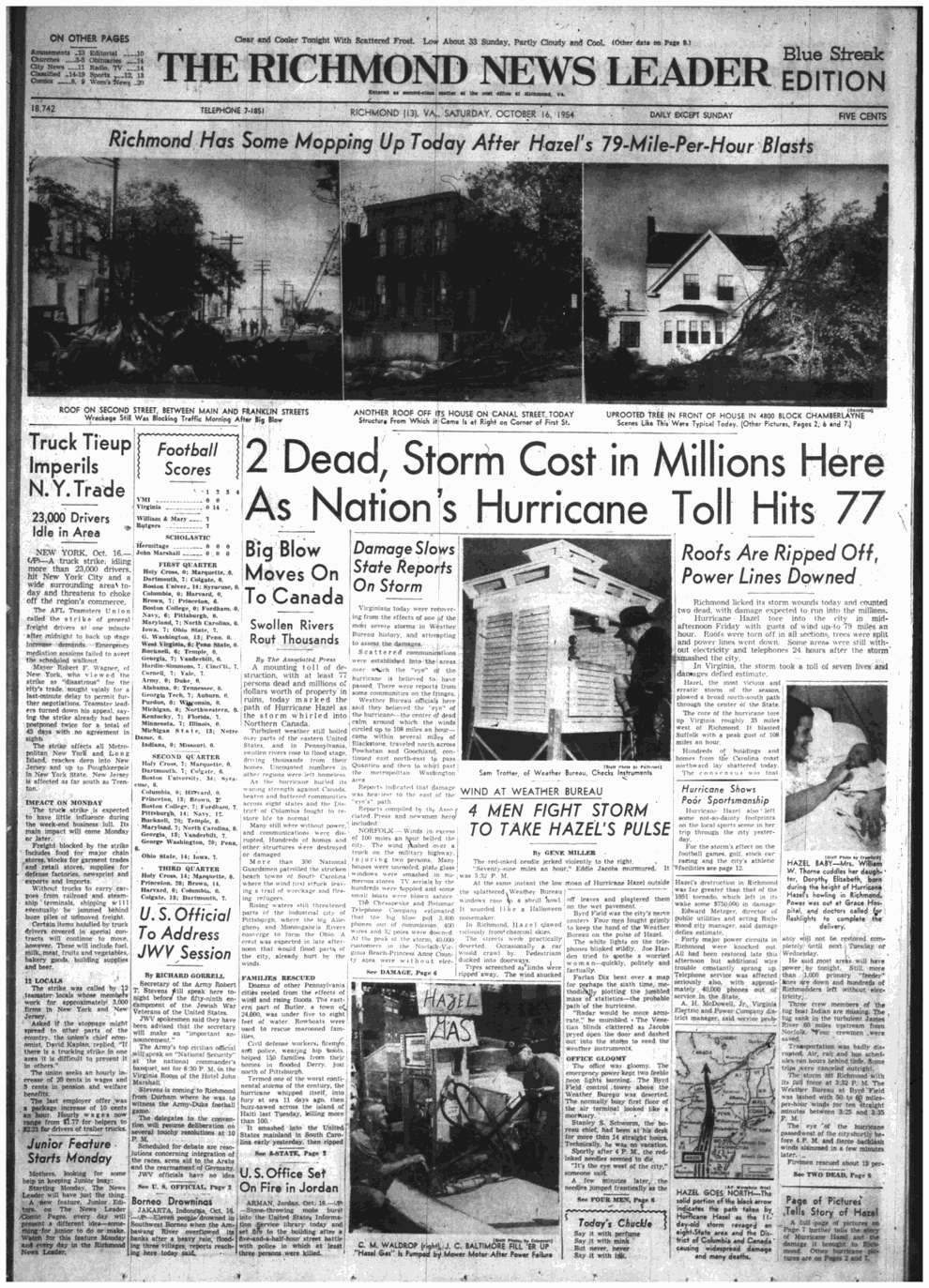 Hurricane Hazel, October 1954
Hazel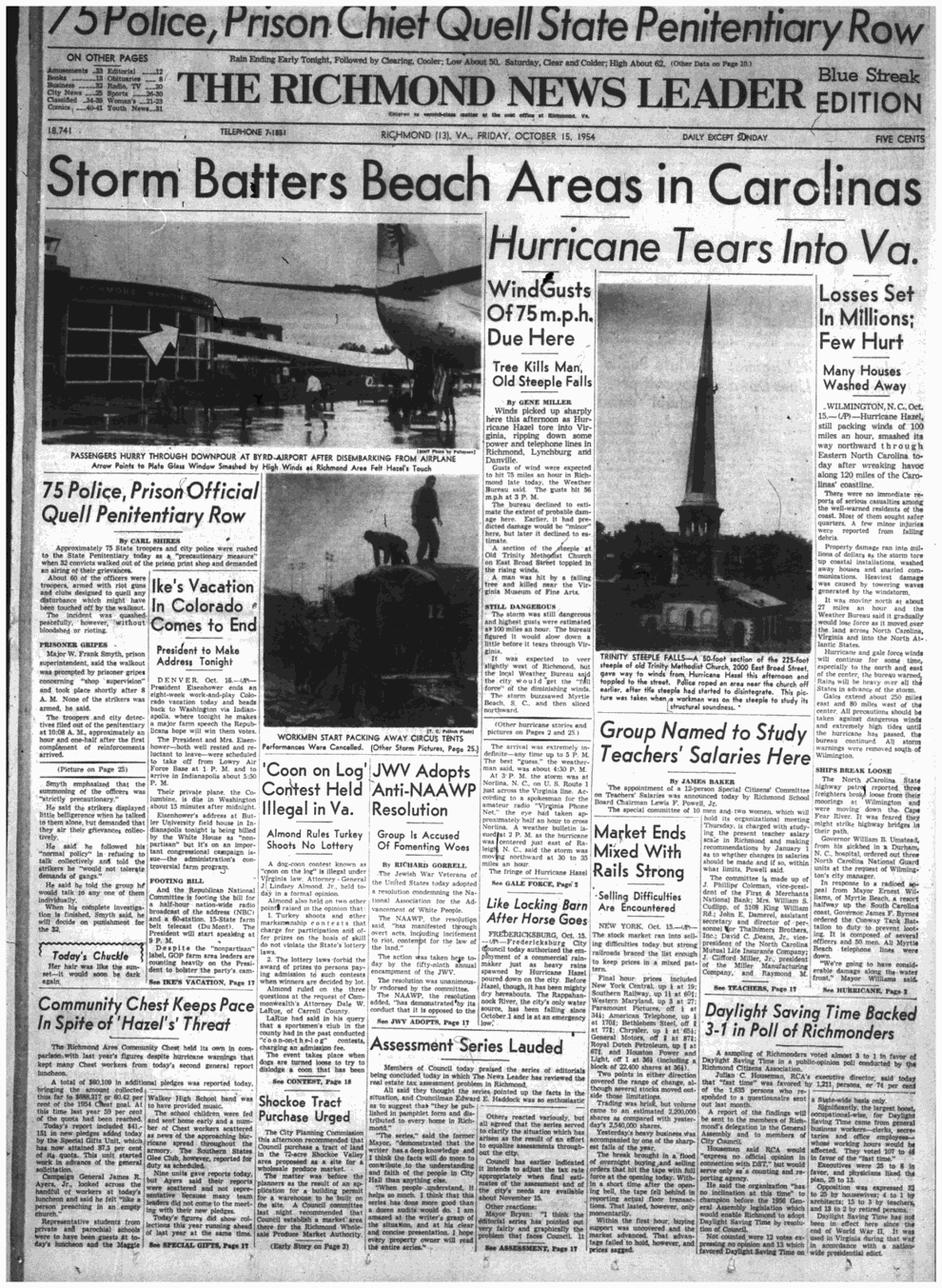 Hurricane Hazel, October 1954
Hugo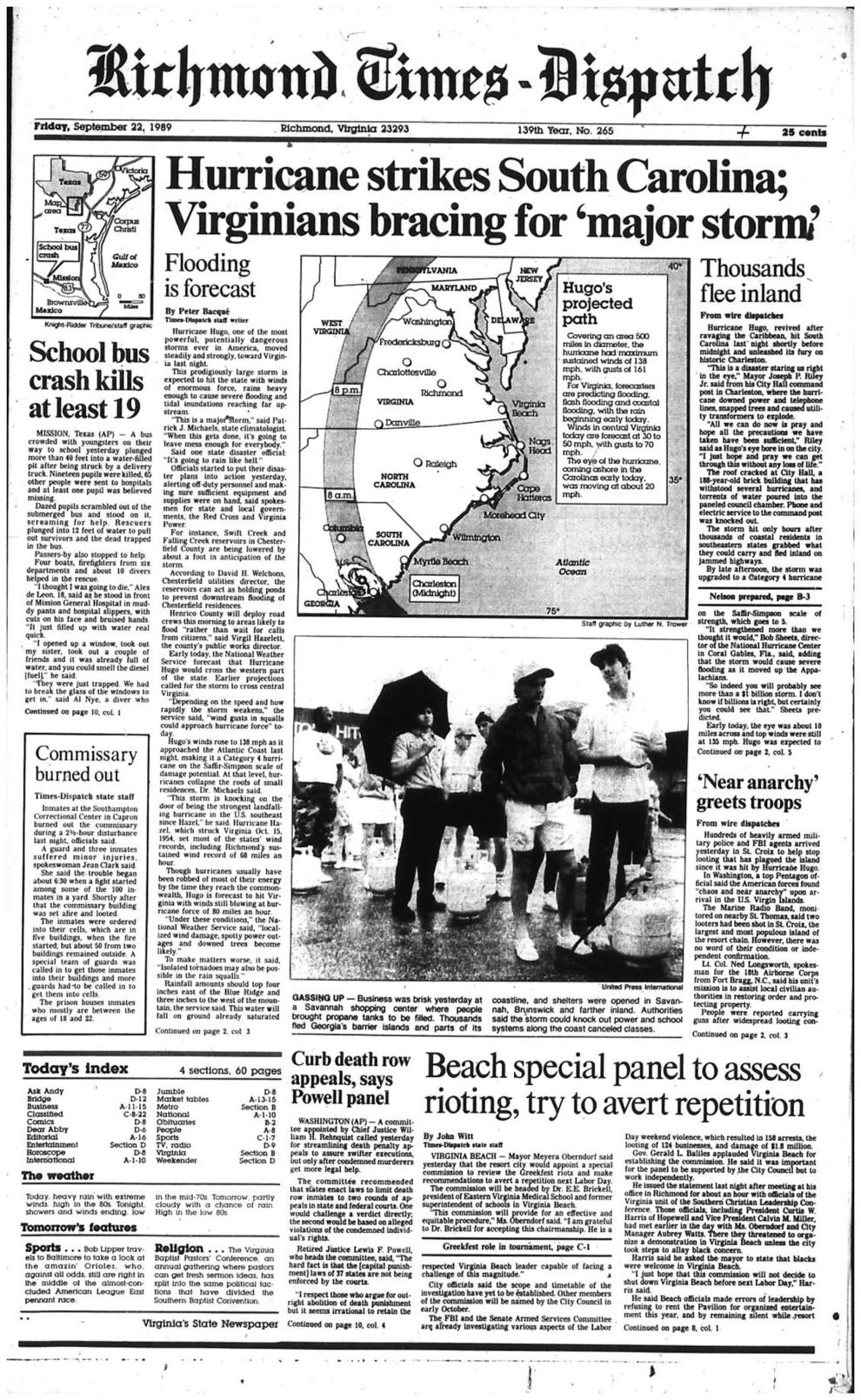 Hurricane Hugo, September 1989
Hugo
Hurricane Hugo, September 1989
Irene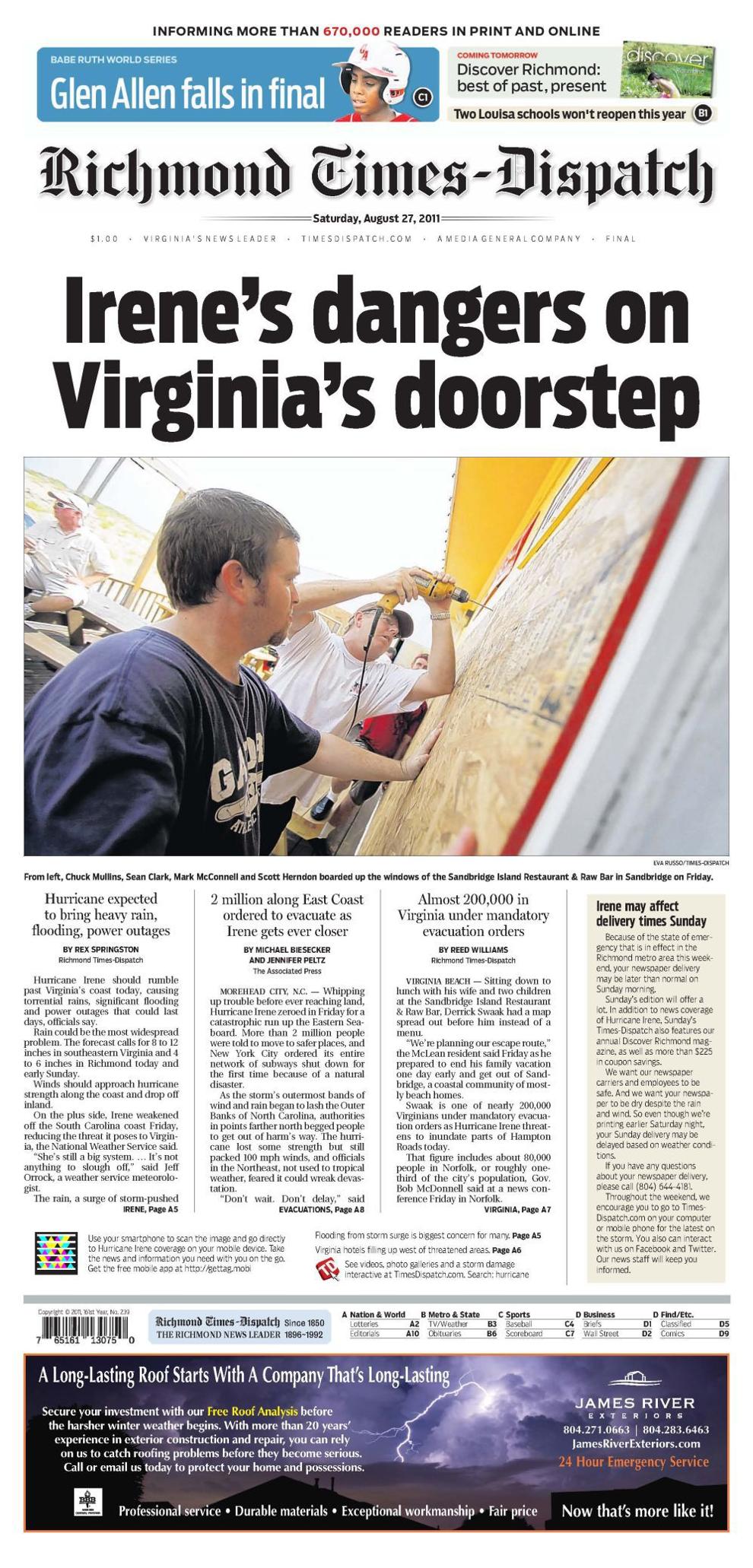 Hurricane Irene, August 2011
Irene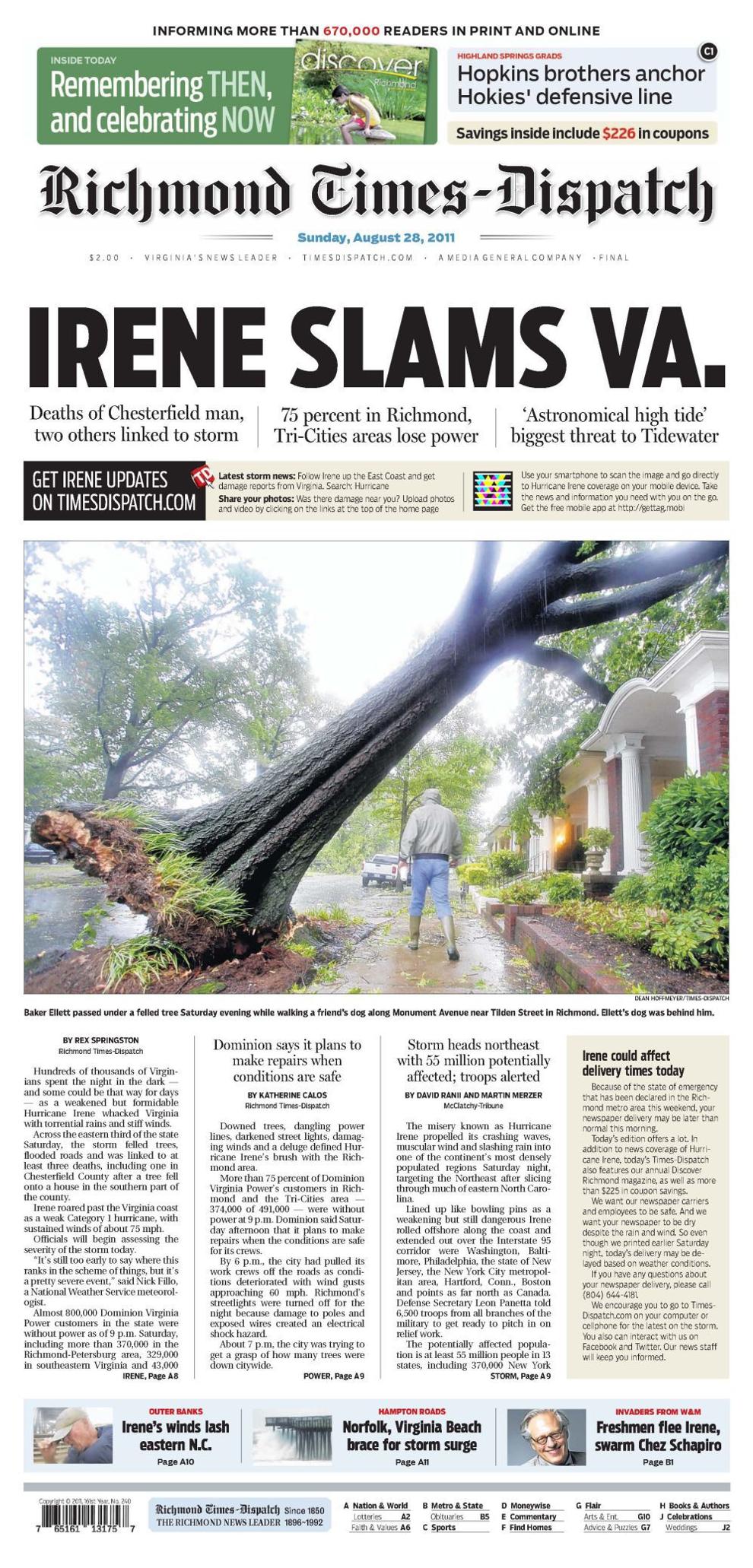 Hurricane Irene, August 2011
Irene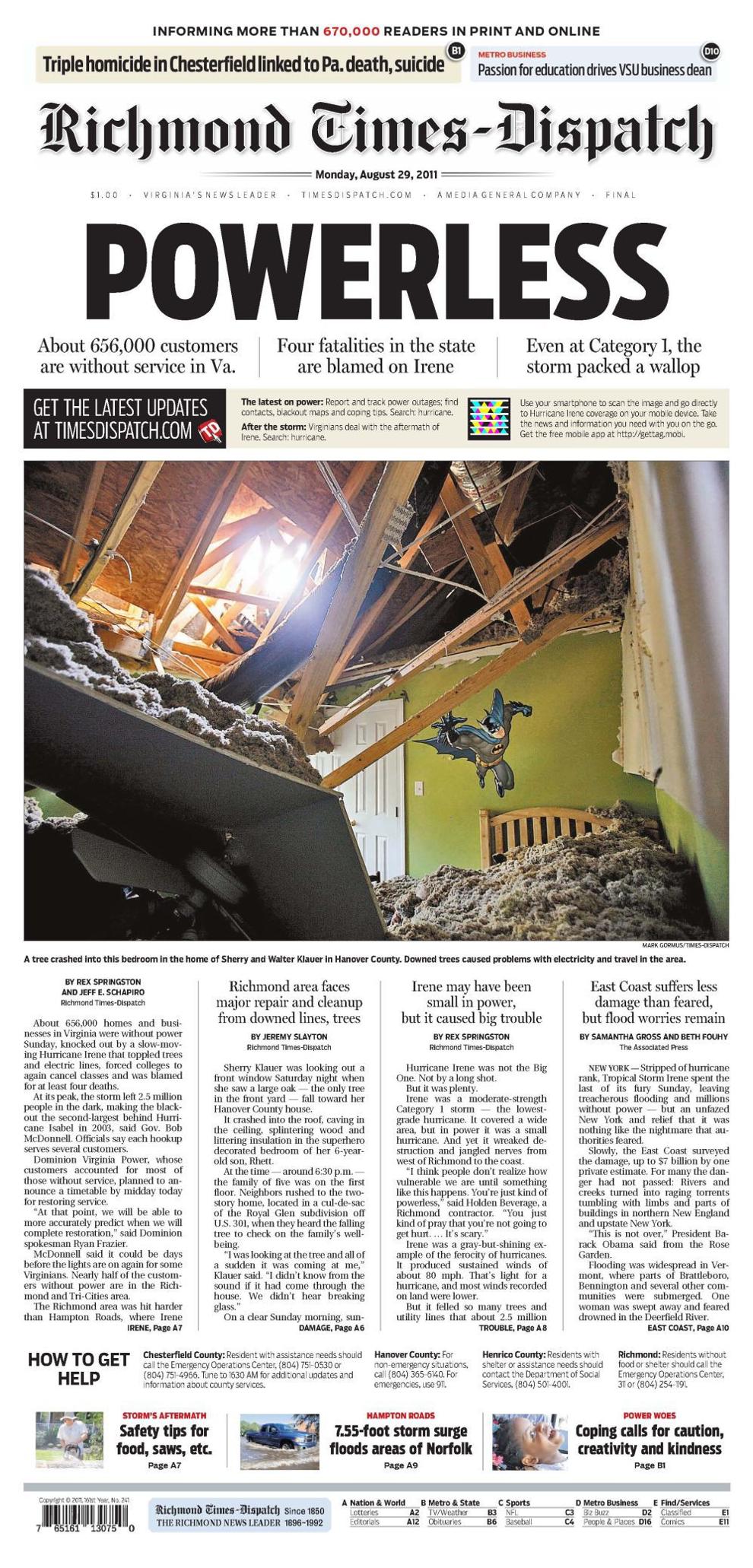 Hurricane Irene, August 2011
Irene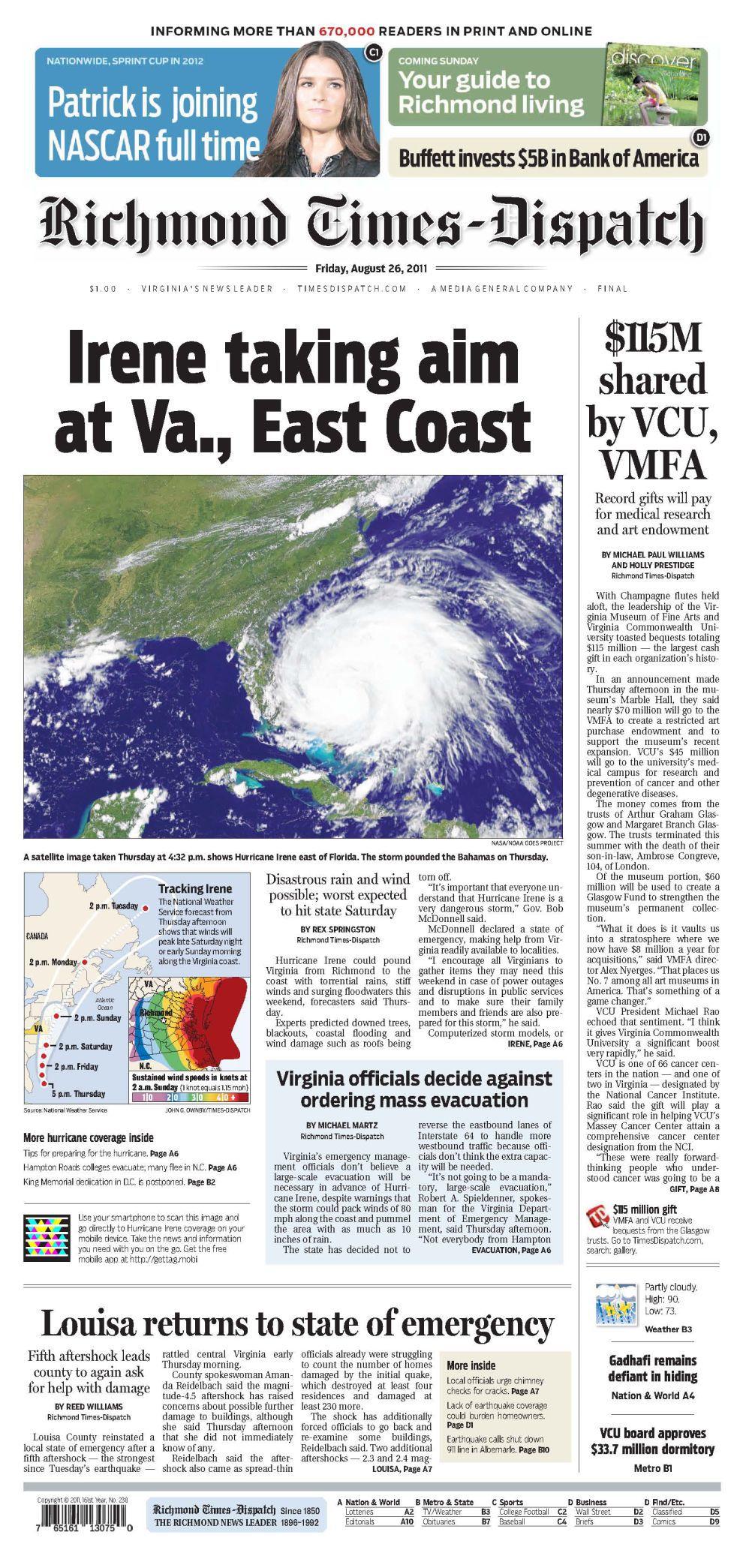 Hurricane Irene, August 2011
Isabel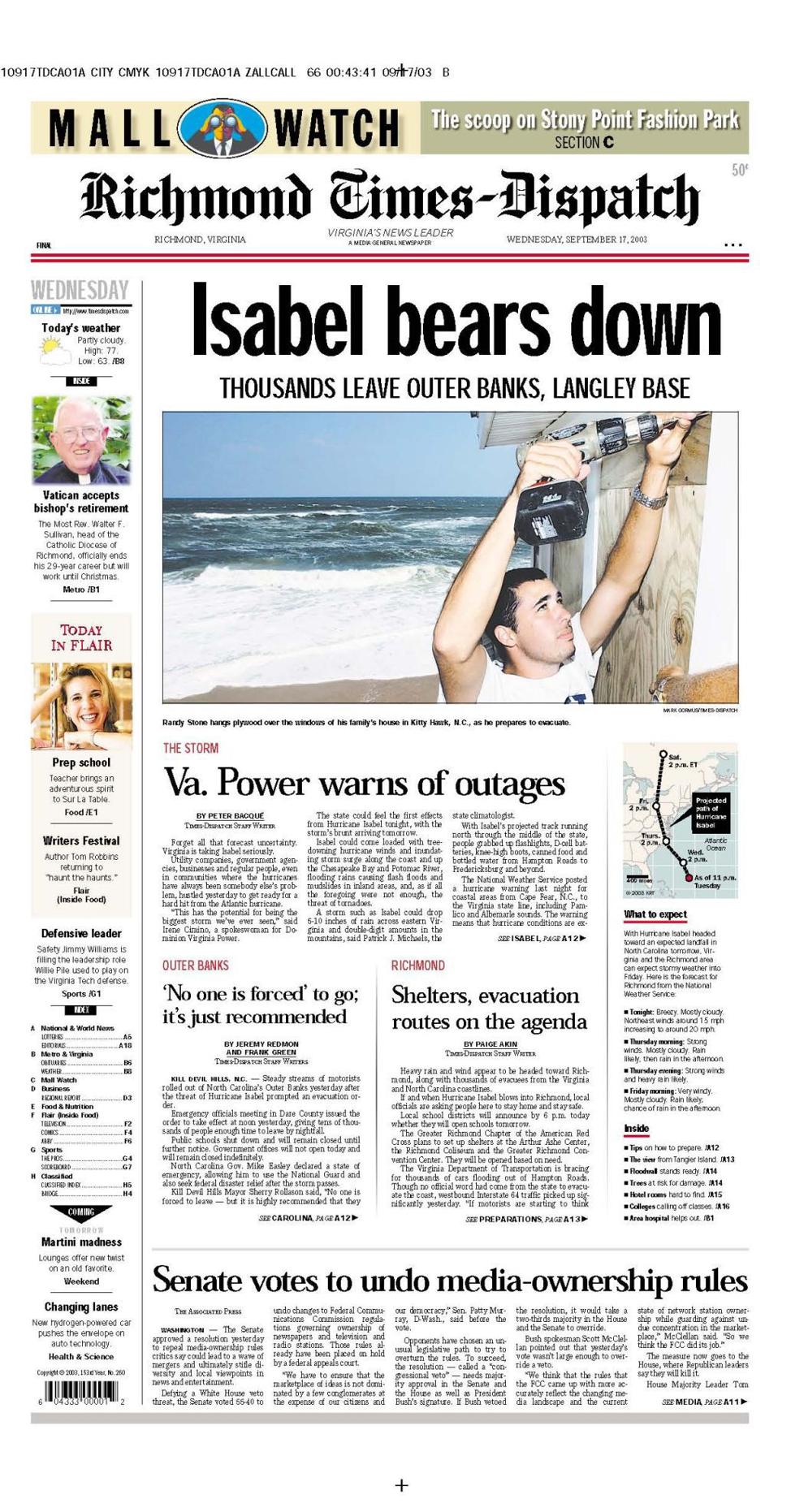 Hurricane Isabel, September 2003
Isabel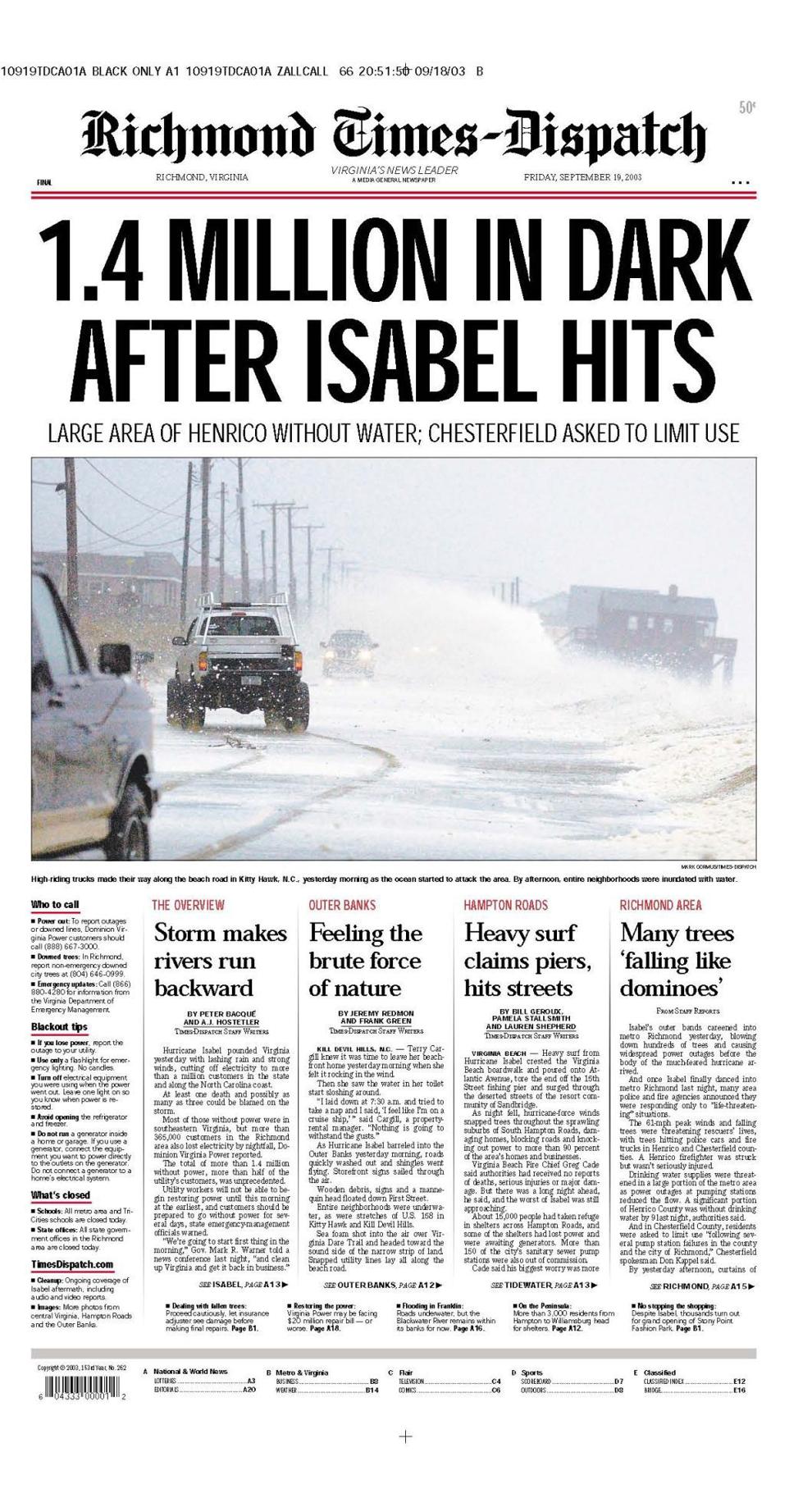 Hurricane Isabel, September 2003
Isabel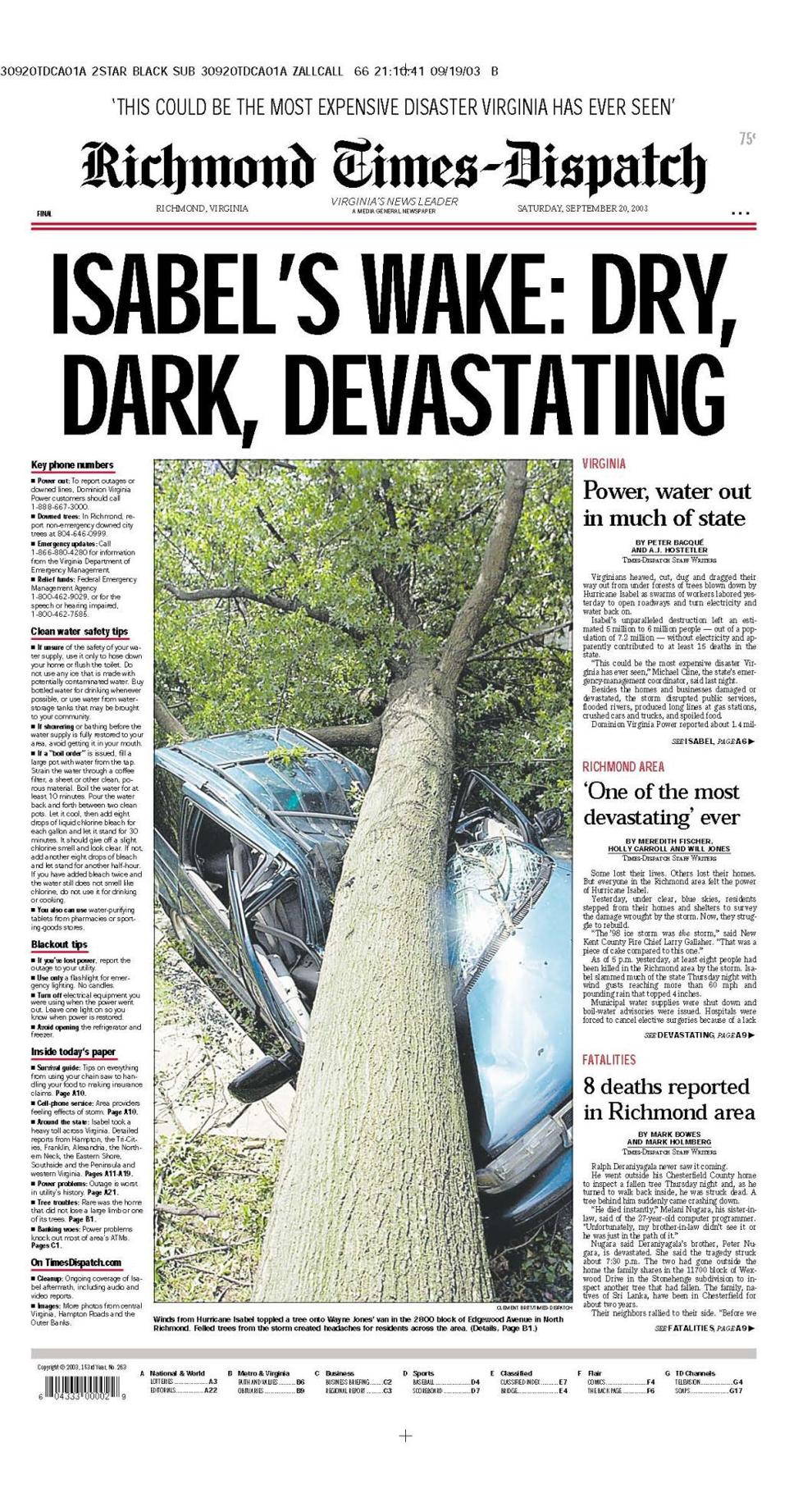 Hurricane Isabel, September 2003
Isabel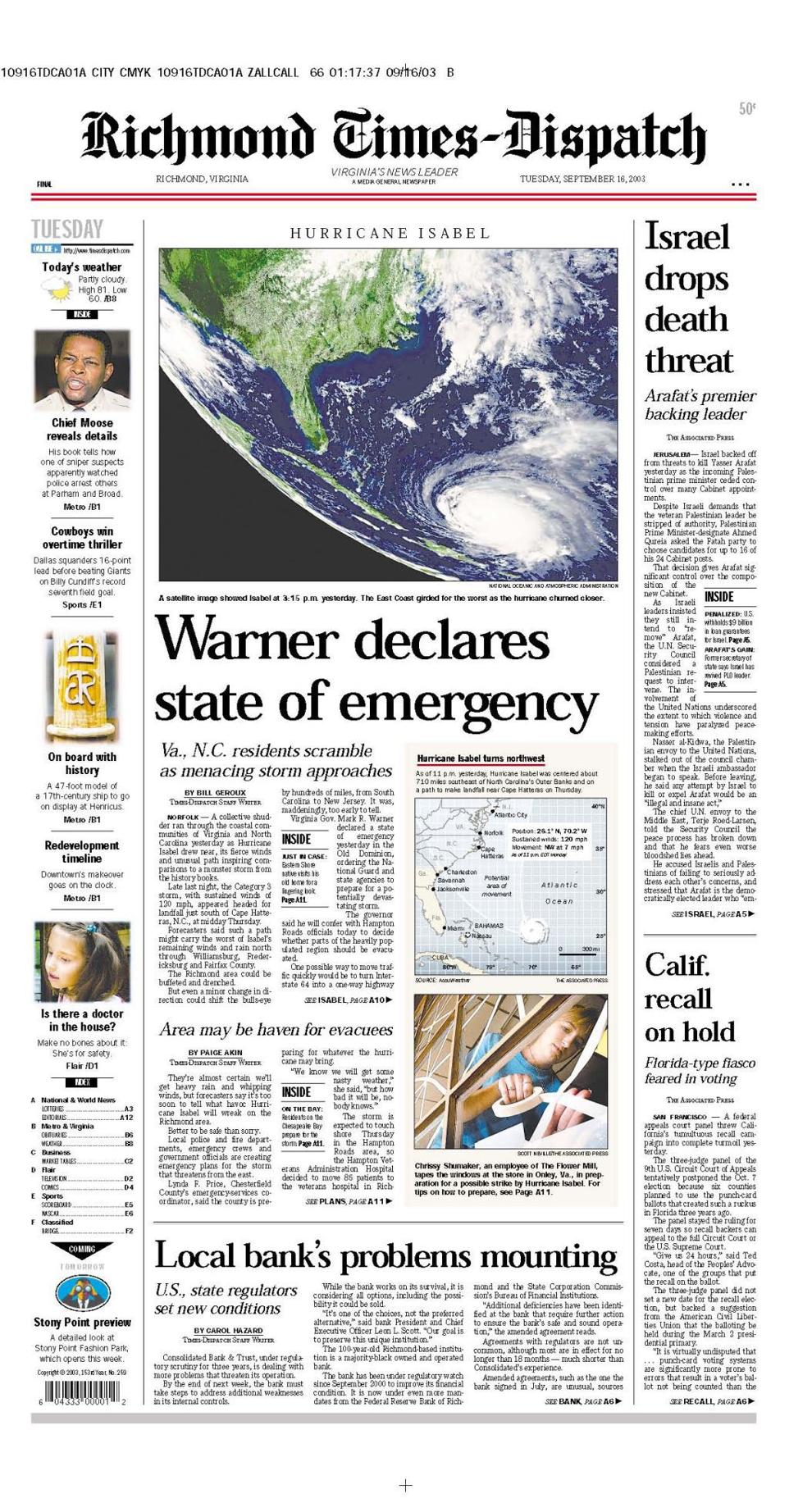 Hurricane Isabel, September 2003