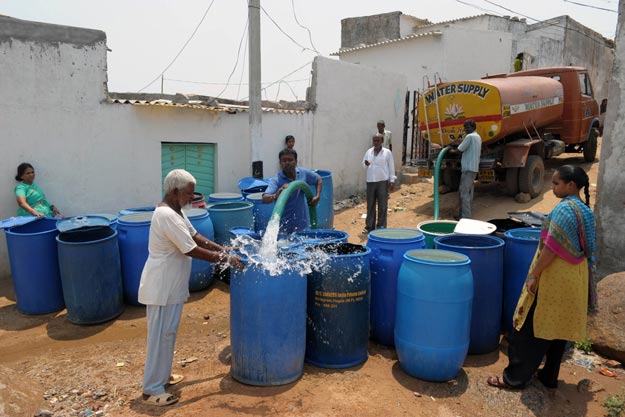 KARACHI / LAHORE / PESHAWAR:

Queuing up at tube wells to fill their containers with water, which is often hazardous for health, is the plight of many residents of the country in both rural and urban areas alike.
While those in rural areas often have to walk several kilometers to get their hands on the luxury commodity, residents of urban areas have to navigate from one government operated well to another in the hopes of getting clean drinking water.
However, 40-year-old Tahir Khan, a resident of Lakki Marwat in Khyber Pakhtunkhwa (K-P), plight is even worse as the people of Lakki Marwat and their livestock have to rely on rainwater to quench their thirst. "We dig out a place to store the rainwater and then use that water. It is unfortunate that even in this modern era we are still compelled to drink rainwater," he lamented.
When the rain stops, they have to rely on expensive water tankers which cost upwards of Rs 20,000, as per Tahir. Documents submitted to the Senate by the Ministry of Water Resources reveal that Tahir's fate awaits others in 28 districts of K-P as groundwater is rapidly declining – out of the 28, groundwater in 5 districts is dangerously low, as it has dropped from 25 to 74 feet.Towards the northwest, in Lahore, one of the country's most populous cities, the Express Tribune learnt that groundwater level woes are even worse as the groundwater level is decreasing by one meter annually.
To put this into perspective, the water level which was at 125 feet up until 2010 has dropped to 155 feet in 2021 in different parts of the city. As far as clean water is concerned, in 1980 it was available at 200 feet; presently, one would have to drill 800 feet into the ground to access clean drinking water.
Furthermore, Lahore's residents' ordeal is exacerbated as the city's water drains are contaminated with mud or sewage water. A survey conducted by the Punjab Government, last year, found evidence that in 16 samples taken from different parts of the city, 31% of the water samples were found to be unsafe with high levels of arsenic. Muhammad Ijaz, a resident of the Garhi Shahu whose water was found to be contaminated, informed that he has to purchase expensive water tankers provided by private companies as the only water available to them was a serious health hazard. It is key to note that the use of contaminated water is common across the country and causes 70 to 80% of waterborne diseases in Pakistan; resultantly it causes deaths of up to 60,000 children annually, as per President of Pakistan Pediatric Association (Sindh) Prof. Jalaluddin Akbar.
The professor, commenting on Sindh's struggles with clean water, stated: " Numerous questions have also been raised about the quality of groundwater in Sindh. The situation in rural areas, including Karachi, is dire. About 60% of the population uses contaminated well water for drinking, which can lead to various diseases including stomach ailments." Sounding the alarm bells, Professor Akbar, said that at the present rate at which groundwater levels are falling "the 6th most populous country in the world is facing permanent water shortage in the near future." Professor Akbar, is not the only one who has given the warning, according to a United Nations World Water Development (WWD) Report, the total actual renewable water resources in Pakistan decreased from 2,961 m3 in 2000 to 1,420 m3 in 2005 and the number will further reduce to 800 m3 by 2025. Professor Dr Nafees Khan of the University of Peshawar's Environmental Sciences Department, termed the situation problematic and reiterated that the country was heading towards a crisis.
"There is a dire need for water policy in the country, as people pay no heed to laws regarding digging private tube wells and water bores. Such blatant violations of the law will end up depriving the entire country of its water resources eventually," he told the Express Tribune.