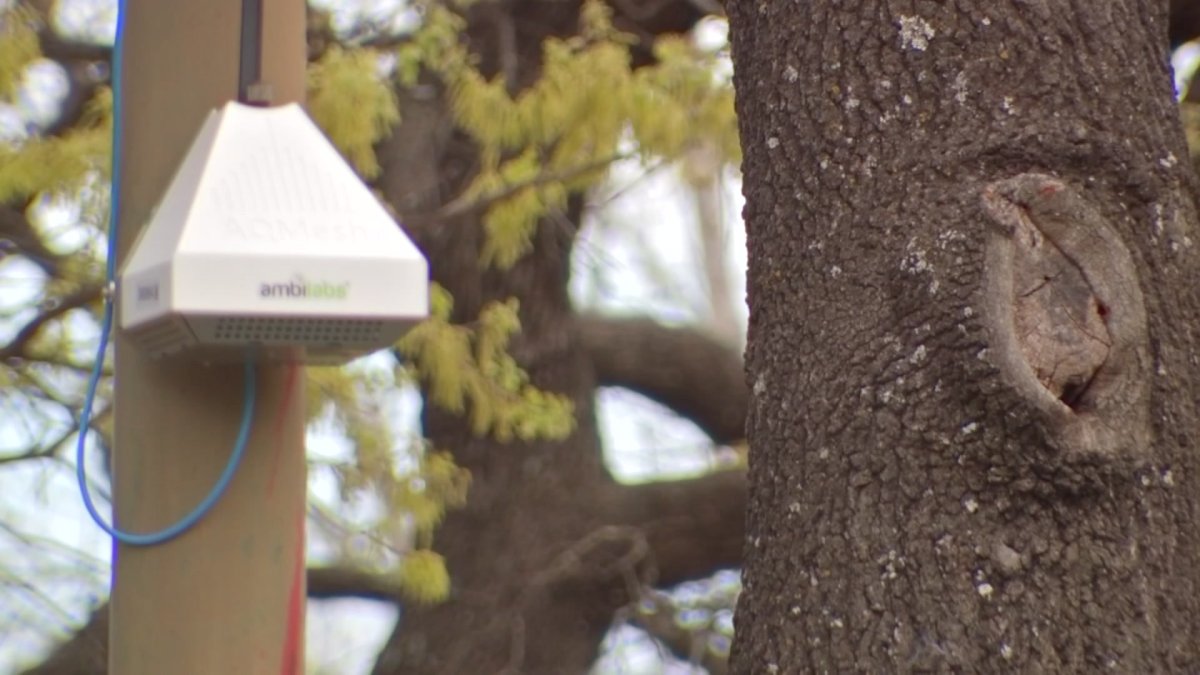 A new Dallas air quality monitoring program is underway to help protect existing neighbors from pollution and guide future land use decisions about where homes and industry should be.
Forty monitors are being installed in neighborhoods around the city with $1.7 million earmarked in the current city budget.
"We're prioritizing communities with clean air concerns. So, we're talking your industrial corridors, areas with batch plants and things of that nature," Dallas Environmental Quality Director Carlos Evans said.
It's part of the new Dallas Equity Policy to recognize past injustices in certain neighborhoods.
"We know that because of our history, because of our past, because of policies like red lining and whatnot, you know, certain people have been pushed to the fence lines of our polluting facilities. We want to make sure that we recognize that those inequities and advance environmental justice," Evans said.
Kids play in a park in the Dallas Joppa neighborhood beneath one of the new monitors that will record potential pollution exposure.
The neighborhood is right beside a rail yard and industries that some neighbors blame for health problems.
"I don't think it makes them think, they know it affected their quality of life and their health," said resident Tameckia Derrough.
Her neighborhood is a historic Freedman's community, where people of color were once forced to live. Today it is a neighborhood close to jobs, where the City of Dallas encourages new home construction and new residents.
"And I'm able to speak for the community, not just Joppa but all communities of color," Derrough said.
She is a member of the Dallas Environmental Commission, which is now confronting environmental issues that were sometimes neglected in the past, with support from that equity policy.
The air monitors will document what some residents suspected, but also help guide an update of Dallas land use policy that is in the works now for final approval by the Dallas City Council. That could help dictate where homes and industries are located in the future.
"The data certainly helps us make better policy decisions at the council level and advocate for communities and the state legislative level as well. So, once we understand what it looks like when we have industrial and residential adjacency, it's hard to not take action with that information," said Dallas Environmental Commission Chair Kathryn Bazan.
The data will also be shared online with neighbors.
"It would be put on a dashboard so that residents can see that information," Evans said.
In addition to the monitor added Monday at South Central Park in Joppa, several other air monitors are posted at other Dallas locations.
Dozens more will be added by the end of 2023.