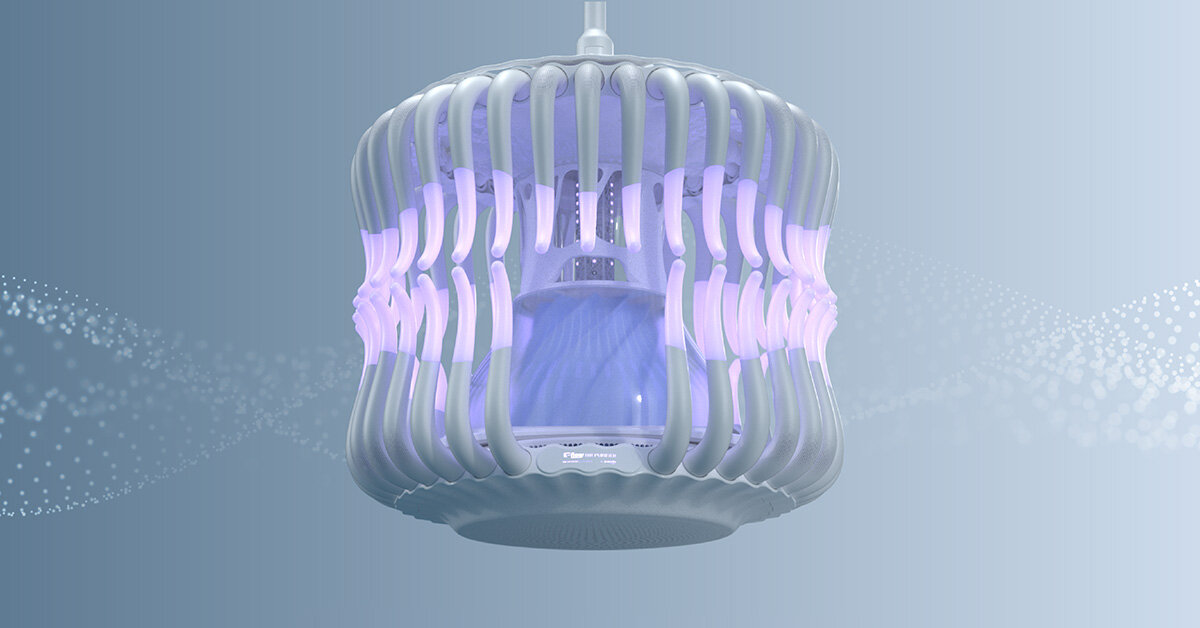 tony parez-edo martin x dassault systemes' e-flow air purifier
If the COVID-19 pandemic taught designers one thing, it is the importance of working from home and the ability to collaborate online, exchange and share ideas, and maintain business continuity. With the world opening up again, family and friends are mixing together and being welcomed into these personal spaces once more. The need for a safe, clean and healthy home and work space is more important than ever now. Tony Parez-Edo Martin – an industrial designer and founder of Paredo Studio – enhanced the Dassault Systemes 3DEXPERIENCE platform on the cloud to create an innovative concept of an air purifier, named e-flow. The design disguises its air purification and ventilation functionalities as a kinetic chandelier.
'My design work searches for innovative answers to environmental and social issues, topics such as urban medical mobility, which I touched upon in the e-way rescue roadster project in 2021. Since the first IPCC [Intergovernmental Panel on Climate Change] report, we are used to hearing about air quality in urban areas, but the pandemic has promoted us to take an interest in what comes and stays in our homes, in the air we breath inside, for a whole family or a coworking space,' begins Tony Parez-Edo Martin in an exclusive interview with designboom.
Created with Dassault Systemes, the e-flow air purifier was designed by Tony Parez-Edo Martin
All images courtesy of Tony Parez-Edo Martin and Dassault Systemes
an air purifier that doubles as an animated chandelier
Suspended from the ceiling, the e-flow air purifier seemingly floats statically or cinematically above the room, offering a functional or relaxing light atmosphere. Two tiers of fin-shaped arms move smoothly as air is drawn into its lower filtration system, purified and then dispersed from its upper fins. This provides homogeneous ventilation in the room through the arms' movement.


The concept of the ventilation system inside the home
'The user does not want a product to constantly warn them of the presence of a virus, but it needs to make inhabitants feel safe,' explains the designer. 'The idea was to subtly disguise its functionality through a light system. It combines universal air purification with a light system. Like a chandelier hanging from the ceiling, its position is ideal to legitmize both ventilation and illumination.'

Luminous LED totems cap the fin-like arms to illuminate the room
Looking at its skeletal form, it is apparent how the air purifier was shaped organically. The shapes and movement of nature directly influenced its ideation. The poetic result mirrors the forms seen in the architectural work of Santiago Calatrava, Zaha Hadid and Antoni Gaudí. The Calatrava-designed Umbracle – a curved walkway in Valencia with shaded forms designed to protect biodiversity – emphasizes its comparison.
Video of architecture / nature / mathematic inspiration on the 3DEXPERIENCE Cloud platform
'The design sources inspiration from nature, mathematics and architecture to be quite poetic and emotive in its dynamic appearance. The likes of Santiago Calatrava, Zaha Hadid and Antoni Gaudí inspired the design but not only. I worked with a new application of Dassault Systemes 3DEXPERIENCE platform on the cloud which is a topological optimization with airflow. It is a software that generates the forms through the simulation of air flow and input parameters, which I then shaped into different designs. It was poetic how the initial form was so organic and shared a likeness with the work of these famous architects,' clarifies Tony.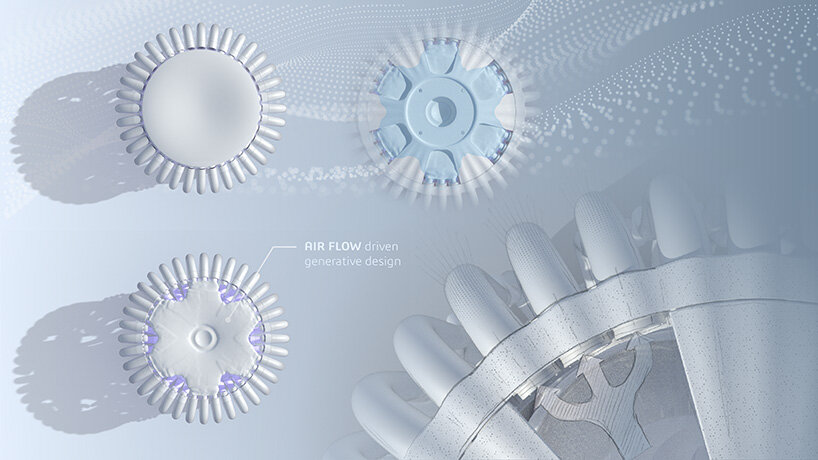 The 3DEXPERIENCE platform is a unified system that can be use from ideation through to manufacturing
dassault systemes accelerates ideation from sketch to 3D
Inspiration was harnessed and quickly transformed into design ideas. The intuitive natural sketch app and 3D sketch tools were used to create concept volumes in 3D, which makes it easier to show intent to collaborators. 3D pattern shape creator explored styling patterns using powerful algorithmic generative modelling. The undulating upper and lower surfaces, for example, took form using a digital modelling application.
Video of 3D sketches concepts
'I always start with 3D sketches to ideate different innovation axis such as modularity, sustainability, biomimicry, kinetic principles or nomadic uses. I moved quickly into 3D with the CATIA Creative Design applications, where 3D curves enable me to create first geometries, go back and modify surface intuitively. I find this a very comfortable way to explore designs,' adds the designer.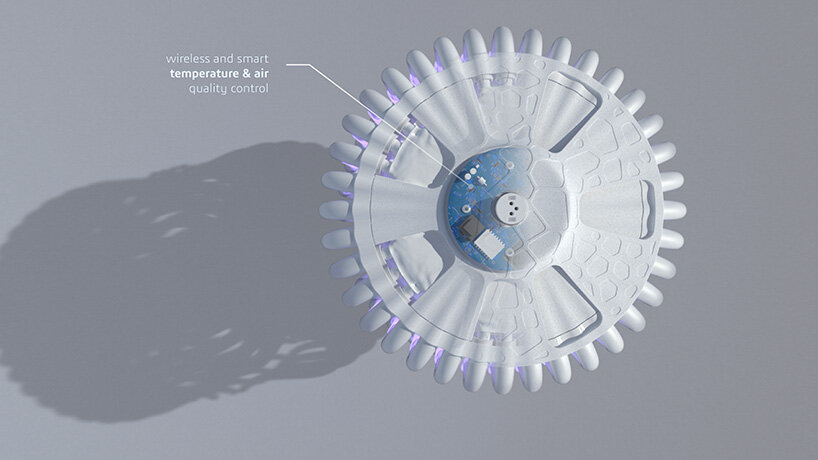 Requirements of mechanical, electrical and other systems can be understood through the platform
Through Tony's innovative work, the designer often trials and tests new software developments on the Dassault Systemes 3DEXPERIENCE platform on the cloud, working with the company's experts, engineers and other designers. The platform was used for the whole design development of the e-flow. Its complete set of tools enabled the designer to imagine, sketch and validate the air purifier, even understanding its requirements of mechanical, electrical and other systems.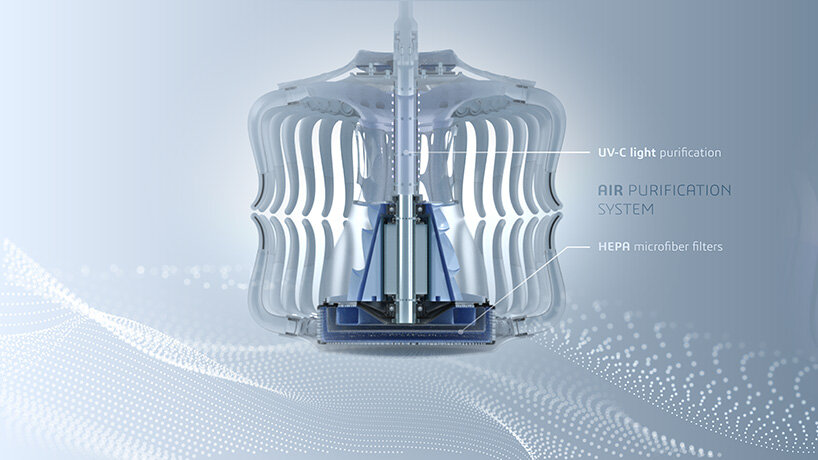 Dassault Systemes' platform offers a look inside the e-flow air purifier
'The first goal of this project wasn't to test tools, it was to have fun and explore the possibilities of an idea,' explains Tony. 'This project did help me keep updated with new technologies from Dassault Systemes, though. They have a lot of great engineers that are combining technologies to evolve applications. With the cloud, over-the-air updates add new enhancements to the creator's toolbox. One important new tool I tested was the flow driver on generative design. It was perfect to help design an air purifier because it is an airflow simulation.'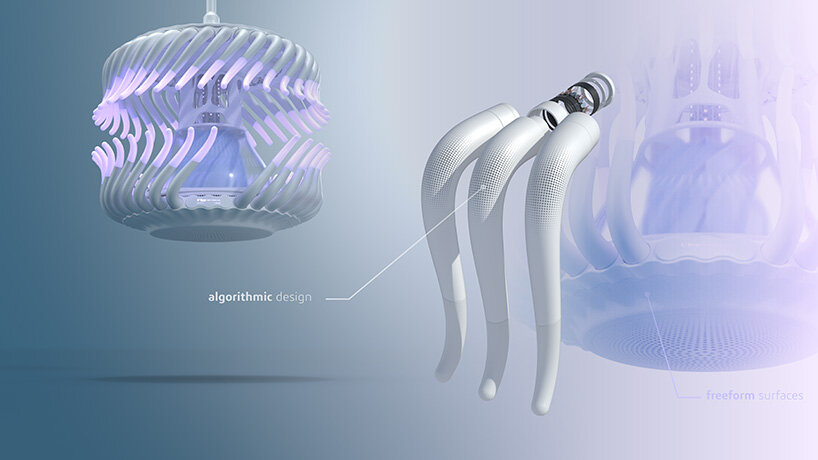 The system enables the ability to create and collaborate anywhere with other designers, engineers and stakeholders
The impressive, ever-evolving toolbox of the 3DEXPERIENCE platform is enhanced through its multi-domain, cloud-based nature. The system enables the ability to create and collaborate anywhere with other designers, engineers and stakeholders. Accessed by the cloud, any collaborator with internet can create, visualize or test a project. This enables designers like Tony to quickly and easily move from ideation through to real-time visualization and assembly design.
'The 3DEXPERIENCE platform is very powerful, from webservices like 3D printing to collaborative possibilities. creators can create and communicate on the cloud in a very nomadic, modern way. I spent three weeks working on this project in Cape Town, South Africa,' notes the designer.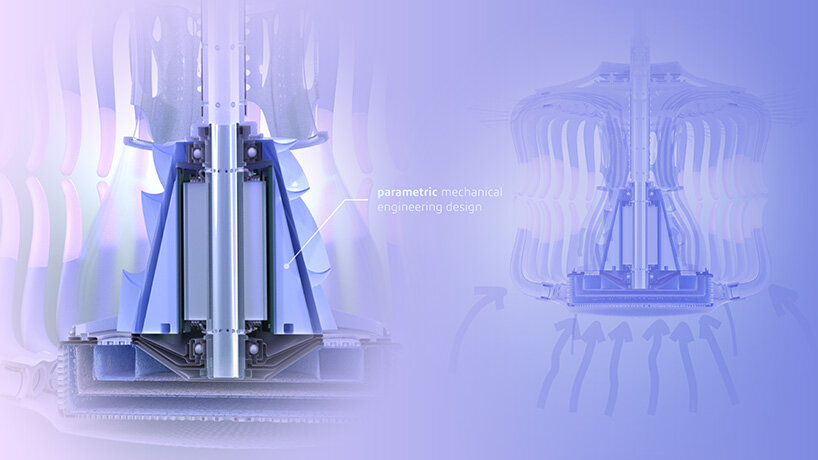 Simulation technologies validate ideas to inform better decisions throughout the design process
simulations that validate sustainable design decisions
Tony Parez-Edo Martin's e-flow air purifier shows the possibilities of conceptualizing forward-thinking designs quickly and efficiently, from ideation through to production. Simulation technologies validate ideas to inform better decisions throughout the design process. The topological optimization allowed the designer to create a more lightweight, organic shape. Sustainable materials were selected whilst adhering to performance needs.
'Creators can design everything on the same cloud platform. Dassault Systemes has a library of sustainable materials researched, so the air purifier can be 3D printed in bio-plastic. It adds to the identity of the project by mixing poetry, sustainability and technology. 3D printing enables more freedom as it create shapes that are not possible with injection molding, all whilst choosing the material that is the most lightweight. It is not just sustainable, it is functional as a chandelier,' concludes Tony Parez-Edo Martin in an exclusive interview with designboom.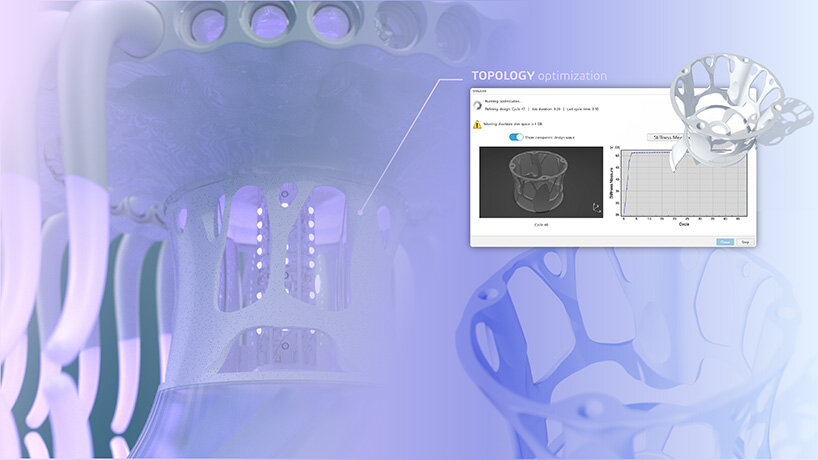 The topological optimization software aided the designer to create the first form using airflow