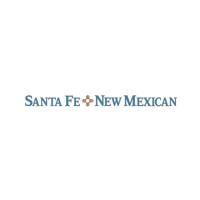 The First Judicial District Attorney's Office shut down for deep cleaning Thursday after two employees tested positive for COVID-19.
It is expected to remain closed until Jan. 12.
"We've had two employee positives and three or four with [infected] family members or exposures in the past two weeks," District Attorney Mary Carmack-Altwies said. "It made sense to close for about five days and get the office cleaned and then come back to work."
"We've been following all the protocols and staying masked," she added, "but this omicron thing is getting out of control, and I want to keep my employees safe."
The closure comes as the state saw a staggering daily count of 3,231 newly confirmed cases of the coronavirus Thursday — only the second time since the pandemic's start the daily number has surpassed 3,000.
While cases had been declining in New Mexico in mid-December following a monthslong wave attributed to the virus' delta variant, they began climbing sharply again last week, likely due to the more highly contagious omicron variant taking hold. The state's test positivity rate also has increased, rising to
This is the third time the District Attorney's Office has been closed for cleaning due to a coronavirus exposure.
Santa Fe County paid cleaners $26,000 to clean and disinfect the building the first time it closed, in April 2020.
The building was closed due to exposures again in November 2020.
County spokeswoman Carmelina Hart said at the time she didn't know the cost for the second cleaning, and she was still unable to provide the cost Thursday.
Hart said the county has since used federal COVID-19 relief funds to purchase its own equipment, which allows the cleanup to be done by county employees at a much lower cost.
The county purchased a handheld Fogmaster from Matthews Office Supply for about $4,934 plus $591 for solution and setup, Hart said.
County Public Works Department employees were expected to complete the District Attorney's Office cleanup Thursday or Friday, she added.
It usually takes two staff members about three hours to complete the disinfection process, and they use about three gallons of an $82-per-gallon cleaning solution, bringing the total cost for each job to $1,467, according to Hart.
The District Attorney's Office had been closed to the public — with staff working in the office on a rotating basis — for about a year before it opened to the public again in August.
Carmack-Altwies said Thursday her staff will be able to handle much of their work from home, and many court hearings are being conducted remotely by order of the state Supreme Court.
Two attorneys from the office will attend an in-person sentencing in a murder case Friday because they had not been in the office recently and will be able pass the screening questions regarding exposure required for entry into the state district courthouse, Carmack Altwies said.