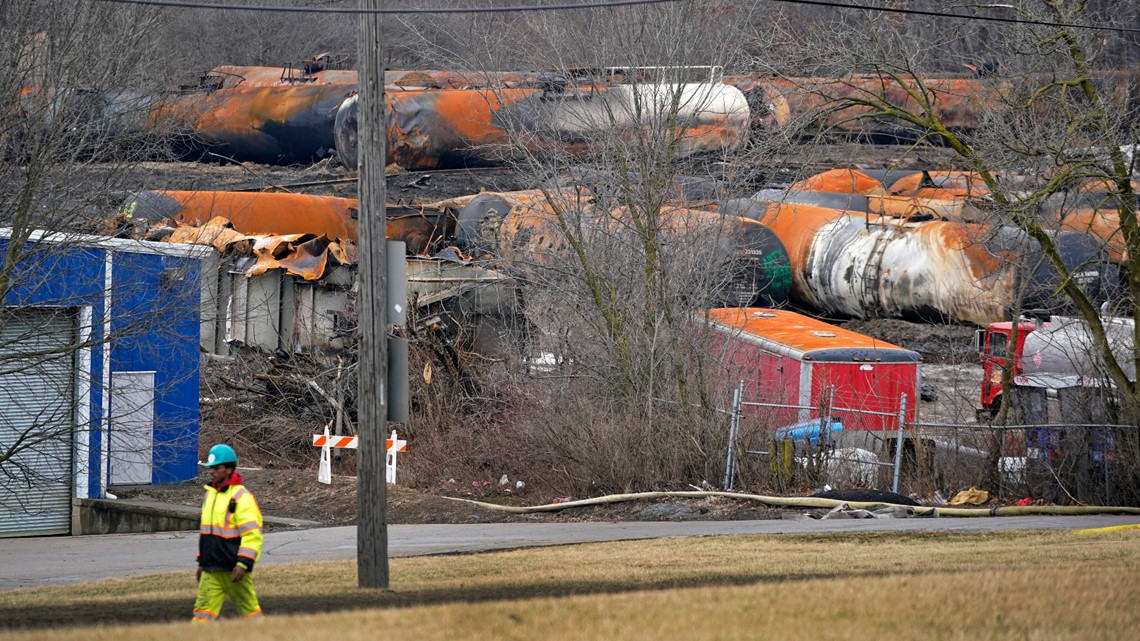 EAST PALESTINE, Ohio — It's been two days since officials gave the all clear for residents to return to their homes in East Palestine following the fiery train derailment last week.
"We could just smell the chemical smell coming inside our house," said resident Reegan Parker.
As the effects still linger, some in the community told 3News they are left helpless. 
"My mattress, my couches, they just smell like the chemicals," Parker said. "My clothes, we're in the midst of washing everything now trying to get the chemical smell out now."
Parker said she lives just outside the one-mile radius that was established as the evacuation zone, but she was told by workers at the Norfolk Southern Family Assistance Center that she is not eligible for any reimbursement, or the $1,000 inconvenience payments being handed out.
"They basically just told me that because I wasn't in the one-mile evacuation zone that the best that they could do for me was to have someone come into my house and clean," Parker said.
Cleveland lawyer Michael O'Shea said he is representing a number of East Palestine residents impacted. He said he is worried the inconvenience payments could void any chance for residents to file additional claims down the road.
"We were worried that if someone got that check, took that check for that inconvenience fee, that they would be waiving any future right to make any claims which are totally impossible to determine at this time," O'Shea said.
Norfolk Southern did inform 3News that "acceptance of these reimbursements and/or inconvenience compensation is not a settlement of any future claim."
Parker said many of her neighbors are still grappling with the decision to return home, worried about what could be left behind.
"A lot of people are scared to come home, a lot of people haven't come back yet. We really just didn't have the funds to stay away from home anymore," Parker said.
3News reached out to Norfolk Southern for comment on the payments and a spokesperson said:
"Norfolk Southern continues to provide reimbursement for expenses incurred by residents affected by the evacuation, in addition to compensation for inconvenience during the evacuation, through our Family Assistance Center. As part of this program, I can confirm that residents who live within the one-mile radius of the derailment are eligible to receive a $1,000 inconvenience fee."
The EPA is offering voluntary residential air screening appointments offered through Norfolk Southern. As of Thursday night, the organization said it had screened indoor air at a total of 46 homes, with at least 400 more requests remaining. To speed up the screening process Norfolk Southern and the EPA are bringing in more teams and equipment.
The Ohio EPA is investigating impacts to water and possible remediation, collecting water samples from nearby water streams and Sulphur Run, where a dam was installed to prevent further contamination.