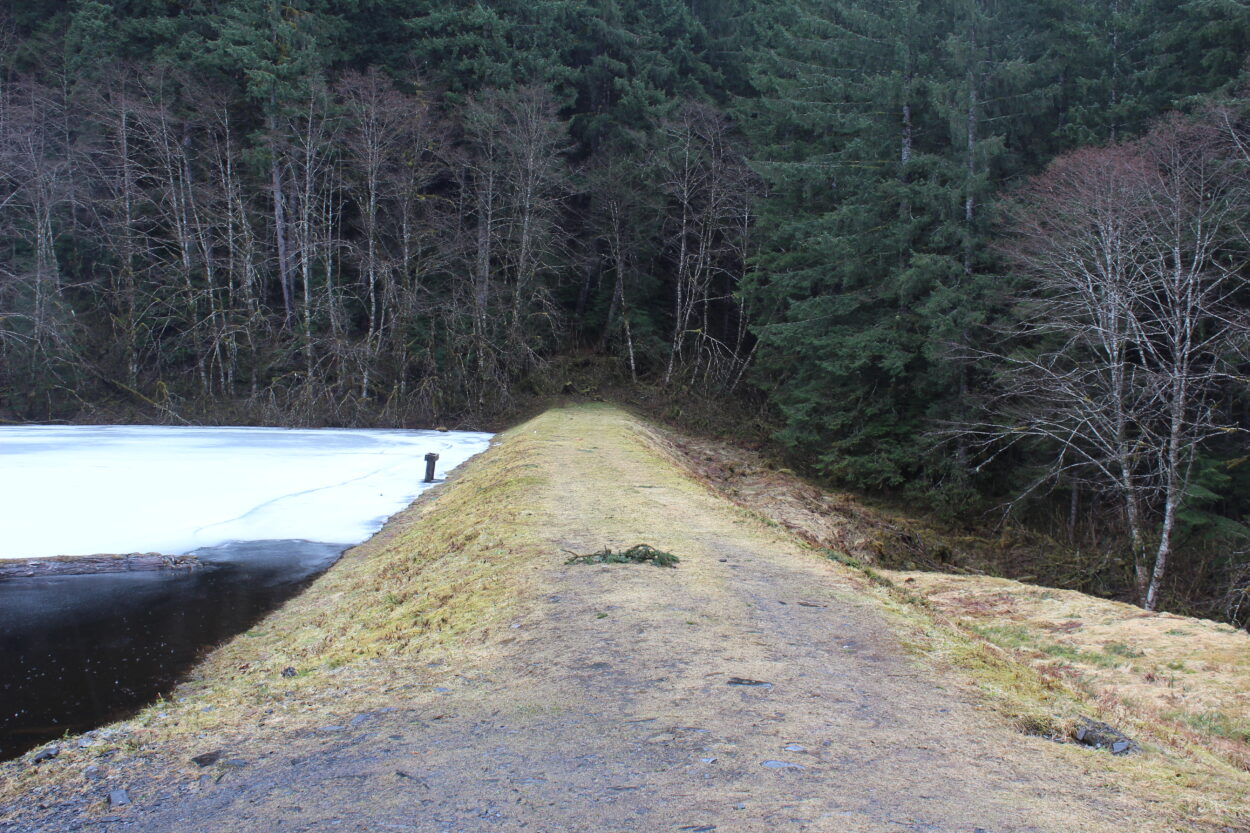 The dam at Wrangell's lower reservoir, in March of 2022. (Sage Smiley / KSTK)
Residents of Wrangell Island get their drinking water from two earthen reservoirs in the hills above town. As Wrangell's Borough Manager Jeff Good explains, there are concerns about the dams' stability, and the borough is planning to do an in-depth analysis of the dams between September 26-30.
"We know it's one of the worst dams in the state, especially from a seismic standpoint," Good says, "So our goal right now is to figure out what the actual strength of the dam is."
A 2015 study by the Alaska Department of Natural Resources found the dams holding back Wrangell's drinking water to be second-worst in the state of Alaska. They're classified as a "Class 1 High Hazard," the worst classification for dams.
"We've taken bore samplings directly beneath the top of the dam and at the foot of the dam, but nothing in the middle of it where the slope is," Good says, "And really, once you get down below the bottom of the dam, that's where all your strength for your dam is in that slope area, so we have to get some bore samplings below that area of the footing."
Engineers and workers will have to do some minor construction on the slope and cut back a bit of the dam in order to get a truck with boring equipment out to where it needs to be. 
Good says the plan has been reviewed by the state Dam Safety Board, as well as project engineers. But the borough is being cautious, and wants to make sure people know that delicate work is being done.
"The main concern – at least on that dam anyway – is if there is sand below that portion of the dam, that if we had an earthquake or something like that happen, sand typically liquefies [in an earthquake] if there's water in it, so you lose that strength, that portion of the dam," Good says. "If that happened, then there would basically be a safety rating of one. You never want a safety rating of one, you want to be two to three is typically where you design something. And right now it's at one. So if we did have an earthquake or something like that, there's significant concern [for the area] below the dam."
Ultimately, Good says this analysis will tell the borough if and how the drinking water dams need stabilization. 
Good says the borough wants to get out information about the survey work out to the public, especially people who live between 1.6-Mile and 1.9-Mile Zimovia Highway. Those residences would be in the inundation zone which could temporarily flood if the dams were to collapse. But, he says, that's not likely. 
"As much as you try to design for everything and try to be as safe as you can, they still should be notified that the work is going on," Good says, "On the extreme outside chance anything does happen, or if we see something happen, we want to make sure that the residents know because if the dams go, they are in the flood – there's an area that's in that inundation zone – that if the dam breaks that water has to go somewhere, and it's right by that one area by [Bloom's] trailer park."
Good says Wrangell Public Works is going door to door in the area, and dropping off door hangs about the dam stabilization analysis happening the last week of September. 
Work is scheduled to be performed between 7 a.m. and 6 p.m. each day between Monday (September 26) and Friday (September 30). 
Good says he's already reached out to the Army Corps of Engineers to see if they might be able to assist the community with a potential stabilization project. That might not be possible, since it's a drinking water dam rather than a more traditional hydro dam, but Good says the borough is keeping every possible option open to try and secure grant funds if the dam does need work. 
Get in touch with KSTK at [email protected] or (907) 874-2345.