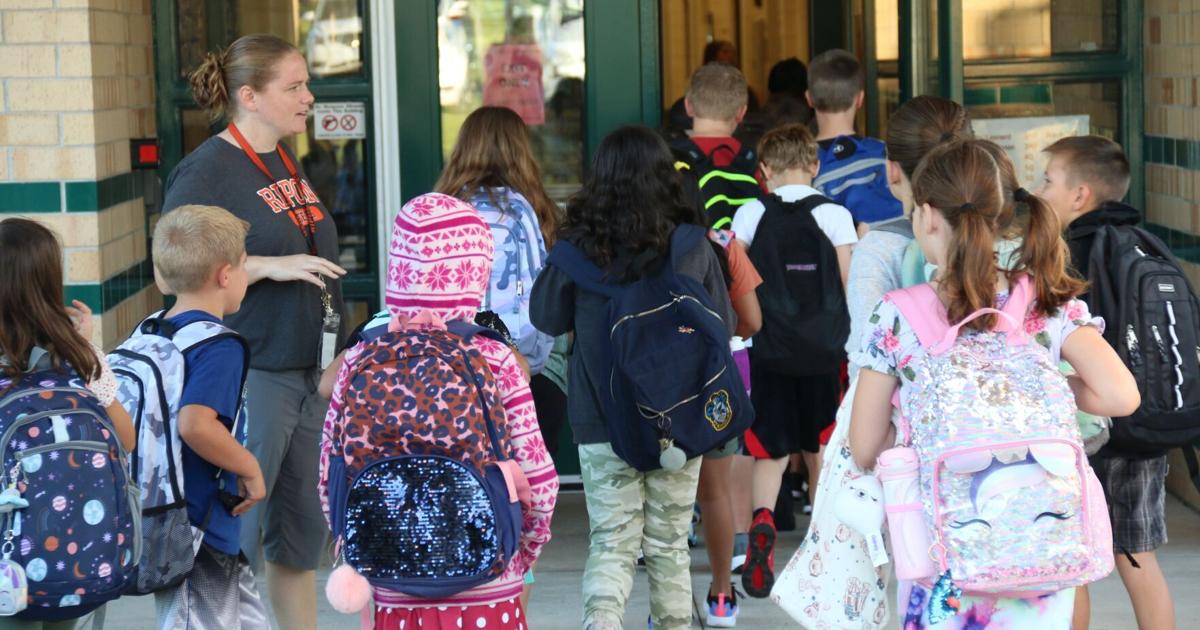 Question:
How is the Ripon Area School District (RASD) handling COVID-19 to start the 2022-23 school year?
Answer:
RASD is keeping the protocols in place that it used at the end of last year.
That means it's essentially treating COVID-19 "similar to other respiratory illnesses such as influenza or strep" as masks and vaccinations are optional, according to the district.
Parents are asked to keep students home who are experiencing illness or symptoms. The district says students may return to school when they are symptom and fever-free for 24 hours — without fever-reducing medication.
"If a student or staff member has a positive household contact, the student or staff member may continue to come to school (regardless of vaccination status) if they are asymptomatic," a message to RASD families said in March. "Masking remains optional for all scenarios, but recommended for anyone with symptoms or a positive household contact.
Superintendent Mary Whitrock noted the district will follow the procedures outlined in March to start the 2022-23 school year.
"These procedures are in line with the [Centers for Disease Control and Prevention] CDC's new guidance as well," she said.
However, if the COVID-19 situation starts to become more severe as the winter season approaches, Whitrock added that the district can "absolutely" pivot to put more safeguards in place.
"Everything is ready behind the scenes should it become necessary," she said. "The Board of Education approved the Dashboard metrics and categories which are still in effect if needed, so a special Board meeting would not be required to start using those practices."
In addition, RASD is working with the Wisconsin Department of Health Services to make COVID-19 tests available to students and staff.
Each school office has take-home test kits available for students and staff.
"The kits are here already," Whitrock said. "The district is paired with a lab just like last year and if there was a need for additional onsite testing similar to last year, the district could have that up and going within a couple of weeks."
Beyond COVID-19, RASD has received questions from parents about the orthopoxvirus, better known as monkeypox.
"With regards to this, the district will stay in close contact with the county health department and will follow CDC recommendations," Whitrock said.
Currently, the CDC says the risk of monkeypox to children and adolescents is low and recommends schools follow everyday operational guidelines that reduce transmission of infectious diseases.
"This includes children, staff and volunteers staying home when sick; ensuring access to adequate hand washing supplies, including soap and water; maintaining routine cleaning and disinfection practices; identifying private spaces for assessment of an ill child away from others; and providing personal protective equipment for staff who care for students with infectious diseases," the CDC said.
"If there is a monkeypox exposure, the department of health will help in considering appropriate actions to prevent the spread of the virus."
What this means to you:
"The Ripon Area School District is fortunate to have an experienced nursing department and a very supportive county health department so the district is in good hands," Whitrcok said.
Those with questions regarding student illnesses may contact the RASD health office at 920-748-4633.
How to submit:
If you have a question, the Commonwealth wants to give you an answer. Send a question, name and contact information to:
Mail: 303 Watson St., Ripon WI 54971, P.O. Box 262, Ripon WI 54971
Email: [email protected]