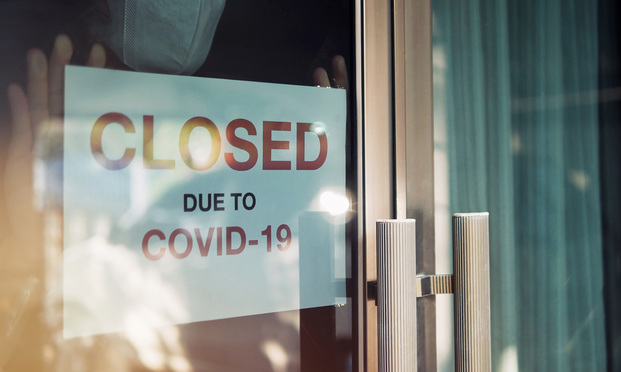 (Credot: Chansom Pantip/Shutterstock)
A federal judge has asked the Maryland Court of Appeals to weigh in on whether the COVID-19 virus causes "physical loss or damage" to a property that triggers coverage. A majority of courts nationwide have sided with insurers in the recent string of pandemic-driven business interruption cases.
Claiming the physical presence of COVID-19 in its stores, Tapestry, owner of luxury accessory brands like Coach, Kate Spade New York, and Stuart Weitzman, sued its insurance provider, Factory Mutual Insurance Co., for lost profits due to employees' exposure to coronavirus.  Managing 414 stores in the United States, with 15 in Maryland alone, Tapestry alleged that 1,676 workers had contracted the virus when they submitted their first complaint.
According to Tapestry, its in-person stores, and therefore, business performance, was altered because of COVID-19.
"Although the virus is not visible to the naked eye in the way some other physical losses might be, the very presence of [the Coronavirus] damages the indoor air, and makes it dangerous to breathe, thereby causing the loss, in whole or in part, of that property's functional use," the company said in its complaint filed in the U.S. District Court for the District of Maryland.
Attorneys for Tapestry, Deborah Baum and Laura Ann Freid-Studlo of Pillsbury Winthrop Shaw Pittman, could not be reached for comment.
Bryant Steven Green of Zelle, representing Factory Insurance, also could not be reached for comment.
Although the courts have rarely given standing to plaintiffs in recent business interruption claims since the pandemic's outbreak, U.S. District Judge George L. Russell of the District of Maryland said that precedent offers little guidance in the case of Tapestry due to the broad language of Factory's insurance policy.
In recent District of Maryland cases like Bel Air Auto Auction v. Great N. Ins. Co. and Hamilton Jewelry, LLC v. Twin City Fire Ins., both from 2021, the policies at issue clearly referred to "tangible damage to a structure" or a "tangible object within a property," according to Russell.
But, Russell added, "[a]ssuming that 'property' includes the entirety of a structure and not just each tangible object within its walls, an airborne virus arguably leads to physical damage to the property."
Russell also noted that plaintiffs in other business interruption cases didn't allege that coronavirus was present at its physical locations, whereas Tapestry documented figures on COVID cases and infections within its workforce, included in its first complaint.  Factory Insurance also does not narrow its coverage to "physical injury to tangible property," Russell said.
The insurer has maintained that Maryland law is settled on COVID-19 business interruption relief. But Russell said the insurer pointed to only four other Maryland decisions that provide only "general guidance" on such claims.
"This case is appropriate for certification because 'there is no controlling appellate decision, constitutional provision, or Maryland statute on point,"' Russell added.
Moving forward with the case allows the State of Maryland to further establish an underlying precedent for pandemic-related suits.  As cases continue to be heard across the country, the court felt it was appropriate to promote "judicial economy" and build a "proper application of Maryland's law."  This would create a foundation for more business interruption claims that will undoubtedly come in the future.
Russell said "a review of the hundreds of cases monitored by the Penn Law Covid Coverage Litigation Tracker reveals that dozens of courts have issued decisions denying motions to dismiss in these cases."
"It is therefore facile to portray Tapestry's position in this litigation as inherently frivolous or unambiguously without merit," Russell said. "Moreover, the sheer number of these lawsuits reveals the widespread relevance of this issue and the potential value of guidance from Maryland's highest court on the issue. In other words, the frequency with which this issue arises demonstrates that a ruling from the Court of Appeals would "promote judicial economy and the proper application of [Maryland]'s law."
Related: