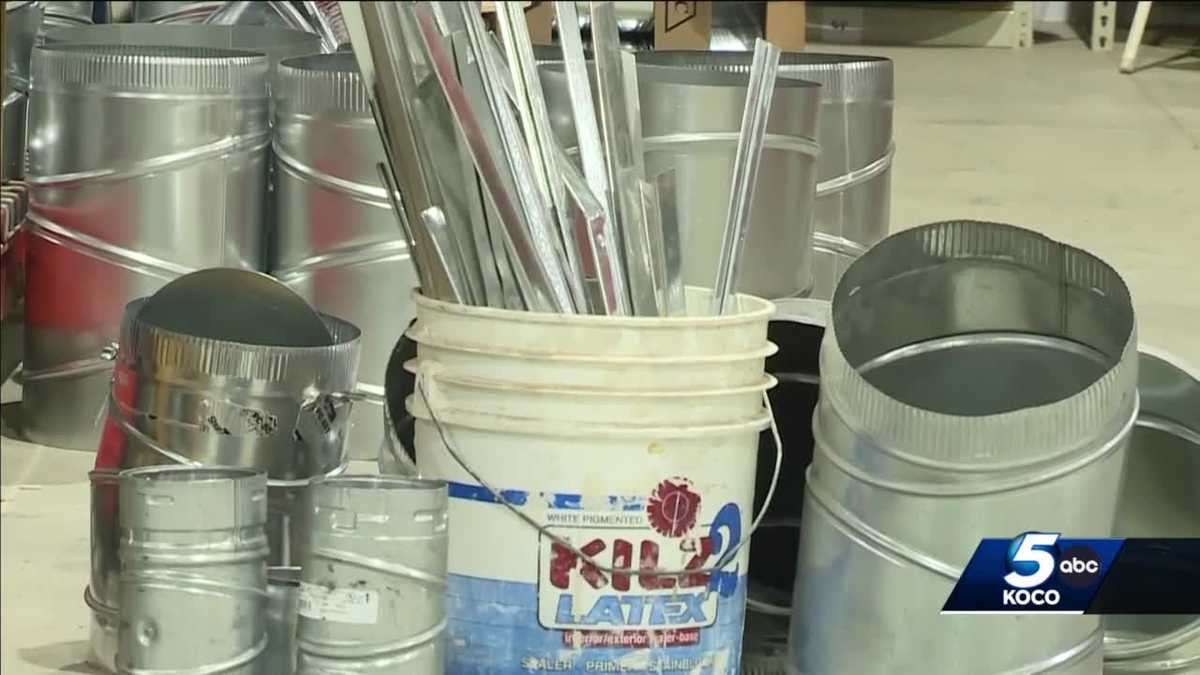 EVAN THAT'S RIGHT. WE SPOKE WITH THE FOLKS OVER AT A AND T MECHANICAL. THEY HAD CREWS OUT ALL DAY DAY TRYING TO REPAIR BROKEN THE FURNACES. THE COMMON CAUSE. THEY SAY DURING THESE EXTREMELY COLD WINTER DAYS. IS THIS THE AIR FILTER? IF IT'S CLEAN OR IF IT'S DIRTY, RATHER, OR OVER USE, IT CAN CAUSE PROBLEMS FOR YOUR FURNACE. THE MOST COMMON THING I HATE TO SAY IT, AND PEOPLE SAY THEY CHANGE IT, BUT IT'S THE FILTER. EVERY TIME. BECAUSE IF IT'S BLACK AND YOU CAN'T SEE THROUGH IT, THIS WON'T MAKE NINE OUT OF TEN. YOUR PROBLEMS IS THIS FILTER. JOSEPH ALVAREZ IS WITH ANTI MECHANICAL AND EDMOND. HE SAYS THEY OFTEN SEE A PICK UP IN CALLS WHEN TEMPERATURES GET THIS LOW. WE. HAVE 1015 TRUCKS RUNNING RIGHT NOW AND THEY'RE ALL OUT TRYING TO TAKE CARE OF ALL THE CUSTOMERS WE HAVE. THAT'S BECAUSE, ALVAREZ EXPLAINS, UNITS ARE BEING PUSHED TO THEIR MAX UNITS ARE DESIGNED TO RUN, BUT THEY'RE NOT USED TO RUNNING 24 SEVEN. SO RIGHT NOW, THAT'S WHEN THOSE COMPONENTS, THE WEAKEST COMPONENT, WILL ACTUALLY BREAK. A LOT OF WHAT CAUSES YOUR HEAT TO GO OUT ARE THINGS GETTING IN THE WAY OF PROPER AIRFLOW. THAT'S WHY A FIX IS LIKE A CLEAN FILTER OR CLEAN DUCTS CAN GO A LONG WAY TO MAKE SURE THAT THE AIR IS MOVING FREELY. SO IT'S NOT BUILDING UP IN THE CHAMBERS. AND I'M GOING TO POP THIS BACK IN MY OWN AGE. BACK RIGHT HERE, POP AS CLEAN AIR, FILTER BACK AGAIN. AND EMT SAYS THE BEST THING TO DO IS TO HAVE ROUTINE MAINTENANCE BY PROFESSIONALS TO MAKE SURE THERE'S NO ISSUES IN YOUR AGE HVAC SYSTEM THAT MIGHT CREA
Furnaces in central Oklahoma being put to test during winter cold
HVAC crews said they are out trying to make sure the heaters are working and stay working
Updated: 6:21 PM CST Jan 30, 2023
Furnaces in central Oklahoma are being put to the test during the winter cold.| MORE | Get ready for ice as another round of winter weather moves into OklahomaHVAC crews said they are out trying to make sure the heaters are working and stay working. Crews over at A&T Mechanical were out on calls on Monday, many of the calls having to do with old or dirty filters."The most common thing, and I hate to say it, and people say they change it, but it's the filter every time, cause if it's black and you can't see through it, nine out of 10 your problems is this filter," said Joseph Alvarez, from A&T Mechanical.Alvarez said they often see an uptick in calls when temperatures get this low."We have 10, 15 trucks running right now, and they're all out trying to take care of the customers we have," Alvarez said.Alvarez explained units are being pushed to their max."Units are designed to run, but they're not used to running 24/7, so right now, that's when those components. The weakest component will actually break," Alvarez said.| MORE | Oklahoma schools closing, transition to remote learning Tuesday amid winter weatherA lot of what causes heat to go out are things getting in the way of proper airflow, which is why fixes like a clean filter or clean ducts can go a long way."To make sure the air is moving freely, so it's not building up in the chambers," Alvarez said.The best way to avoid a cold home on a cold day, A&T recommends, is routine maintenance, where their professionals can do a check and make sure everything is running as it should.Top HeadlinesOklahoma County Detention Center announces first inmate death of 2023Man arrested after shooting, killing 20-year-old stepson in Oklahoma City, police saySleet causing hazardous road conditions across OKC metroApartment building evacuated after fire sparks amid freezing temperaturesOklahoma schools close, move to virtual learning Monday due to winter weather conditions
OKLAHOMA CITY —
Furnaces in central Oklahoma are being put to the test during the winter cold.
| MORE | Get ready for ice as another round of winter weather moves into Oklahoma
HVAC crews said they are out trying to make sure the heaters are working and stay working. Crews over at A&T Mechanical were out on calls on Monday, many of the calls having to do with old or dirty filters.
"The most common thing, and I hate to say it, and people say they change it, but it's the filter every time, cause if it's black and you can't see through it, nine out of 10 your problems is this filter," said Joseph Alvarez, from A&T Mechanical.
Alvarez said they often see an uptick in calls when temperatures get this low.
"We have 10, 15 trucks running right now, and they're all out trying to take care of the customers we have," Alvarez said.
Alvarez explained units are being pushed to their max.
"Units are designed to run, but they're not used to running 24/7, so right now, that's when those components. The weakest component will actually break," Alvarez said.
| MORE | Oklahoma schools closing, transition to remote learning Tuesday amid winter weather
A lot of what causes heat to go out are things getting in the way of proper airflow, which is why fixes like a clean filter or clean ducts can go a long way.
"To make sure the air is moving freely, so it's not building up in the chambers," Alvarez said.
The best way to avoid a cold home on a cold day, A&T recommends, is routine maintenance, where their professionals can do a check and make sure everything is running as it should.
Top Headlines