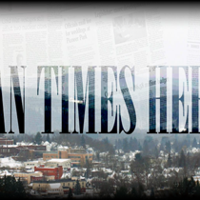 ALBANY (TNS) — I have a confession to make. We have a gas stove.
I hope that revelation doesn't cause you to grimace in disgust, throw your newspaper/phone across the room or vow to never again read my column. I'm asking for your compassion, your tolerance, your generosity. Until just a few days ago, you see, I just didn't realize we had a source of great controversy sitting in our kitchen.
In fact, I considered our stove no more noteworthy than the bathroom sink. I naively believed the appliance, which came with the house, was as contentious as the house plants in our living room or the desk in our office. I'm ashamed to admit that I gave our gas stove very little thought at all.
But that was before gas stoves emerged as the latest flash point in our never-ending culture war, another reason to view one another with contempt and suspicion. Depending on one's political persuasion, our kitchen appliance immediately became a.) a sinister device killing children and the planet or b.) worth dying for. As with much cultural combat, middle ground is discouraged.
As you may know, this particular spark was lit when a previously anonymous federal official — that would be Richard Trumka Jr., head of the U.S. Consumer Product Safety Commission — casually suggested the agency might consider banning stoves due to air-quality concerns. "Any option is on the table," he said.
The Biden Administration quickly rushed to douse the resulting flames, insisting such a ban is not even on the, um, back burner. Nevertheless, the war would rage. The ensuing silliness was as sad as it was predictable.
"I'll NEVER give up my gas stove," Ronny Jackson, a Republican congressman from Texas, declared on Twitter. "If the maniacs in the White House come for my stove, they can pry it from my cold dead hands. COME AND TAKE IT!!"
"Did you know that ongoing exposure to NO2 from gas stoves is linked to reduced cognitive performance?" replied U.S. Rep. Alexandria Ocasio-Cortez, who, as critics immediately noted, happens to have the polluting appliance in her own New York home. (Insert your own jokes about her cognitive performance here.)
The Bronx Democrat was presumably referring to two Spanish studies finding that kids from homes with gas stoves fared marginally worse on cognitive tasks. Other studies have suggested that gas stoves, which release nitrogen dioxide, carbon monoxide and other pollutants, may lead to higher childhood asthma rates.
The studies are not conclusive, though, and there are statistics that cloud the narrative. New York, for example, has comparatively high gas-stove use but, according to the American Lung Association, below-average rates of childhood asthma. Meanwhile, gas stoves are hardly the only or most menacing source of indoor air pollution — not that that stopped our national purveyors of fear from attempting to scare parents silly.
"The science is showing us that having a gas stove in a small apartment, especially with bad ventilation, it's like having a car idling there," claimed Bill Weir, the chief climate correspondent on CNN.
No, it isn't. Not by a long shot.
But as Weir's job title suggests, the debate isn't just about health concerns. It is also about fossil fuel-driven climate change, to which natural gas is, of course, a contributing factor.
That's the reason Gov. Kathy Hochul is proposing a statewide ban on gas stoves and furnaces in new buildings that could begin taking effect in 2025. The push to electrify is among what her office describes as "bold steps on climate to protect the health and safety of our children."
Unfortunately, though, the most common source for generating electricity in the United States is … you guessed it … natural gas. In New York, a whopping 89% of downstate energy in 2021 was produced by natural gas and oil, a percentage that increased from 77% the prior year when the Indian Point nuclear power plant was shuttered.
Yes, the state has an ambitious — and perhaps unrealistic — goal of generating 70% of its electricity from renewable sources by 2030. Still, I won't be the first to suggest that targeting gas stoves now puts the carriage before the horse.
And as somebody who is concerned about global warming, I worry that climate measures targeting everyday household comforts while carbon-spewing pleasures enjoyed by the rich and politically connected — such as, say, private jets — are subsidized by federal tax policies. Such discrepancies are guaranteed to breed cynicism and mockery
But none of that means gas stoves shouldn't go the way of the aforementioned horse and carriage as we continue toward a healthier, cleaner and greener future. Nobody I know is pining for coal-powered furnaces, asbestos insulation or leaded gasoline. Time and technology march on.
Now, if you'll excuse me, I'm going to heat up some soup on our you-know-what.
(c)2023 the Times Union (Albany, N.Y.)