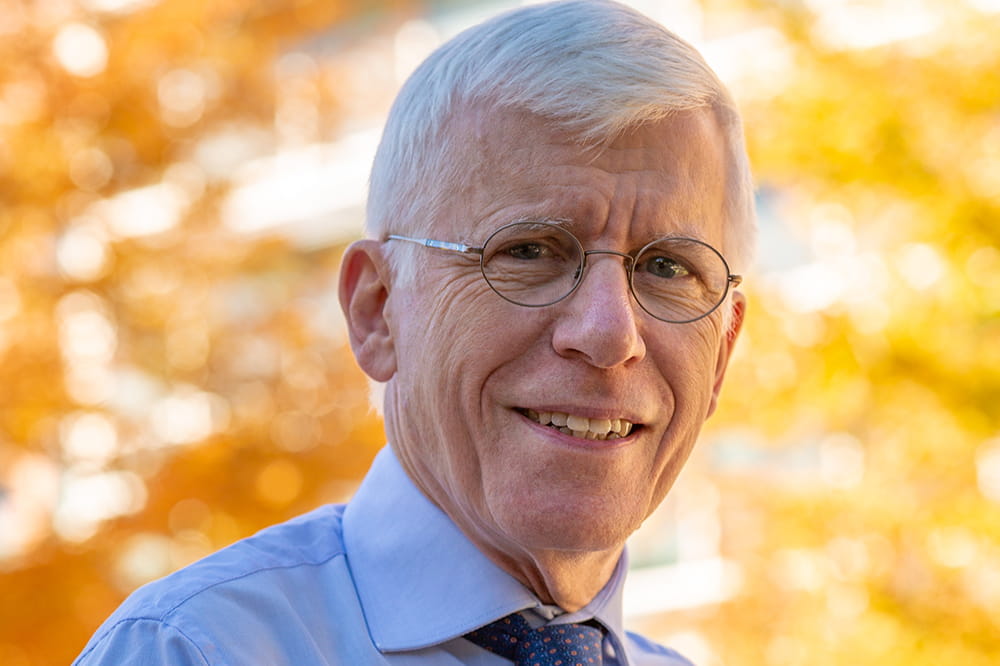 In the early- to mid-1960s, the number of cigarettes smoked in the U.S. averaged out to more than 4,000 per adult, per year.
A United Press International article published in 1964 noted that 523 billion cigarettes were smoked in 1963, despite, it said, "the so called 'cancer scare.'"
Since then, cigarette smoking has fallen to about 1,000 cigarettes per year, per capita. Smoking, once commonplace in public areas, is now banned in most public spaces and many private areas as well, like restaurants, bars and offices.
"I remember when people smoked on subways and busses and how awful it was," said pulmonologist and epidemiologist Jonathan Samet, M.D., dean of the Colorado School of Public Health. Samet has served as editor and author for Reports of the Surgeon General on Smoking and Health since 1984 and has testified as an expert witness in numerous trials against cigarette companies.
He will be speaking Oct. 20 at MUSC Hollings Cancer Center at the inaugural Susan Rosenblatt Lectureship, named for one of the attorneys who took on the cigarette companies when they appeared untouchable.
His talk: "The Global Tobacco Pandemic: How did we bend the curve?" will take a look at the combination of forces – including public awareness, the clean air movement, advances in smoking cessation, litigation and regulation – that have gotten us to this point. He'll also consider the work yet to be done.
"Sadly, the problem is still with us. It's chameleonlike – it keeps reinventing itself," he said. "Just two weekends ago, there was a full-page ad in The New York Times by the current CEO of Philip Morris International talking about their plan for a smoke-free world – which means that people would be using their products, just not combustible cigarettes."
As combustible cigarettes – the traditional cigarettes that most people are familiar with – are increasingly banned, the tobacco industry has been coming up with alternatives, such as e-cigarettes or vapes, which heat a liquid into aerosol to deliver nicotine; heated tobacco products, which heat tobacco but not to the point of burning; and nicotine pouches, which are placed in the mouth.
Michael Cummings, Ph.D., a professor in the Department of Psychiatry and Behavioral Sciences and a member of the Cancer Control and Prevention Program at Hollings, invited Samet, whom he's known for decades, to speak.
"In the 1980s and 90s, there was a lot of disagreement about the science and what the risks were from secondhand smoke. Researchers like Jon Samet were really critical to teaching us that secondhand smoke is like air pollution – except the air pollution from cigarette smoke was inside often with poor or no ventilation."
Michael Cummings, Ph.D.
Leaders in the field, Cummings and Samet have contributed to the scientific knowledge of the effects of smoking and the effects of policymaking as well as each testifying in hundreds of cigarette company trials. In the early 2000s, Cummings was involved with a project to digitize and index millions of pages of previously secret tobacco industry documents, which were placed online for the public and researchers to see. The documents revealed the industry's targeted marketing of young people and deliberate design of cigarettes to make them hard for smokers to quit.
When Cummings arrived at MUSC, he established a fund within the MUSC Foundation using fees he collected from testifying in court against cigarette makers. Over the past several years, the Community Tobacco Control fund has paid for smoking cessation mediation for indigent patients at MUSC, supported research projects and funded a communitywide stop smoking event.
When Susan Rosenblatt died in December 2021, Cummings approached the leadership at Hollings Cancer Center to use part of the fund to create an annual lectureship in her honor. Given Hollings' strong focus on smoking cessation and tobacco research – Hollings researchers have authored 226 publications related to tobacco, smoking cessation, vaping and nicotine over the past four years and have developed a training program to teach evidence-based tobacco cessation approaches to providers across the state – it was an appropriate gesture to honor the legacy of someone who took on the cigarette companies and won.
Susan and her husband, Stanley Rosenblatt, led two groundbreaking cases against the tobacco industry. In the first case, they represented flight attendants who argued that secondhand smoke inside airplanes created an unsafe work environment. The tobacco companies settled that case, and the money from the settlement established the Flight Attendant Medical Research Institute, which has funded research into diseases caused by secondhand smoke for over 20 years.
At a time when the tobacco industry was obfuscating the evidence related to the risks of secondhand smoke, Samet's expertise in small particle inhalation was invaluable. For many people, like the flight attendants, as well as restaurant and casino workers, secondhand smoke was an unavoidable occupational hazard, Cummings said.
"In the 1980s and 90s, there was a lot of disagreement about the science and what the risks were from secondhand smoke," Cummings said. "Researchers like Jon Samet were really critical to teaching us that secondhand smoke is like air pollution – except the air pollution from cigarette smoke was inside often with poor or no ventilation."
The second case, a class-action suit on behalf of Florida smokers injured by cigarettes, resulted in a record-setting $145 billion guilty verdict against cigarette makers. The Engle case, as it was known, was named after the Rosenblatts' family pediatrician, Howard Engle, who was the lead plaintiff.
The Rosenblatts' small Miami law firm was an unlikely foe for the well-funded tobacco companies, whose tactics to that point had been to exhaust their opponents through endless motions and legal filings to avoid any judgement against them. Cummings said the Rosenblatts were motivated by a strong sense of the injustice of companies profiting from the selling of a product that they knew to be deadly yet was engineered to make it difficult to quit.
"Susan was the lawyer behind the scenes. Every night there would be motions filed. And remember, you're getting motions filed by expert teams of the best paid attorneys on the planet. Six companies, and each company had a team of attorneys. They would think up their motions to file, and then the next day in court, the Rosenblatts had to respond," Cummings recalled. "And Susan did all of the behind-the-scenes legal work, plus the appellate work that went on after the verdict came in."
The Rosenblatts' efforts to seek justice for the workers and families harmed by big tobacco greed might well have been the beginning of the end for cigarettes. However, Samet said that we haven't reached the end of the tobacco story. The introduction of noncombustible cigarettes, including heated tobacco products, is a new area of discussion. As incomes rise in developing countries, tobacco companies will likely attempt to gain footholds among new consumer groups in poorer countries. Also, the damage caused by smoking will take many decades to erase because many are still at increased risk of lung cancer, due to their past smoking histories. Increasing access to lung cancer screening in order to catch cancers earlier, when they are more treatable, is a priority at Hollings.
Samet will speak from noon to 1 p.m., Oct. 20 in Room 120 of Hollings Cancer Center. The lectureship will also be available via Teams.