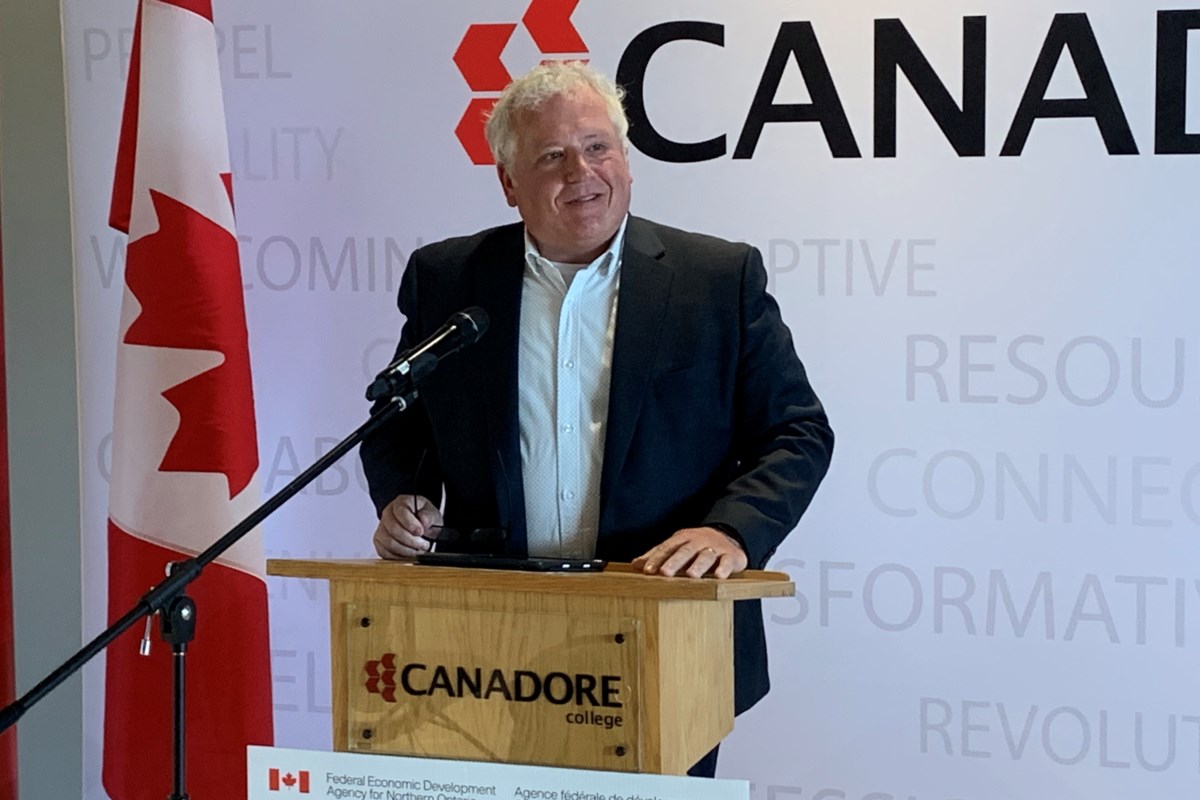 'We were purposeful in selecting North Bay for the establishment of our Global Command Centre'
It took Craig McLellan one simple lecture at Canadore College to realize North Bay would be an ideal spot to relocate his business. 
"I spoke to 90 first year software development students and at the end of my 10-minute talk I said a show of hands how many of you want to stay in North Bay after you graduate, and over 75 per cent of them put their hands up," said McLellan, the president and CEO of ThinkOn. 
"When you think about the power of knowing that the people you are training or collaborate with are interested in the same town which you are investing in, that gets you really excited. That was the moment I said, 'we are on to something here,' and since then everything has kind of aligned behind that idea knowing we can train people here, we can establish a quality of life here and it is actually going to stick."
ThinkOn was one of four projects connected to Canadore College that will receive $3 million in funding from the federal government through FedNOR.   
The announcement includes FedNor funding of $1,000,920 to help ThinkOn establish a Digital Public Safety Centre at Canadore College.
"It's got natural tie ins with our computer programming programs, our IT infrastructure," noted George Burton, president and CEO of Canadore College.  
As Canada's only provider of storage, computer and networking resources, ThinkOn's North Bay facility will feature a Secret Cleared Security Operations Centre (SOC) and Digital Evidence Management (DEM) Archive. The new operations centre will be a highly secure facility that identifies and resolves all security events and incidents. The archive will provide secure hosting of vendor neutral digital evidence content management and archiving evidence for public safety agencies and groups in Ontario and Canada.
McLellan says this investment will also allow ThinkOn to host a major cyber-security event to showcase North Bay as a prime location for digital technology. 
"We were purposeful in selecting North Bay for the establishment of our Global Command Centre," added McLellan. 
"North Bay is a welcoming and supportive community. It offers a superior quality of life and excellent infrastructure on which to grow our business. In collaboration with Canadore College, we plan to grow a pool of local talent through a combination of excellent education and real-world work experience. As a Canadian company, passionate about developing homegrown cyber-security talent, we look forward to forging educational partnerships with Canadore and The First Peoples' Centre."
He expects this will create 28 full-time jobs over the next two years.
Another $750,000 will go towards the establishment of an Indigenous Clean Water Learning Lodge which will be located near the Education Centre Pond.  
The money will be used to create a comprehensive platform of technologies, services and educational programs tailored to fit First Nations needs and values, while addressing the challenges of delivering reliable and sustainable clean drinking water to remote Indigenous communities. Once fully operational, the Lodge will feature a fully operational water treatment facility and demonstration lab to showcase innovative water treatment technologies and services. This project is expected to create 25 jobs. 
"Today's announcement will help unleash the economic potential of Northern Ontario's innovation ecosystem," said Anthony Rota, Nipissing-Timiskaming MP, who made the funding announcement at Canadore College on Tuesday.  
"This paves the way to providing a sustainable source of clean drinking water to rural and remote First Nations. These projects with Canadore College are great examples of how we are helping to maximize opportunities for social and business growth, while supporting jobs a strong economy."
Canadore will also receive FedNor funding of $1.1 million to establish a Concept Development Lab (CDL) at its Innovation Centre for Advanced Manufacturing and Prototyping (ICAMP) facility.
This funding is expected to enhance the regional innovation ecosystem by supporting businesses and start-ups throughout the commercialization process including scale-up and product development. Over the next three years, the CDL will complete technology audits and help businesses develop and commercialize new or modified products, processes, services or technologies. This project is expected to create 44 jobs and maintain 60 more. 
Canadore will also receive another $25,000 for a community based project to help Canadore College host information sessions on financial literacy and promote the awareness of elder abuse among seniors.