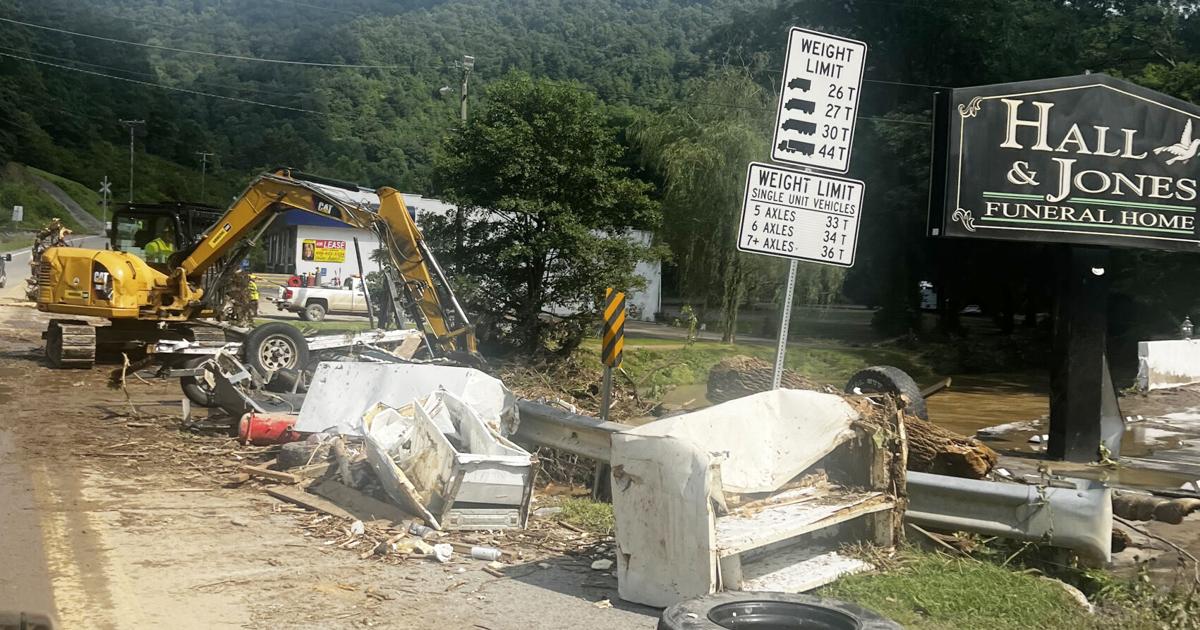 Debris lines Ky. 610 in Virgie near Hall and Jones Funeral Home. The Virgie area was among the hardest-hit in Pike County during catastrophic flooding last week.


News-Express
photo by
Kristi Strouth

Various charity organizations and community churches are continuing relief efforts in the wake of Eastern Kentucky's widespread flood damage.
Veterans of Foreign Wars State Commander Nathan Sesco said posts in Whitesburg and Hazard have become supply distribution centers for flood victims.
"We are not only here for veterans, but to serve the community in their time of need," said Nesco. "We are actually ready for this disaster as we have experience with the tornado in Murray. Commander Ryan Buchanan with the Murray VFW post have brought in supplies, and are helping assist."
Sesco said the VFW has been delivering much-needed supplies and are performing hands-on rescue missions in Whitesburg as the VFW Southern Conference has arrived to help.
"Besides the VFW helping with supplies, Whitesburg VFW Quartermaster Tony Adams and KSP trooper Jay Perkins, from the Harlan post have been out in the water on boats and have rescued nearly 20 people in Whitesburg," he said.
Church organizations also are stepping up.
Sandy Penix, the Kentucky East Methodist District disaster relief coordinator, said there are more 90 organizations dedicated to the area's disaster efforts.
"The Kentucky Methodist Conference disaster relief director is encouraging churches in our communities to join our efforts," said Penix. "We expect teams to come in and help with cleanup efforts over the next week or two. We urge those churches with shower facilities to open their doors."
Other organizations assisting in relief efforts include The Mennonite Church, the Kentucky Baptist Convention and Catholic Charities which have opened laundry centers in the last two days.
The Christian Appalachian Project is actively seeking volunteers who would be willing to go out to affected areas and the American Red Cross has been active from the beginning.
Penix said the charity organization From Hearts Two Hands has arrived in Kentucky assisting at the East Kentucky Dream Center and together they are providing more than 3,500 meals per day.
"The East Kentucky Dream Center is doing a wonderful job in our area collecting and distributing supplies," said Penix. "The center has been a shining star."
The Louisville-based charity organization SOS is working in Whitesburg, Penix said, and donated 42,000 medical supplies which should have arrived yesterday.
The community can drop off supplies at the Appalachian Wireless Arena. Flood victims can pick up those supplies at the Sycamore Fire Department, Elkhorn City Fire Department, Shelby Valley Rescue and the Shelby Valley Fire Department.
Penix said there are so many heart-wrenching stories out there but one lady in particular Saturday just 'broke her heart."
"She was about 65, and she came in to get supplies in flood mud clothing and boots," Penix said. "When we gave her supplies and recognized her loss, she broke down and covered her hands over her face and just cried and cried. We all gathered around her and I prayed with her."
Pike Association of Southern Baptists Director, Jason Lowe said the Southern Baptist Conference Disaster Relief teams were showing up in Eastern Kentucky Aug. 1 to help.
"We must be the hands and feet of Jesus because people are hurting and need help," Lowe said. "We are expecting over 100 volunteers from the Southern Baptist Conference. Groups from Tennessee, Alabama and North Carolina churches are all trained volunteers. Crews will be directed to victims' homes to assess damages and will be equipped with chain saws and materials to spray out mud. They will also do structure tear outs, rip up carpet, and disinfect for mold."
Kevin Hall said Hall and Jones Funeral Home located in Virgie opened its doors to flood victims for two days even though their own facilities saw flood damage.
"We fed community members here and handed out cases of water that had been dropped off," Hall said. "We are all about community here, even though we did get some damage of our own, we opened our door to our neighbors in their time of need. Material items can be replaced, life can't."
Director of the East Kentucky Dream Center, Racheal Dotson said the center has not slowed down in their efforts to help flood victims.
"Right now we are just doing what we do best," Dotson said. "We are extending help to every area in East Kentucky, because we are the East Kentucky Dream Center, we serve all of Eastern, Kentucky. Yesterday we served McRoberts, Beaver, HiHat, Jenkins and Neon."
Dotson said the organization sent two furniture trucks full of clothing out to four counties and continues to feed hundreds of people every day.
"Operation Blessing is a national organization that has joined forces with us," Dotson said. They have donated semis of goods to help flood victims and they will also be at the Connection Church."
For flood victims in need of water, cleaning supplies, or information about donations, call Pike County Emergency Management at, (606) 432-0210.