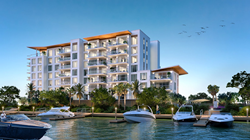 "We have taken a proactive approach to this shift in the health of properties," says Moises Agami, Chairman & CEO of Valor Capital. "All of our properties being built since the pandemic are designed from the ground up with unprecedented standards of health and wellness living in mind."
CLEARWATER, Fla. (PRWEB)
August 16, 2022
Americans were alarmed on July 21, 2022, when the White House announced that President Biden had contracted COVID-19.1 The President, who is fully vaccinated, had previously evaded the virus. He recovered without complications, but his situation spotlights the highly infectious nature of the latest COVID-19 variant.
The pandemic inspired many Americans to relocate to communities with robust outdoor social and entertainment options. The rise of telework gave people unprecedented flexibility in choosing a location for their home base. This led to a Florida real estate explosion as people migrated from the Northeast and other regions. Home sales have been steadily rising as new residents flock to the Sunshine State.2 To meet this demand, VALOR Capitol is designing new multi-unit communities that meet the demand for luxury living alongside risk reduction measures.
"We have taken a proactive approach to this shift in the health of properties," says Moises Agami, Chairman & CEO of Valor Capital. "All of our properties being built since the pandemic, such as Serena by the Sea, are designed from the ground up with unprecedented standards of health and wellness living in mind."
COVID Risk Remains High
Unfortunately, new and old Floridians face a heightened risk of contracting COVID-19 as the BA.5 variant sweeps across the state. Case counts started rising in the spring, and, as of August 9, 2022, more than 8,000 new cases have been reported each day.3For residents of multi-unit dwellings, shared spaces and common ventilation systems create concerns about COVID-19 transmission.
Communities Consider Health Impacts
VALOR's luxury living communities offers striking architectural designs reflecting opulence and quality as well as innovative approaches to indoor air quality to maximize health and safety, including:

Each unit is equipped with non-traditional individual fresh air intake 24 hours a day; Residents do not share air with anyone else
At all times, an official "How to Stay Well" protocol is in effect, as well as an emergency protocol ready to be put in place in case of a health crisis
Polarized media electronic air filters are equipped in all common areas, an enormous improvement on traditional flat filters
UV-disinfecting lights that kill an average of 99.9% of germs are equipped in all common areas HVAC units
State-of-the-art water filtration system keep the pool and jetted spa pristine
EPA-approved human and pet-friendly cleaning products (which have also been proven to kill 99% of tested viruses) are used by maintenance crew in all common areas
Touchless door entry systems to guide residents from the entrance to their front doors
As well as highly efficient LED lighting, powered by on-site solar panels, illuminating all common areas
"Well-being is more than a way of life from now on—it's part of the very architecture itself," as Agami explains. "We will always put health first and foremost, even providing an emergency protocol ready to be put in place in case of another health crisis."
Although almost sold out, VALOR Capital has a few remaining units in its latest Clearwater-Dunedin area luxury development, Serena by the Sea. The boutique property offers unprecedented elegance, quality, style, and attention to health, safety, and comfort. To learn more about VALOR Capital's luxury condominium design, visit the website at https://valorc.com/
About Valor Capital

Valor Capital is a team of entrepreneurs passionate about creating world-class real estate experiences. They are an affiliate: a new venture spinoff of international development firm, Terra Capital Partners SA de CV (Terra Capital Partners). With a four-decade history of real estate developments in office, hospitality, medical, commercial and luxury residential product offerings—and a multi-billion-dollar portfolio and tens of millions of square feet already developed and sold—Valor's developments are always on the cutting-edge, with proprietary anti-viral engineering design used throughout the firm's newest developments. Visit http://www.valorc.com
References:

1.    NPR. President Biden again tests negative for COVID, ends isolation. August 2022, npr.org/2022/08/06/1115617781/president-biden-has-tested-negative-for-covid-again-but-will-remain-isolation

2.    Tampa Bay Times. Housing bubbles have hit Florida hard. Is it ready for another one? April 2022, tampabay.com/news/real-estate/2022/04/20/housing-bubbles-have-hit-florida-hard-is-it-ready-for-another-one/

3.    New York Times. Tracking Coronavirus in Florida: Latest Map and Case Count. August 2022, nytimes.com/interactive/2021/us/florida-covid-cases.html
Share article on social media or email: