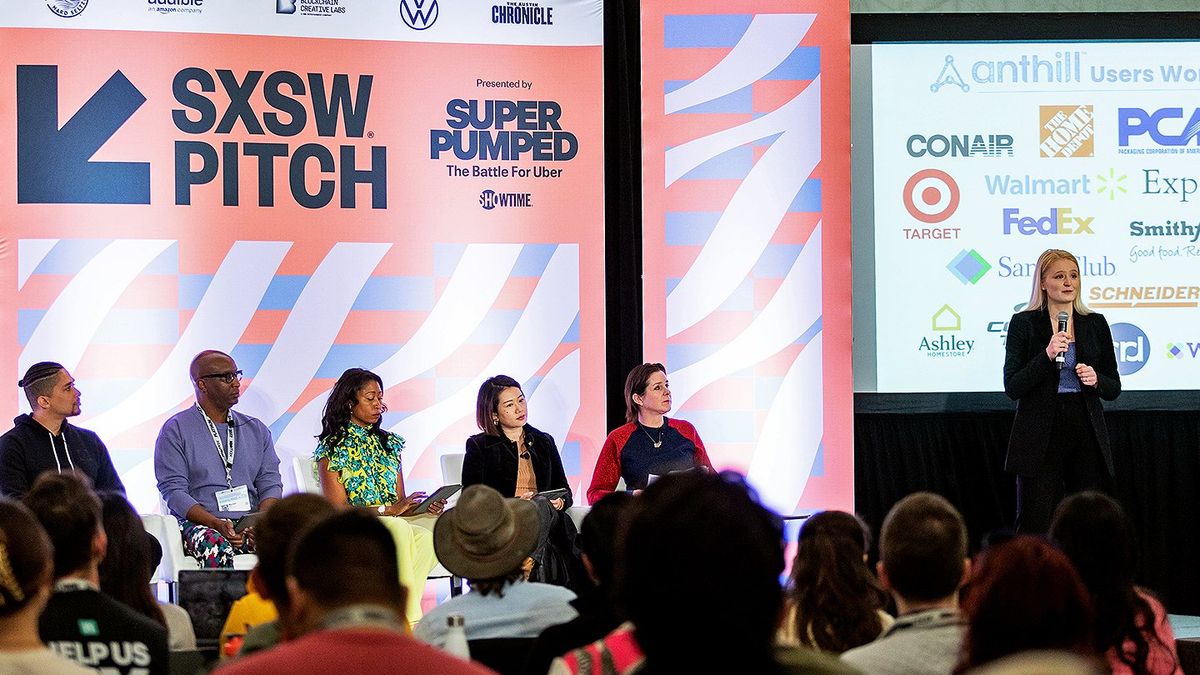 Houston startup founders have been moving and shaking in the local innovation ecosystem — from being recognized for their out-of-this-world innovation to big wins.
In this roundup of Houston startup and innovation news, a Houston company snags a major partnership, an energy tech startup wins big on stage, and more.
The Postage gets a new partner
The Postage platform will be available to AmBank Company's employees, customers, and their families. Photo courtesy of The Postage
A Houston tech platform that streamlines estate and legacy planning has entered into a partnership with AmBank Company — American State Bank, American Investment & Trust, and Perspective Insurance — in Sioux Center, Iowa. The bank will deliver The Postage's services to its employees, customers, and their families.
The Postage unique platform allows users important information organizational tools, as well as state-specific will document creation. The technology also allows users to share meaningful family memories, write future messages, and collaborate with loved ones of their choosing.
"Community is at the core of everything American State Bank does. They exemplify that by supporting their customers through the myriad of choices that arise while navigating their financial lives. The Postage fits right into that, and we are thrilled to share our platform with their employees and customers in their planning and organization efforts," says Emily Cisek, CEO and co-founder of The Postage, in a news release. "We hope to grow awareness of the family-driven digital solution and provide AmBank's customers the opportunity to gain control and safeguard their critical information. We look forward to providing AmBank's customers with the guidance they need to protect their wealth and wisdom now and for generations to come."
The partnership, which rolled out last month, was announced as American State Bank and the family of brands celebrated 50 years of business.
"Our commitment to delivering outstanding service and top-notch products to our customers, colleagues, and community has been unwavering for over half a century," says Joel Westra, AmBank first vice president. "This partnership allows us to extend our digital services while staying true to our core values of connection and community.
"Our team has witnessed the struggles of families coping with losing a loved one, we recognized the need for a service like The Postage," he continues. "Far too often, people are uncertain about the next steps, the whereabouts of important documents, and even their loved one's final wishes. We recognize that to prevent these challenges, families need help navigating difficult conversations and guidance on how to get started with their planning, which The Postage provides."
E360 wins Houston startup competition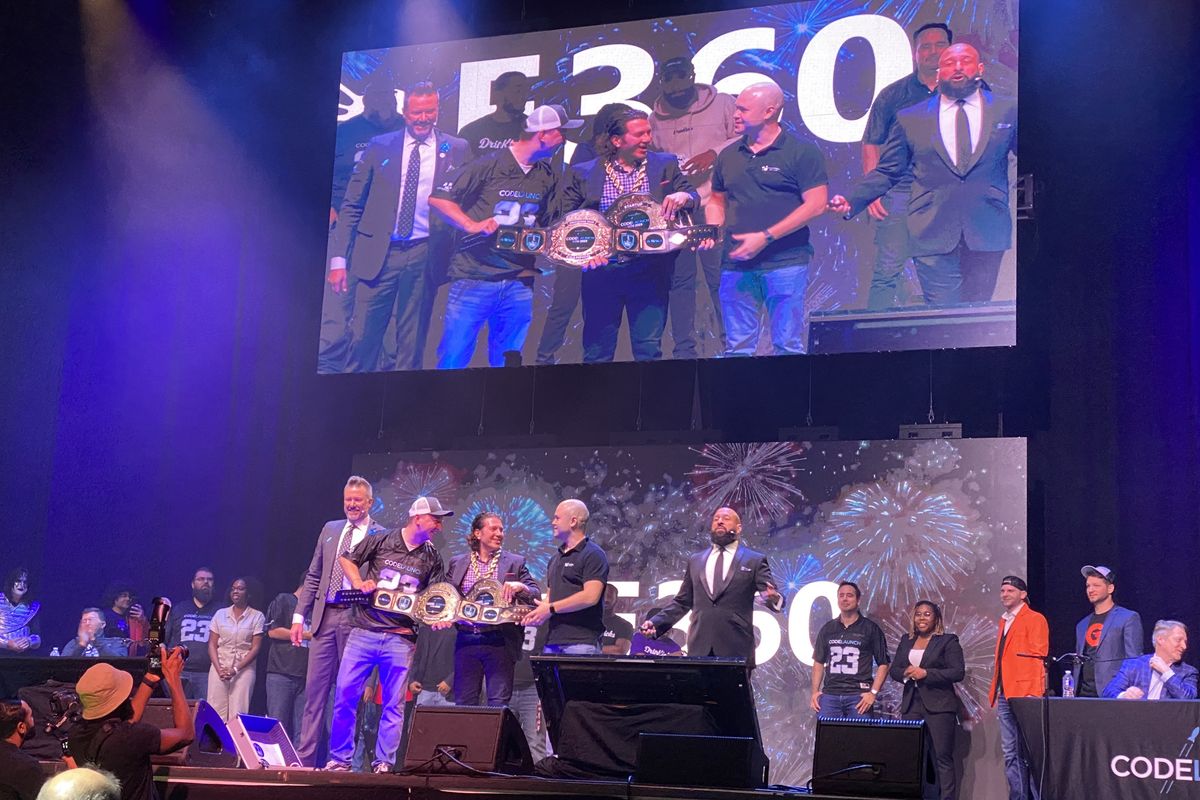 E360 and Honeycomb Software share the win at the 2023 Houston CodeLaunch event. Photo by Natalie Harms/InnovationMap
CodeLaunch, a traveling seed-stage accelerator, hosted its second Houston startup pitch competition last week, and a Houston energy efficiency startup emerged victorious.
E360 won the top prize at the event on March 2. The program paired six finalists with consultant development teams to pitch and compete for up to $150,000. The startup's technology is a holistic building solution that monitors both the energy efficiency and indoor air quality of commercial buildings.
"The goal I pursued at CodeLaunch was to meet industry leaders and investors who can help take the product to the next level," says Mat Bonassera, chief enterprise architect at E360, in a news release. "The vast majority of buildings are both incredibly inefficient as well as dangerous to their occupants, due to the dangerous levels of compounds in the air.
"We solve both these complex problems at the same time," he continues. "This is unheard of in our industry. We do this by monitoring vast sums of IOT data and then using Machine Learning and real-time monitoring we adjust the building to optimize its performance. This is a revolutionary way to look at commercial buildings."
E360 shares the win with its partner development team Honeycomb Software, an international custom software development company. The provided hands-on support to E360 scale during a two-day hackathon held February 25 and 26.
"The desire to promote energy efficiency of the buildings and the sustainability in business influenced our decision of whom to work with during the Hackathon," says Oleksandr Semeniuk, CEO of Honeycomb Software, in the release. "Our team worked tirelessly to expand the functionality of E360, and this victory is a testament to their hard work and dedication."
Axiom named among most innovative companies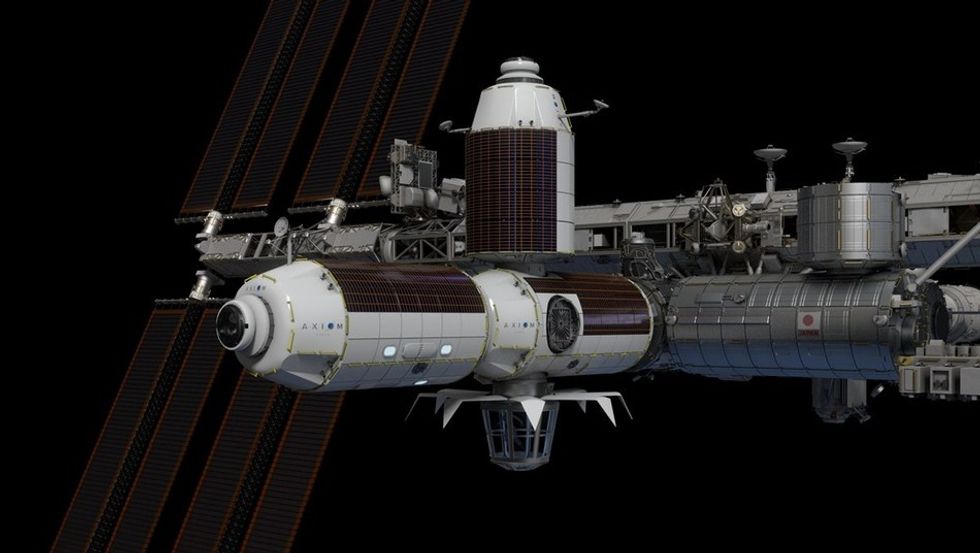 KBR is one of Axiom Space's partners on its new NASA-sanctioned ISS project. Photo via AxiomSpace.com
Fast Company named it's 50 most innovative companies — and Axiom Space, a Houston-based commercial, full-service orbital mission provider, was named No. 49 on the list. It was also recognized as one of the most innovative space tech companies "for going to space without a chaperone," per the magazine.
The article recognized several of Axiom's accomplishments, including:
Managing the first all-private mission to the International Space Station in April of 2022. The mission sent a four-person crew into space for 17 days.
Developing plans to expand the international community of space explorers, including Italy, Canada, New Zealand, and others.
Building a module to attach to the ISS, which is progress toward the world's first commercial free-floating space station.
"In the space business, there's a big focus on the transportation, the rockets," Michael Suffredini, president and CEO of Axiom, tells Fast Company. "But if you think about the railroads that were built across the U.S., they were built to serve a destination. Without a reason to go somewhere, they wouldn't exist. We're building the destination in space—the real estate to allow multiple businesses to operate in low-Earth orbit and take advantage of the microgravity environment."
NASA also makes the ranking for "showing that a public space program can still do big things," according to the list.
Calling all student-founded startups and businesses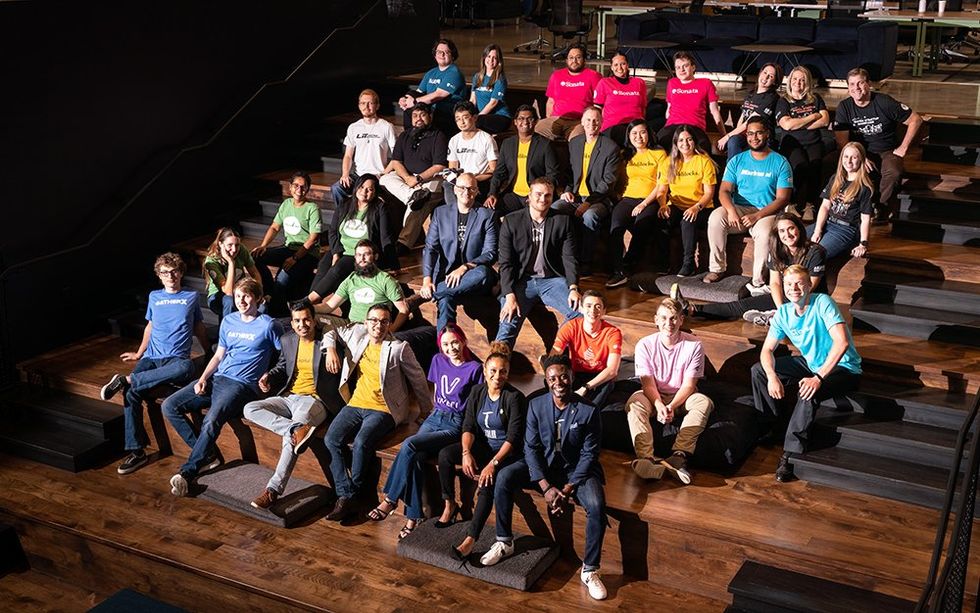 Rice and UH have programs for startup and small business entrepreneurs. Photo via uh.edu
Rice University and the University of Houston have upcoming deadlines for their summer accelerators. The summer programs all operate in coordination with each other and offer support for student, faculty, or staff founders and their startups and small businesses.
The four programs, and their focus and application deadlines, are as follows:
Rice's OwlSpark is focused on early-stage startup teams with at least one Rice student, faculty, or staff founders to grow from innovation to commercialization. Apply by March 13.
UH's RedLabs is focused on early-stage startup teams with at least one UH student, faculty, or staff founders to grow from innovation to commercialization. Apply by March 31.
Rice's BlueLaunch is focused on non-tech small business entrepreneurs who are either student, faculty, or staff at Rice. Apply by March 13.
UH's Red Launch is focused on non-tech small business entrepreneurs who are either student, faculty, or staff at UH. Apply by March 31.