The 2022 Infiniti QX60 is one of the most family-friendly luxury SUVs out there. It has impeccable safety scores, a refined exterior, and a comfortable and high-end interior. If you're looking for an all-around really nice premium SUV, you can't go wrong with the 2022 Infiniti QX60. So how much will you pay for it, and is the price worth what you get? Let's take a look.
2022 Infiniti QX60 | Infiniti
How much does the 2022 Infiniti QX60 cost?
RELATED: Is the 2022 Infiniti QX80's $72,000 Price Tag Worth It?
The 2022 Infiniti QX60 price starts at $49,045 for the PURE trim level, which is the base model QX60. This comes with a 3.5-liter V6 engine that makes 295 hp and 270 lb-ft of torque, according to Edmunds. It's paired to a nine-speed automatic transmission and comes with front-wheel-drive.
In addition, the 2022 Infiniti QX60 PURE comes with a lot of great features, and they're all standard. These include LED headlights, a panoramic moonroof, and a power liftgate. It also has leather seats in the front and second rows, as well as heated front seats and a heated steering wheel. In addition, the Infiniti QX comes with a 12.3-inch touchscreen infotainment system that's compatible with both Apple CarPlay and Android Auto.
Even the base model Infiniti QX60 comes with a lot of safety features
*{padding:0;margin:0;overflow:hidden}html,body{height:100%}img,span{position:absolute;width:100%;top:0;bottom:0;margin:auto}span{height:1.5em;text-align:center;font:48px/1.5 sans-serif;color:white;text-shadow:0 0 0.5em black}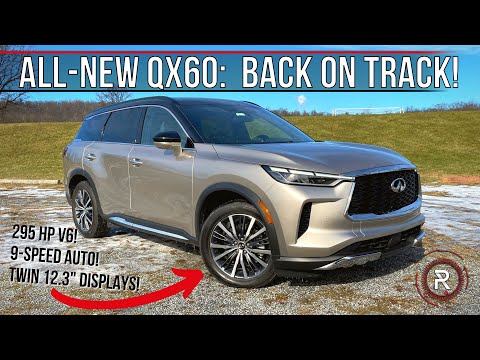 *{padding:0;margin:0;overflow:hidden}html,body{height:100%}img,span{position:absolute;width:100%;top:0;bottom:0;margin:auto}span{height:1.5em;text-align:center;font:48px/1.5 sans-serif;color:white;text-shadow:0 0 0.5em black}