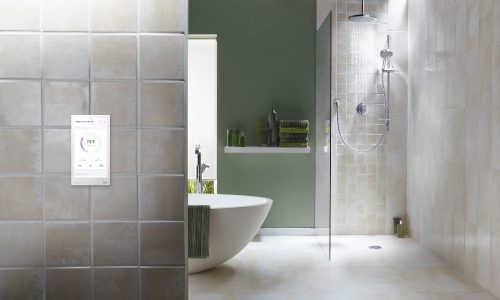 Mobile wellbeing apps, which are most used to track fitness, nutrition, or mindfulness, are growing more popular as consumers prioritize health and wellness goals. In 2023, an estimated 1 billion people worldwide will use well-being apps, choosing from over 10,000 options to help with every aspect of their routine including activity tracking, fitness reminders, sleep analysis, goal setting, and nutrition management. With so many options offering specialized features, consumers often find themselves jumping between multiple apps at any given point in the day. For a wellness enthusiast, a smart home platform can be an ideal progression that extends the functionalities of an automation system to tie into your health goals.
Customers with a smart home system already know the ease of use that comes with controlling their technology directly from their phones. Residential technology integrators, then, can provide value to their customers by communicating this utility about home control through the lens of a wellbeing app, which can also prompt conversations about adding new smart home solutions that support wellness.
The overarching factor determining whether a wellbeing app helps users achieve their health and wellness goals is lifestyle fit. Though results vary app to app, a study by JMIR Publications shows that mobile apps can improve targeted behavior change if they have the right level of involvement in consumers' lives – not too much and not too little.
Lifestyle fit is also a key factor for smart home platforms. Consumers who have enjoyed the benefits of wellness apps will be delighted with the scheduling and scene functions of a smart home system. This can be split into three categories: seamless integration, ease of use, and personalization.
Seamless Integration
A smart home platform can help a customer achieve better wellbeing by uniting multiple app-like features together under the same desired routine without any need for additional legwork or management.
For example, home control systems control give users the option to sync their smart lighting and shades to their own circadian rhythm or to match natural light outdoors. Temperature control can also be automated to align with the best results for better sleep, and air purification can allow homeowners to monitor their levels for cleaner air. Audio and video settings can be integrated to produce natural sounds that bring homeowners closer to nature.  
The possibilities are endless, and integrators can help customers save their favorite settings through the app, eliminating the need for additional configuration or daily fidgeting with an interface to combine each of these wellness elements.
Ease of Use
Smart home users want a low-maintenance and stress-free experience, so apps with a quick setup are the most successful while those that require too much effort can negatively affect customers' wellbeing. Whole home control interfaces with easily customizable "Quick Action" buttons fulfill these consumer desires, giving customers their requested response with the touch of a screen.
Let's say a customer wants to implement daily meditation every night before bed. The integrator or customer can save a "Quick Action" called "Meditate" to dim the lights, lower the shades, and play a guided meditation soundtrack. They can set the next "Quick Action" for "Bedtime", which will turn off the music, adjust the thermostat, and lock all the doors. The ease of use with this feature can encourage customers to meditate more often, as can the visual reminder of seeing the "Meditate Quick Action" button next to the "Bedtime Quick Action" button.
Home control systems allow you to set and forget your routines while multiple solution settings work in tandem.
Personalization
Personalization is the number one expectation among mobile app users. Home control apps can offer personalization to an even greater degree because all the elements of your lived experience in the home are attached to it.
For example, a customer who wants to wake up earlier in the morning can simply adjust their circadian rhythm settings on their home control app by 15-minute increments each week until they reach a time that works for them. Integrators can also utilize the personalization feature to check in with their clients and see if their system needs any adjustments or additions. App-like personalization can improve customers' experience with the technology which can, in turn, help users see better wellbeing results in more areas of their lives.
Smart home platforms can help customers achieve their health and wellness goals, as it's proven that over 80% of one's health is dependent on environmental factors including their home. Integrators should implement a user interface that is a good fit for their customer, offering features to support their goals and expectations.
Ease of use is crucial for a customer to integrate these solutions into their daily lives and improve desired behaviors. With personalization features, integrators can easily check in with their client to see how they like the settings and adjust if needed. With the right smart home platform, interface and routines in place, everyone wins. Integrators can please their clients while elevating their overall health and wellness journey with automated routines and a personalized app-like approach that supports their lifestyle.
Michael Short is the Sr. Director Marketing Global Residential, Marine & Hospitality at Crestron.