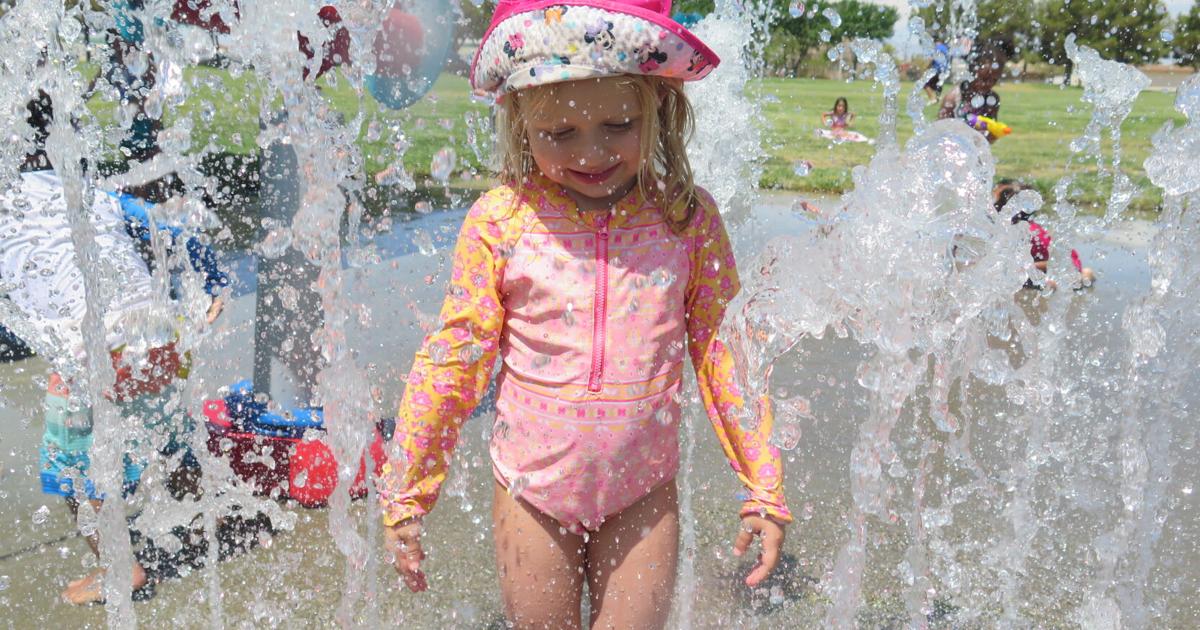 As temperatures rise and air conditioners labor, local residents can beat the heat during summer months in a number of ways.
First, Freedom Park's Splash Pad is open to the public seven days a week from 9 a.m. to sundown.
Located next to City Hall, the Splash Pad is a cool treasure found in the middle of our sweltering city.
Surrounded by shaded picnic benches and trees, the Splash Pad drew a large number of children and parents last Wednesday by noon.
Orion Griffith, 2, was found with his mom, Cara Griffith, playing with the other children and squirting them with a water gun.
"He really likes it. I think we will come more often," said Cara. "With the water, the grass and the trees, it's really comfortable here."
Wednesday was the Griffiths second visit to the park, but another family say they visit the Splash Pad four days a week.
Arya Hockbrocht, 4, and her grandmother, Gretchen Arnold, are regular visitors to the cool retreat.
"We are here Mondays, Tuesdays, Wednesdays and Friday mornings pretty much all summer," said Arnold. "I think this (the Splash Pad) is great. I don't know how we would survive in the summer."
Posted on the poles providing shade for the area were social distancing guidelines and recommendations for park-goers.
Patrons using the splash pad are asked to follow Center for Disease Control recommendations for aquatic venues.
These include everyone (staff, patrons and swimmers) washing and sanitizing hands often and covering coughs and sneezes; using cloth face coverings when feasible, particularly when physical distancing is difficult; using cloth face coverings when not in the water or by spectators (face coverings should not be worn while in the water since they can be difficult to breathe through); maintaining six feet (about two arm's lengths) of social distancing from anyone not in the same household; not sharing items that are difficult to clean, sanitize, or disinfect or that are meant to come in contact with the face, such as goggles, sunscreen, hats, sunglasses, towels etc.
People who have symptoms or have tested positive for COVID-19 or were exposed to someone who tested positive within the last 14 days are urged to stay home.
The city stated it would sanitize the equipment daily and will hand sanitizer stations are set up within the area. However, as it is not a heavily monitored area, patrons are asked to take responsibility for themselves and their groups.
Welcome Center
Next, the Welcome Center offers a fun and relaxing way to get out of the heat.
Located at 880 N. China Lake Blvd., the California Welcome Center will be open seven days a week from 10 a.m. to 5 p.m. Monday through Friday, and until 4 p.m. Saturday and Sunday.
"We have recently designated the California Welcome Center as an official cooling center in Ridgecrest.," said Kari Crutcher, executive director of the Ridgecrest Area Convention & Visitors Bureau. 
Not only are there cool exhibits and displays to see, the Welcome Center also encourages people who just want to sit to visit.
Said Crutcher, "The Welcome Center is the perfect place to cool off on a hot day, and take your time exploring what Ridgecrest has to offer."
Crutcher said she has seen an increase in visitors lately.
"We have seen an increase in Ridgecrest locals bringing a book or a laptop and spending an extended amount of time in the afternoon hours. Some bring a coffee and a friend! It's a great place to hang out," Crutcher said.
For more information, call 375-8202, or visit [email protected].
Other ways to stay cool
The Maturango Museum is another treasure found in the community.
Located at 100 E Las Flores Ave., the museum is open every day from 10 a.m. to 5 p.m.
Visit the "Valley Night Skies – Twilight to Twilight" Photography Exhibit in the Sylvia Winslow Gallery starting Aug. 1 through the end of September.
Photographer Bruce Heydlauff's photographs of sunsets, sunrises and nighttime images radiate with beauty, according to the August newsletter.
Also, Joy Gonzalez's art exhibit, "A Sense of Light," will continue in the Coso Room through Aug. 26.
A third generation native Californian and primarily a traditional oil painter, Gonzalez said she has grown up loving the western landscape.
For more information, call 375-6900 or visit maturango.org.
If you are looking for a really quiet place to sit and relax, there's always the Ridgecrest Branch of the Kern County Library.
Located at 131 E. Las Flores Ave., the library is open Monday through Thursday from 11 a.m. to 6 p.m. For more information, call 384-5870 or visit kerncountylibrary.org.