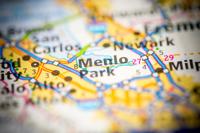 Menlo Park, with a population with 35,211, aims to electrify 1,000 buildings over the next two years.

Shutterstock

Menlo Park, home to companies like Meta, has long been fertile ground for technological innovation. But now, the small city of 35,000 is also proving to be a hub for climate action.
Menlo Park announced Wednesday that it is partnering with BlocPower, a Brooklyn-based clean-tech startup, to decarbonize buildings by replacing gas-powered furnaces and appliances with more efficient technologies like electric heat pumps and solar power to improve air quality and reduce emissions.
The commitment represents the first of its kind on the West Coast and is the latest example of how cities are unilaterally working to rapidly wean off fossil fuels and lower greenhouse gas emissions in response to the accelerating impacts of climate change. 
BlocPower was previously awarded a contract from the City of Ithaca, NY to electrify the city's entire stock of 6,000 buildings — the first large-scale, city-wide electrification initiative in the U.S. 
While many cities have come out with bold plans to address the warming world, "a lot of folks are just kind of struggling with how they convert those pledges into action," said Grace Park-Bradbury, BlocPower's chief operating officer.
Menlo Park's buildings currently account for 40% of its greenhouse gas emissions — a number the city wants to slash by 95% in the coming decade as part of its climate action plan. Through its partnership with BlocPower, the city aims to electrify 15 buildings this year and expand to a thousand over the next two years.
"Now the hard work starts," Menlo Park Mayor Betsy Nash told the Examiner.
Part of that work will be convincing her constituents to give up their gas lines in favor of electrified alternatives. For now, the program is voluntary and yet to be implemented, but Nash hopes that residents will be raring to sign up.
"I think there's a tremendous appetite for it. I think most people are very concerned about the environment in regard to future generations and where we're leaving our children," said Nash. "What they need is help and a roadmap of how to do this.
But another challenge will be how to distribute these programs equitably.
Menlo Park is a city of both astonishing affluence and yawning inequality. It houses the heart of big tech and abuts Stanford University, yet some of its low-income communities still lack adequate tree cover or air conditioning. It's also a place that is especially at risk of rising seas and spiking temperatures — and the city's most vulnerable populations stand to be impacted the most.
That's one reason prioritizing environmental justice communities is a priority for Park-Bradbury.
"We're improving the indoor air quality where we spend too much of our time," she said. "For some of us, it's actually poisoning us. Slowly and not slowly. It's our gas stoves. It's our lead, mold and asbestos. It's the general condition of the built environment that those of us who are fortunate can continue to upgrade, and those with a lot of things, like systemic racism, working against them are unable to do so."
Of particular focus is a district called Belle Haven, along Menlo Park's bayfront that was initially established as an affordable housing project during the Great Depression. Today the neighborhood is overburdened by pollution spewing from the surrounding busy highways and is at risk of coastal flooding given its proximity to the shoreline.
In partnership with a local nonprofit, the city is working to raise $35 million to reduce costs for low-to-moderate-income households. In addition, BlocPower has committed to providing accessible financing to those interested.
Though much more work around job training programs and scaling has yet to be seen, the move adds to Menlo Park's track record on climate action. The city has already switched to 100% renewable energy through Peninsula Clean Power and set some of the first reach codes, or stringent energy requirements for buildings, in the state, noted Nash.
"Climate change is an existential threat to all of us – and it takes every one of us moving," said Nash. "Wherever we can lead, we should be leading."