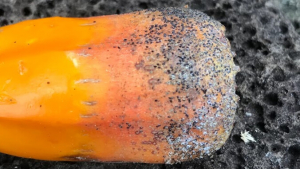 Hala seeds and leaves infested by hala scale prior to removal
The hala tree, its sprawling leaves famously used for woven lauhala pieces and iconic in Hawaiian and Polynesian culture, is being threatened by a critical invasive pest—the hala scale. Experts at the University of Hawaiʻi at Mānoa's College of Tropical Agriculture and Human Resources (CTAHR), the UH Campus Arboretum and UH Mānoa Landscape Services teamed up to save the trees on campus. Thanks to their collaborative efforts, the pest was eradicated at UH Mānoa in August 2022.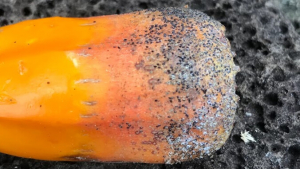 Close-up of hala scale on hala seed
The hala scale is an invasive insect that damages hala leaves as well as the tree's fruit and young seedlings, which can prevent the regeneration of new hala. Common signs of infestation include wilted leaves and tiny black specks found primarily on the underside of leaves, as well as on the tops of leaves and on the hala fruit. Hala scale originated in Hāna, Maui in 1995 but has since spread to Molokaʻi and Oʻahu. In November 2021, UH Mānoa was identified as one of three Oʻahu hot spots of the pest.
Prior to hala scale removal, UH Mānoa was home to 54 hala trees. The hala scale on UH Mānoa's campus was concentrated in two main areas: the lower campus athletics complex and the Kamakakūokalani Center for Hawaiian Studies. In addition to being a popular landscape plant, the hala is iconic in Hawaiʻi and Polynesia for its versatility.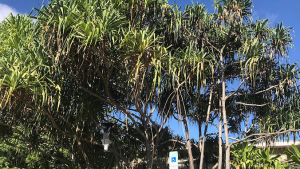 Hala trees on campus prior to hala scale eradication
"It was used by many cultures for thousands of years, most notably the leaves being used and woven into basic necessities at the time, 1,500 years ago," said Nōweo Kai, curator at the UH Campus Arboretum. "It was used for medicine, famine food and fibers. Hala leaves (lauhala) were even used to make sails for double-hull canoes."
Researching solutions
Zhiqiang Cheng, an associate professor and extension specialist at CTAHR's Department of Plant and Environmental Protection Sciences, has been researching hala scale with his Turfgrass and Landscape Pest Management Lab since 2016.
"HDOA staff reached out to me in 2016, and asked me to review the hala scale infestation situation on Chaminade University's campus and set up a field research trial there," said Cheng. "I then received funding to conduct a larger scale research trial on Maui, where hala scale is widespread."
Working alongside Cheng is Mason Russo, a CTAHR PhD student in entomology. Their research has so far identified several low-risk insecticides that are effective against hala scale. One of the insecticides—imidacloprid—was used to combat the hala scale at UH Mānoa.
Eradicating the pest
Landscaping personnel cutting down infected hala

Removed hala in a dedicated roll-off bin
Starting in January 2022, UH Mānoa Landscape Services collaborated with Cheng and Russo to begin efforts for hala scale removal and treatment. Cheng communicated best practices for managing the pest, which landscaping then implemented.
Their efforts mainly involved the careful removal of infected hala. Landscaping personnel would cut down infected hala, placing it into a dedicated roll-off bin. After removal, they would drench the contents of the bin with imidacloprid (the insecticide that Cheng recommended), and leave the bin covered for two weeks before sending it to H-POWER for incineration. As a preventative measure, they also applied the insecticide to the ground below each tree that was removed. Anyone who worked on removal each day had to disinfect themselves and their tools with rubbing alcohol to prevent further spread of the pest.
Fifteen hala trees were removed from campus due to scale infestation. Hala that were not infested to the point of removal were also treated with imidacloprid. These efforts were well worth it, when the hala scale was officially deemed eradicated at UH Mānoa.
Going forward, landscaping plans to continue the pesticide treatment on an annual basis. Through continued collaboration and due diligence, the hope is to prevent the remainder of the hala on campus from being infested and to mitigate further hala scale spread across Oʻahu.
—By Alisha Churma