↓ Continue Reading To See This Amazing Video
Allergy season is no one's favorite time of year. Nearly 60 million Americans suffer from seasonal allergies. So, when pollen levels are at their highest, many people will be sneezy and sniffly. For those who suffer from seasonal allergies, this can be a difficult time of the year. If you, your friend, or a family member suffers from seasonal allergies, you may wonder what you can do to reduce symptoms. Nebraska is a state with large patches of open plains, which unfortunately makes allergens worse.
In this article, we'll go over everything you should know about Nebraska allergy season, including when the pollen levels are the highest, what plants cause allergies, and how to treat symptoms.
Most Common Allergens In Nebraska
Most allergies in Nebraska are caused by pollen, a fine particle released by plants as part of their reproductive process. During springtime, trees and plants come out of their winter hibernation in Nebraska and release pollen into the air. This pollen can travel for miles and end up in our noses and throats, causing an allergic reaction.
Additionally, warmer temperatures and increased moisture levels in the air can worsen allergies. A few different types of plants are known to cause allergies during allergy season in Nebraska, and it's good to know what to look for to avoid them. One of the most common allergens during allergy season is ragweed. Ragweed is a plant that produces a lot of pollen in many states, which can irritate people allergic to it. Other common allergy-causing plants in Nebraska can include:
Goldenrod
Goldenrod plants are just one of many allergenic plants in Nebraska.
©iStock.com/aga7ta
The Goldenrod is a plant that can be found in many gardens. It has long, slender leaves and small yellow flowers that bloom in the summertime.
Timothy Grass
Timothy grass flowers grow in clusters at the tops of blades of grass.
©skrotov/Shutterstock.com
The Timothy grass has a short, thick stem and long, narrow leaves. The flowers are small and brown and grow in clusters at the top of the plant.
Johnson Grass
Blades of Johnson grass are tall and thick.
©Mamamstock/Shutterstock.com
The Johnson grass is a tall, slender plant that can grow up to 6 feet tall. It has long, narrow leaves that are green in color and have a white or light-colored stripe running down the center. The flowers of Johnson grass are small and yellow in color, and they grow in clusters at the top of the plant.
Redtop Grass
Redtop grass leaves are typically inconspicuous.
©Kimberly Boyles/Shutterstock.com
The leaves of Redtop grass are narrow and blue-green in color. The plant's flowers are small and inconspicuous and later turn into seeds.
Orchard Grass
Typically blooming in the summer, orchard grass is a consistent part of Nebraska's allergy season.
©Mr. Meijer/Shutterstock.com
Orchard grass is a flowering plant native to many regions. It has long, thin leaves that are often variegated with different colors. The flowers of orchard grass are small and delicate, and they typically bloom in the summertime.
Sweet Vernal Grass
With spring blooming, sweet vernal grass is a threat to those in Nebraska who have allergies.
©olko1975/Shutterstock.com
Sweet vernal grass is a perennial grass that grows in clumps and has thin, green leaves. The flowers are small and yellow, and they bloom in the springtime.
Kentucky Bluegrass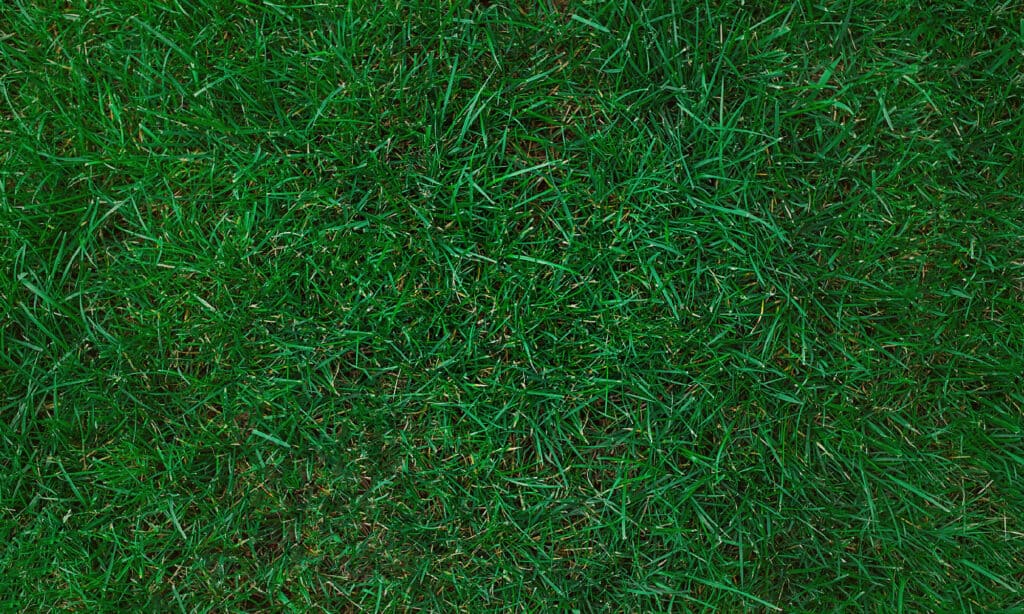 A common lawn grass, Kentucky bluegrass is particularly allergenic.
©iStock.com/KacieBuccieri
Kentucky bluegrass is a grass that is found in many lawns or gardens. It has a deep green color and a soft texture.
When Is Allergy Season in Nebraska?
While it can vary based on weather conditions, Nebraska's allergy season usually begins in early spring.
©iStock.com/marekuliasz
Allergy season in Nebraska typically begins in early spring and summer. However, this can vary depending on the weather conditions from year to year; warmer, humid weather can cause allergy season to last longer due to pollen circulating in the air easier during these times. As we learned earlier, pollen is a fine powder that is released into the air by trees, grasses, and weeds, and when these pollens encounter your nose, eyes, or mouth, they can cause an allergic reaction in those sensitive to allergens. 
Nebraska typically has cold winters, so you will get a much-needed break from allergies. However, as the weather warms up, plants will start releasing pollen, and allergies will be on the rise. The months with the highest pollen count in Nebraska are generally March and April.
Allergic reactions can range from person to person. The pollen count in the allergy season is usually highest in the early daytime, so limiting exposure during these hours is essential, if possible.
Allergy Symptoms in Nebraska
Here are some common symptoms people experience during Nebraska's allergy season:
Sneezing
Congestion
Runny nose
Itchy eyes
Rashes
Fatigue
Difficulty breathing
Wheezing
Red eyes
It's important to note that everyone can experience allergies differently, so it's best to find the treatment that works best for you and your symptoms. While allergies are commonly referred to as "hayfever", it is rare to get a fever from allergies. 
However, it's worth mentioning that allergies can lead to other illnesses, such as sinus or lung infections, which can cause fevers.
Best Allergy Treatments in Nebraska
Here are some of our top tips to help reduce your symptoms during Nebraska's allergy season, such as:
Stay Indoors
Stay indoors as much as possible, especially during the early daytime hours when the pollen count is highest.
Put On A Mask
Wear a dust mask when outside or doing activities that will expose you to pollen (such as gardening or walking).
Shower and Change Your Clothes
It is a good idea to change your clothes and shower after going outside for extended periods during high pollen-count days.
Take Over-the-Counter Antihistamines When Required 
The most effective OTC medications are Claritan (Loratadine), Zyrtec (Cetirizine), Allegra (Fexofenadine), and Benadryl (Diphenhydramine). But keep in mind that Benadryl tends to cause drowsiness as a side effect in most people.
Filter the Air
Using your air conditioner or an air purifier will filter out the pollen particles in the air and prevent you from inhaling allergens in your home or car.
If you are someone who suffers from allergies, it is essential to take precautions to avoid triggering your symptoms further. If your allergy symptoms are severe and you are not responding well to over-the-counter medications, you should see an allergist or doctor for further evaluation.
Allergists can perform skin prick tests or blood tests to determine what allergens you are most affected by. They can also provide more information on managing your allergies and medication to relieve symptoms. Leaving your allergies untreated can cause them to become harder to control or possibly cause secondary respiratory infections. Hence, treating your allergies as best and as early as possible is always a good idea.
Why Humans Experience Allergies
Many factors serve as reasons for allergies and why we experience them.
©Chad Robertson Media/Shutterstock.com
When humans encounter allergens, our immune system releases histamines, which can cause much-dreaded symptoms such as sneezing, itching, rash, and watery eyes. These reactions can be commonly known as "allergies." The reasons why humans experience allergies more than our ancestors may be due to several varying reasons, such as:
Climate Change
Warmer weather means longer allergy seasons and higher pollen counts.
Less Exposure to Allergens in Early Life
Humans now live in immaculate and sealed houses, which could reduce our contact with allergens early in life, reducing our immunity to them.
Living Close to Cities
Many people live in or close to large cities these days, meaning less time in nature and more time indoors. This may reduce our tolerance to allergens, such as pollen, dust, mold, and mites, which further aggravate our allergies.
Outlook For Allergies in Nebraska
While allergies can feel like they're never going to end and your spring social life is over, fortunately, allergy season will eventually end, and your life will return to normal. Unfortunately, allergies are a side effect of the warm spring and summer months and nature around us, but as soon as allergy season is over, your symptoms will gradually disappear. Hopefully, you will now know how to manage your allergic reactions before the next allergy season begins in Nebraska.
Up Next…