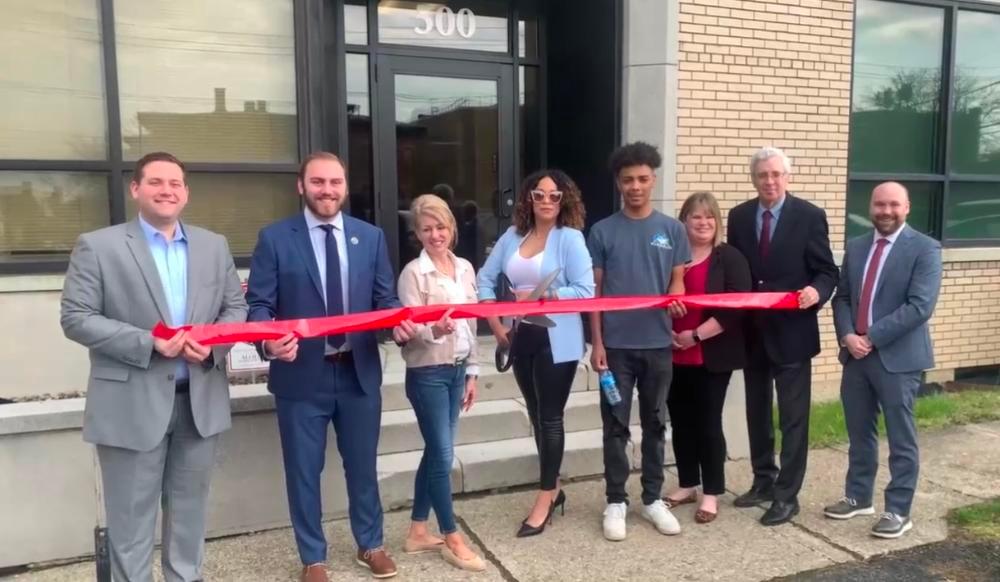 A ribbon-cutting ceremony was held recently for the opening of a new cleaning business in Jamestown. Porter-Blair Cleaning & Co., LLC cut the ribbon on its new office in the Medical Arts Building at 500 Pine Street. Porter-Blair Cleaning & Co. offers commercial and residential cleaning, including disinfecting all high-touch surfaces, trash removal, floor cleaning, kitchens, bathrooms, and more. Specialized floor care and carpet cleaning is available, as is special event cleaning and vacation property cleaning solutions. The business is a member of the Chautauqua County Chamber of Commerce.
Owner Lindsey Smith is a Jamestown native who returned home to launch the business. She says, "The past two years have been challenging for so many, including Porter-Blair Cleaning & Co. I'm happy to be moving forward and serving this community. Not only are we providing valuable cleaning solutions to homeowners and commercial spaces, we are also creating new employment opportunities. We look forward to growing in the Chautauqua County region!"
Smith was joined in the ceremony by Jamestown Mayor Eddie Sundquist, New York State Assemblyman Andrew Goodell, representatives for Chautauqua County Executive P.J. Wendel and State Senator George Borrello, along with the staff of the Chautauqua County Chamber of Commerce.
Pictured, from left to right: Jamestown Mayor Eddie Sundquist; James Feldman, Assistant to Chautauqua County Executive P.J. Wendel; Lisa Vanstrom, representing New York State Senator George Borrello; Porter-Blair Cleaning & Co. Owner Lindsey Smith; Lindsey's son, Porter; Jamestown Community Chamber Coordinator Carrie Swanson; New York State Assemblyman Andrew Goodell; Chautauqua County Chamber of Commerce President/CEO Dan Heitzenrater. Photo by the Chautauqua County Chamber of Commerce