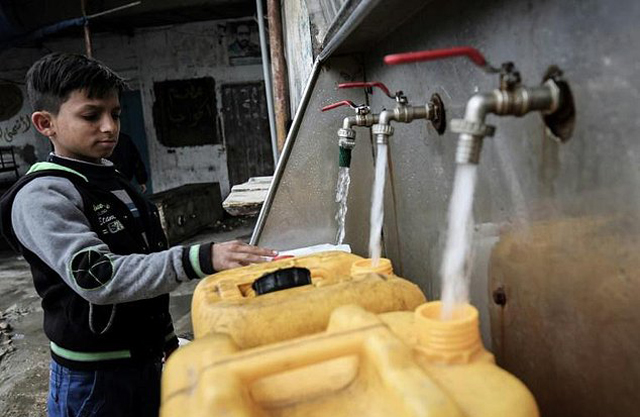 KARACHI:

The Sindh High Court (SHC) has issued notices to the Secretary Local Governments, Director Karachi Water and Sanitation Board (KWSB), and Advocate General Sindh on a petition against contamination of drinking water due to a broken supply line in Qayyumabad.
Appearing before a two-member SHC bench, headed by Justice Nadeem Akhtar, the petitioner's counsel, Usman Farooq Advocate, submitted on Thursday that there have been big cracks in the drinking water supply lines since 2017. Polluted water from the Malir River seeps into the pipeline and contaminates the water supplied to Akhtar Colony, Qayyumabad, and Kashmir Colony.
Residents of these areas suffer from various diseases due to the consumption of contaminated water, the counsel submitted. He further said that the main 33-inch diameter pipeline that supplies water to these areas passes through the Malir River. It is broken at several places and the toxic waste released into the river by industrial units in Korangi seeps into the pipeline. Sewage also gets mixed from the sewerage lines.
Therefore, the water supplied to residents of Akhtar Colony, Qayyumabad, and Kashmir Colony is not fit for human consumption, submitted Advocate Farooq.
The lawyer said that the dilapidated pipeline has been repaired by the residents on a self-help basis several times, but now it is not repairable any further. A new pipeline is long overdue as the KWSB staff cannot restore the required water pressure in the present pipeline, fearing it might burst.
Advocate Farooq submitted that illegal pumping systems have been installed over the past two decades which have disrupted the entire KWSB system. Due to these systems, consumers are forced to pay hundreds of thousands of rupees in extortion every month to their operators instead of KSWB, causing huge financial losses to the national exchequer.
A large number of consumers make separate monthly payments to both KWSB and pump operators, the petitioner's counsel said, adding that taking benefit of the worsening water crisis, mini hydrants have popped up to fleece the water-starved consumers.
He prayed the court order immediate replacement of the broken pipeline so that citizens can be provided with clean drinking water. If there is a need for a pumping system in the area, it should be operated by KWSB so that the money collected could go into the national treasury instead of extortionists.
After listening to the petitioner's counsel, the court issued notices the Secretary Local Governments, Director Water and Sanitation Board, and Advocate General Sindh, directing them to submit their replies on December 15.
Published in The Express Tribune, November 25th, 2022.