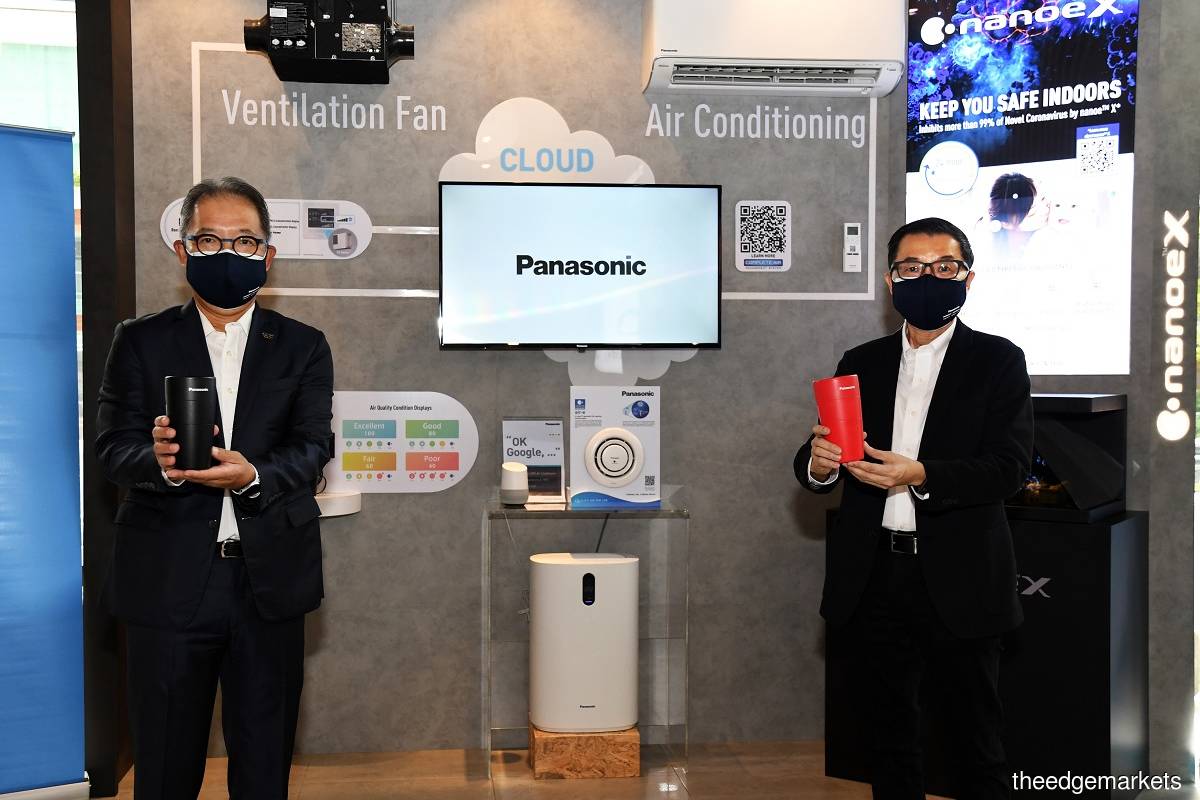 KUALA LUMPUR (Jan 20): The exclusive nano-sized atomised water particles generating technology — nanoe technology — by Panasonic has proven its inhibitory effects against four novel coronavirus variants (SARS-CoV-1), namely Alpha, Beta, Gamma and Delta. It also improves indoor air quality.
In a media briefing on Thursday (Jan 20), Managing Director of Panasonic Corp's QAFL Business Promotion Office, Ichiro Suganuma said that although the virus inhibitory test on the latest Omicron variant has not been carried out yet, based on the previous record, the nanoe technology should be able to inhibit that variant too.
"Panasonic has been conducting research on this [nanoe] technology since 1997 and has realised its effectiveness in a variety of areas, including inhibiting pathogenic microorganisms (bacteria, fungi, and viruses) and allergens, breaking down PM 2.5 components that have adverse effects on the human body.
"During the latest verification tests performed in September 2021, the virus titers of SARS-CoV-2 and its four variants (Alpha, Beta, Gamma, and Delta) were compared in a 45-litre test space with and without exposure to nanoe. As a result, the test confirmed an inhibitory effect of more than 99% activity of adhered viruses from the variants after two hours of exposure," Suganuma shared.
Panasonic's nanoe is an ionizer that generates "nano-sized atomised water particles" using electrostatic atomisation technology. It collects invisible moisture in the air and applies high voltage to it to produce "hydroxyl radicals" contained in water. Highly reactive and oxidative, hydroxyl radicals have the potential to inhibit the activity of pollutants, breaking them down and neutralising their unpleasant effects, vastly improving indoor environments. Panasonic went on to introduce nanoe X technology, which releases up to 20 times more hydroxyl radicals than nanoe.
Although there are other technologies that can arrest pollutants, Panasonic Malaysia Managing Director Cheng Chee Chung highlighted that nanoe technology can inhibit pollutants both in the air and on surfaces. Moreover, it requires zero maintenance, has non-chemical particles and a longer lifespan of up to 20 years.
"Indoor air quality has always been crucial for good quality of life and as an air quality expert, Panasonic has made various strides in engineering solutions to provide cleaner air — more so in times of the pandemic. This is where our nanoe X technology comes in, in the form of air purifiers to cleanse indoor air and the surrounding surfaces. This application works in small and large spaces alike and has been adopted by numerous companies to provide a safe and clean environment for both customers and employees," said Cheng.
Most Panasonic air solution products across consumer and commercial categories carry nanoe X technology, such as air purifiers and air conditioners. The products are widely accepted in both commercial properties and homes in Japan, including the Tokyo 2020 Olympic and Paralympic villages.
In Malaysia, the applications of Panasonic's nanoe X-equipped air solutions have been adopted by S P Setia, WCT Holdings, Platinum Victory, PKT Logistics, Tan Chong Group, Yamaha Music School, Qra grocer, Sunway Malls, WORQ co-working space and the Parliament building.