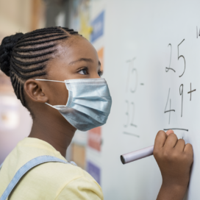 The School District of Philadelphia in partnership with the Philadelphia Department of Public Health (PDPH) announced updated COVID-19 health and safety protocols for the 2022-23 school year on Friday.
The School District and PDPH have been working closely throughout the summer, monitoring local COVID-19 conditions, and following federal and local public health guidance to determine the best health and safety measures to mitigate the spread of COVID-19 as students return to school.
For the first 10 days of the new school year — from Aug. 29 through Sept. 9 — all students and staff will be required to wear masks while in school, regardless of the COVID-19 Community Level. This is an extra precaution for everyone's health and well-being since increased end-of-summer social gatherings may heighten the risk of exposure to COVID-19.
Beyond the first 10 days of the new school year, masking is optional but encouraged for students and staff except under certain circumstances:
• When the COVID-19 Community Level is high according to the CDC COVID-19 Community Level Indicators. In this instance, the District will notify families and staff that indoor universal masking will be required in schools, school buses and offices until the Community Level returns to medium. At a Community Level of medium, masking is strongly recommended; and,
• In specific instances where universal masking may be required, regardless of the COVID-19 Community Level, including:
• Classroom- or school-wide outbreak,
• Or upon return from extended breaks and holidays when increased social gatherings may heighten the risk of exposure to COVID-19.
Students and staff at PreK Head Start programs are still required to wear masks at all times.
In addition, the District will implement a mask-to-stay policy following an exposure to COVID-19. Students who are close contacts will be notified by the District's COVID Response Team. Students and staff who have been exposed to COVID-19, regardless of vaccination status, are no longer required to quarantine at home unless COVID-like symptoms are present. Instead, they may return to school but are required to wear a mask for 10 days.
Students who test positive for COVID-19 are required to isolate at home for at least five calendar days and participate in virtual learning. Parents or guardians must also notify their school nurse or call the COVID Response Team at 215-400-5454. If symptom-free after five days of isolation, students may return to school but must wear a high-quality (N95 or KN95) mask for an additional five days and must eat in a designated area.
Students who present COVID-19 symptoms during school will either be tested if a signed parental consent form is on file with the school or provided with over the counter test kits for in-home administration.
"When students return to schools and classrooms on Monday, Aug. 29, our families, staff and students can be confident that we are taking the necessary steps to prioritize their health and well-being through our multi-layered safety approach," said Superintendent Tony B. Watlington. "We will continue to work with our partners and remain flexible to support the healthy, in-person learning environments that our students need."
In addition to these protocols, the District will continue utilizing additional health and safety layers from the previous year, including: air and surface purifiers in all instructional spaces; hand sanitizing stations and touchless hydration stations throughout schools; and enhanced daily cleaning and disinfecting of school buildings. The District will continue its partnership with DOCS Health and the Philadelphia Department of Health to make free COVD-19 testing available for students at five school-based testing locations.
"Keeping students safely in school is a shared responsibility, and we will continue to look at the data, issue guidance, and offer mitigation strategies that support healthy school environments for students," said Dr. Cheryl Bettigole, Health Commissioner, Philadelphia Department of Public Health.
As PDPH monitors the monkeypox situation locally, the District will actively seek guidance from PDPH and the Centers for Disease Control (CDC) to determine any additional safety measures that are needed for schools. Families will be updated as more information is available.