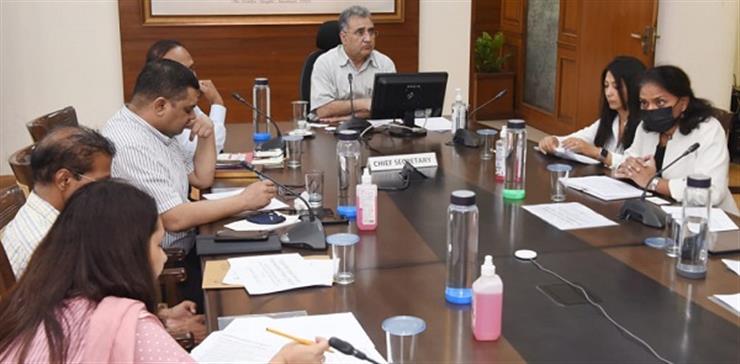 CHANDIGARH: In line with the commitment of Punjab government led by Chief Minister Mr Bhagwant Mann to provide quality basic services to people, Punjab Chief Secretary Mr. Vijay Kumar Janjua today underscored need to expedite work on Punjab Municipal Services Improvement Project (PMSIP) that is revamping water supply schemes in Amritsar and Ludhiana towns.
Chairing a meeting with a delegation of the World Bank to conclude the second joint implementation support mission for the Punjab Municipal Services Improvement Project (PMSIP), the Chief Secretary said that The PMSIP is a 300 million dollar project jointly funded by The World Bank, Asian Infrastructure Investment Bank and GoP. He said that this ambitious project aims to improve drinking water supply for the towns of Amritsar and Ludhiana by building new surface water treatment plants and other bulk water supply infrastructure to improve the quantity and quality of water supply in these cities. He further said that the project will also undertake urban e-governance initiatives such as asset management and capital investment planning and help set up 100% ULB owned and dedicated water utilities for the two cities that will be accountable to citizens for improved water supply.
The Chief Secretary said that five year Project was started in October 2021 and a team of World Bank had visited Amritsar and Ludhiana this week to review the project progress and implementation.He emphasised Punjab Government's commitment to ensure successful implementation of PMSIP as with this Project, Amritsar and Ludhiana will be able to get clean and reliable water supply for the next three decades.
During the meeting, the Chief Secretary was apprised on the progress made so far. In Amritsar, the $90 million design build and operate contract for the water treatment plant is underway and will be completed in mid-2024. Similarly, in Ludhiana, the proposal for floating the bid for Ludhiana is in final stage of approval and will be launched soon. The project team agreed on the next steps for GIS mapping, Financial Management, Property Tax administration, GRM and citizen outreach. It was also agreed that the Project will utilize the committed $10 mn to strengthen emergency response and relief centers in all 13 MCs of Punjab by rehabilitation of existing emergency response structures with improved facilities such as testing centers, storage, removable partitions for common hall and equipment.
The Principal Secretary, Department of Local Government, Principal Secretary, Department of Water Resources and CEO, PMIDC were also present in the meeting.