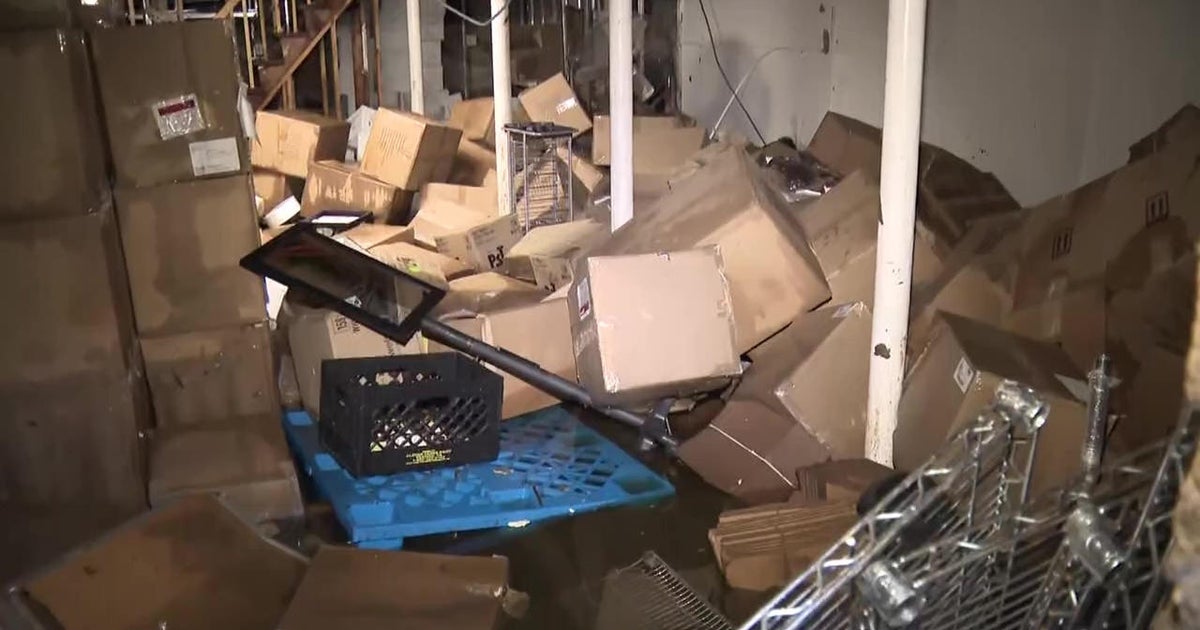 NEW YORK — The heavy rain overnight brought with it some intense flash flooding. The city felt it just about everywhere.
CBS2's Kevin Rincon has more from hard-hit Rego Park, Queens.
It didn't take much rain to cause financial strain.
"All my goods are like wet. The whole store is messed up," said Karim Budhwani, owner of BBS Supplies.
Budhwani said keeps most of his beauty supply inventory underground, and on Tuesday morning water poured in.
"I would assume it's probably more than $50,000," he said of the damage.
He's now left cleaning up a mess he didn't bargain for.
"My basement is flooded. My store got pretty much damaged again as what happened like last year," Budhwani said.
Twelve months ago, the flood waters from the remnants of Hurricane Ida ripped through the same part of Queens. Budhwani's concern is this becoming a new normal.
"This is not a flood zone, but now it's getting worse," Budhwani said.
Just blocks away, Rincon found more cleanup.
"The whole building got flooded, so I gotta clean the whole thing from front to back now," a maintenance worker named Brad said.
And it's not just rain water to contend with.
"Well, our basement is flooded and we got a big mess. It's sewage water," Rego Park resident Bill Yu.
Throughout the neighborhood, you can smell that rather unpleasant odor.
"There's some issue going through the sewage lines. I don't know if the city is keeping up with it," Ellen Yu added.
The flooding wasn't just in Rego Park. In other parts of Queens, cars got stuck along an underpass on Cooper Avenue and in Flushing the waters left roads unpassable.
Earlier this month, after the one-year anniversary of Ida, Mayor Eric Adams said the city would do more in the way of flood prevention, but many in Queens say those investments need to made faster.
Kevin Rincon