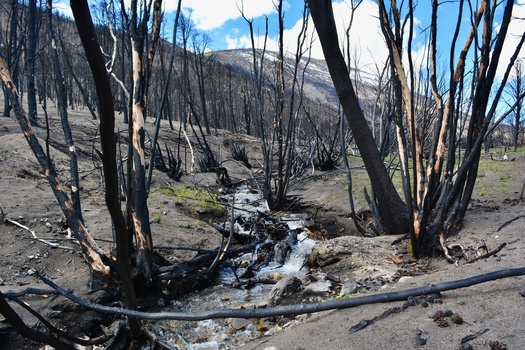 Wildfires in Wyoming and across the West are creating bigger impacts on snowpack supplying farms, energy production and drinking water for millions of downstream users, according to a new study.
Steven Fassnacht, professor of snow hydrology at Colorado State University and the report's co-author, said the 2020 Mullen Fire in southern Wyoming and Cameron Peak Fire in Colorado were both very large fires destroying forests in places which have historically not seen fires spark or spread.
"They were burning at this high elevation where the snowpack is deep," Fassnacht observed. "They burned up there not because of a lack of snow; they burned because of a lack of rain in the summer."
Researchers found snow in wildfire-burned locations is now melting roughly three weeks earlier than normal, and Fassnacht explained as climate change expands fire zones into more snow areas, water managers and others may need to make adjustments. Increasing storage capacity can help capture melting snowpack, and managers can also re-time water releases from reservoirs to be in sync with time-sensitive users including farms.
Instead of less-than-precise tools such as snow courses and SNOWTEL stations to estimate annual water supplies, Fassnacht urged managers to tap technologies including LIDAR, which works like radar using light instead of radio waves to measure snowpack, and new modeling, which can better calculate actual water volumes.
"We need to use multiple tools from our toolbox to better manage the water," Fassnacht emphasized. "One is the storage, and two is the information of how much is there, and how much is actually coming into the system?"
After the Cameron Peak fire, the city of Fort Collins was forced to cut off water coming down the mountain because it was filled with ash and soot. Wildfires also can increase landslides in watersheds, which Fassnacht pointed out can harm fish habitat and water quality for downstream users.
"Especially municipalities, especially for residential water use downstream of any of these fires," Fassnacht asserted. "The ash is very difficult to treat in water treatment plants."
get more stories like this via email
A new film is documenting efforts to prevent invasive carp species from entering the Great Lakes.
"Against the Current 2: Keeping Invasive Carp Out of the Great Lakes" is a sequel to 2020's "Against the Current," which detailed work on the Brandon Road Lock and Dam project near Chicago.
Marc Smith, policy director for the National Wildlife Federation, said although the effort has been centered on Illinois and Lake Michigan, it has wide-reaching implications. He cautioned any of the Great Lakes could be vulnerable to invasive species of any kind, not just carp.
Smith described how carp could affect waterways such as Lake Erie.
"Carp would eat a lot of the forage food that a lot of the prey fish rely upon," Smith explained. "In some instances, perch can be impacted and that not only means for the fishery. But, the fishery has multiple impacts on the economy of Lake Erie and the quality of life."
Smith noted lawmakers in Congress have been coming together across the political divide to support the project. Congress will be funding 80% of the work at the Brandon Road Lock and Dam, while the state of Illinois is backing the project as well. He is grateful to see people taking the issue seriously and realizing how invasive species could pose a detriment to the numerous industries of the Great Lakes.
While the Brandon Road Lock and Dam project is a short-term project, it will have long-term effects on keeping invasive carp at bay. Prior to the Brandon Road project, Smith acknowledged some projects were contentious.
"A lot of the solutions and proposals to keep carp out of the Great Lakes were met with serious challenges," Smith recounted. "Not only just financial, but how much it would cost to, essentially, fill in and block the transfer of water so that you would stop carp from getting into Lake Michigan through the Chicago Sanitary and Wastewater Canal."
Given how many states border the Great Lakes, Smith knows invasive carp could pose a serious risk to the environments of the surrounding states as well as neighboring Canada. As technologies for keeping invasive species out of the Great Lakes have developed through time, Smith emphasized education must continue, so people understand why the Great Lakes are the wrong ecosystem for invasive carp.
Disclosure: National Wildlife Federation contributes to our fund for reporting on Climate Change/Air Quality, Endangered Species & Wildlife, Energy Policy, Water. If you would like to help support news in the public interest, click here.
get more stories like this via email
Pollution is a major problem for wastewater facilities in Idaho.
The Idaho Conservation League's fifth annual report on discharges from sewage treatment plants finds three-quarters violated Clean Water Act standards between 2019 and 2021.
However, those violations aren't equally distributed: just 10 facilities were responsible for more than half of them.
Will Tiedemann, conservation associate for the Idaho Conservation League, said the facilities are in rural towns, which have the fewest resources.
"There's less money, there's less support and funds to be able to adequately maintain and equip these treatment plants to do the work they need to do," Tiedemann explained. "That can be a big challenge."
Pollutants such as ammonia and E. coli were the most common. Tiedemann pointed out the violations pose a potential threat to human and wildlife health. Despite the large number of infractions, the report mentioned there were 28 cities and towns with no violations, and seven improved over the three-year period.
Tiedemann noted Idaho has received funds from coronavirus aid passed by Congress, which could help towns facing issues with their wastewater treatment plants. However, some rural communities could be pushed to the bottom of the list because of their small population size.
Tiedemann emphasized members of small communities could also have greater influence on their leaders.
"Maybe the converse point of being a small town is that every citizen's voice matters just that much more when they are these smaller towns," Tiedemann remarked. "Speaking to your local officials – speaking to your mayors, any kind of city boards, county commissioners, things like that – maybe can have a bigger effect."
He added the report comes at an interesting time, as Idaho takes over Clean Water Act enforcement from the U.S. Environmental Protection Agency. He stressed the public has an opportunity to help the state develop what compliance with the act will look like.
Disclosure: The Idaho Conservation League contributes to our fund for reporting on Energy Policy, Environment, Public Lands/Wilderness, and Water. If you would like to help support news in the public interest, click here.
get more stories like this via email
As climate change brings longer and more severe drought to the American Southwest, a community-led coalition is celebrating new protections for more than 520 miles of 25 Colorado streams.
Duncan Rose, conservation co-chair for Dolores River Anglers, said if pristine Colorado streams are polluted or degraded, the results would be disastrous for native trout species which need clean water to survive, and also for entire communities and industries.
"Obviously, everybody suffers," Rose asserted. "Whether it's from drinking, whether it's from agricultural, whether it's recreational use. But also all of the web of life that's associated with the stream, of which trout are simply a canary in the mine, so to speak."
The Colorado Water Quality Control Commission recently finalized the state's designation of the streams in southwestern Colorado as Outstanding Waters under the Clean Water Act. The designation protects existing high-quality waters from future degradation including pollution from development, mining, oil and gas, and other uses.
Rose noted the move is also a win for local businesses because it reinforces the need for water managers to protect resources critical for the outdoor recreation industry, the region's fastest-growing economic driver.
"Whether it's hunting or biking or trail running, backpacking, camping," Rose outlined. "It's imperative that we keep this quality foremost in the minds of the people who manage this."
The protected streams largely run through public lands, and Rose pointed out the designation does not prohibit multiple uses, such as mining. But he added any operator triggering damage to a stream's water quality would now be obligated to keep those waters clean.
"If mining were to occur, there would have to be best-practice engineering protection designs put in place that would prevent any degradation to the water quality of that stream," Rose explained.
Support for this reporting was provided by The Pew Charitable Trusts.
get more stories like this via email