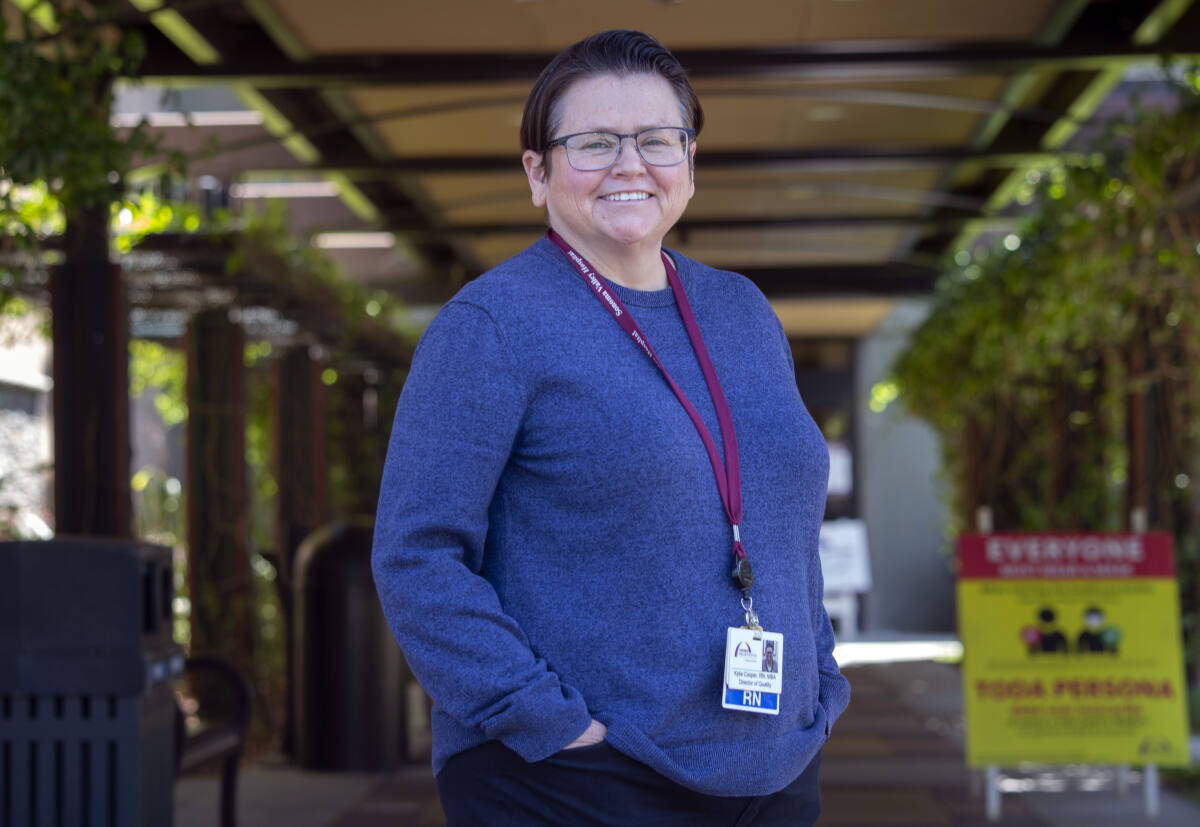 COVID-19 hospitalizations have receded in Sonoma County after a sudden surge that saw a 78% increase in just four days, but health officials urge residents to remain vigilant.
Hospitalizations rose from none on April 8, to 40 on July 1, to 57 on July 11, but dropped to 38 on July 15, with none at Sonoma Valley Hospital (SVH).
Still, partly due to the highly transmissible BA.5 variant and other subvariants, Sonoma County and the U.S. have generally experienced a steady increase in hospitalizations during the past few weeks.
The positivity rate, which refers to the percentage of COVID tests that come back positive, rose from 10.6% on May 23 to 16.3% on July 4, but fell to 15.8% on July 18 in Sonoma County.
The case rate, which is the number of new COVID cases that turn up each day per every 1,000 people, has increased in the county from 30 on July 4 to 34 on July 18 (48 unvaccinated and 29 vaccinated) and likely would be much higher if increasingly more people weren't using home tests, which are not reported by the county.
Both the positivity and case rates in Sonoma County are generally lower than in other Bay Area counties, possibly due in part to those counties' higher population density.
"At Sonoma Valley Hospital, we have not seen an increase or a spike in positive cases in the past two weeks," said RN Kylie Cooper, director of quality and risk for SVH. "But with the summer holidays and the increase of social activities, less masking may lead to an increase in positive cases."
The SVH staff continues to follow guidelines recommended by the Centers for Disease Control and Prevention for patient care during the pandemic, including masking and wearing appropriate personal protective equipment.
Cooper says that the current variant, BA.5, is more easily transmitted than other variants and that complying with safety measures is important.
"We encourage everyone to wear their mask to reduce the spread," she said.
Cheryl Johnson, CEO at Sonoma Valley Health Center, says that to avoid becoming infected, people need to also keep their distance from others and try to meet people outdoors.
"I also believe it is in people's best interest to realize that they do not know the COVID status of those around them and to act accordingly," she said. "I know people are feeling safer because they are fully vaccinated, but some people who are fully vaccinated are getting COVID because of the subvariants."
Johnson says that people who are infected by the virus should stay away from others.
"If they live with other people, stay away from them and try not to share a bathroom," she said. "If this isn't possible, disinfect the bathroom after use."
Cooper provides advice for those who may be infected.
"If your are symptomatic, we encourage self-monitoring and if symptoms worsen, consult with your physician or go to the nearest emergency care department.
"It's summer; let's enjoy it without spreading COVID."
Reach the reporter, Dan Johnson, at [email protected].