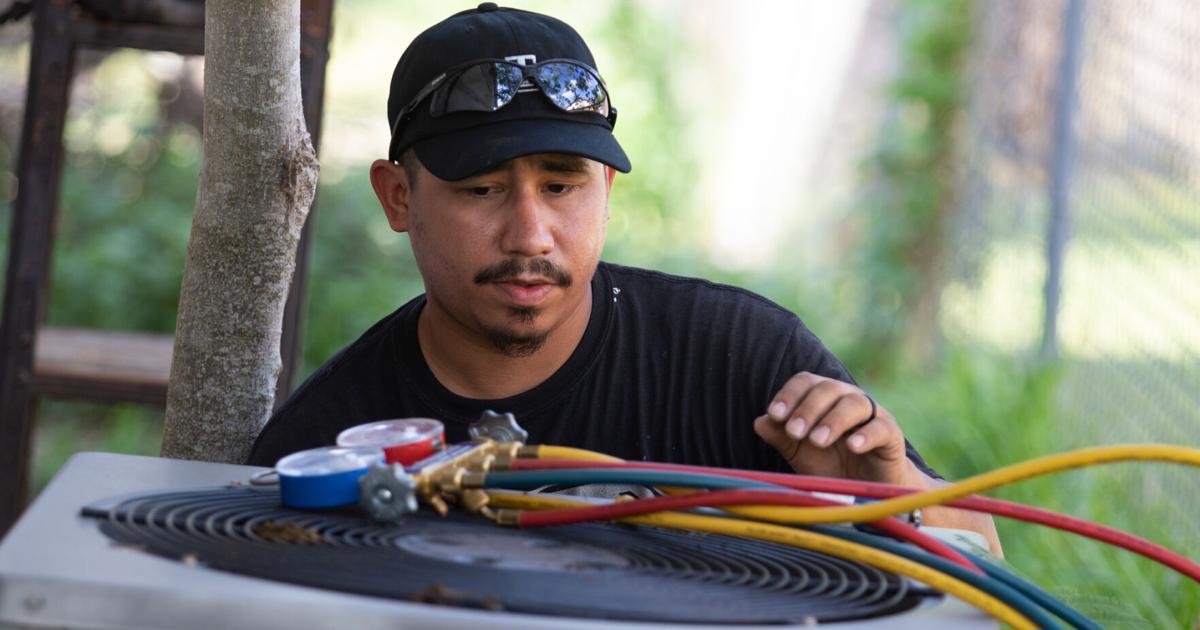 While most are hiding from the South Texas summer, there's one part of the workforce that spends their days crawling through sweltering 140-degree attics.
"It can be 140 degrees in the attics we work in. The conditions we work in are real hard. You really have to get creative to find someone," said Frank Reyes, owner of South Texas Ventilation, 307 E. Rio Grande St. in Victoria, adding, "This year has been the hardest year in the 16 years that we've been open. Summer is the busiest time of year. June, July and August is the season."
Speaking from his office where he was surrounded by posters of Al Pacino's Tony Montana in "Scarface," Reyes said that it was getting harder to find people who wanted to work.
Ramiro Baladez, lead installer with South Texas Ventilation, uses a power saw to cut a panel Friday at a house in Victoria.

Duy Vu | [email protected]
"Nobody wants to work," Reyes said. "It can be 140 degrees in the attics we work in. The conditions we work in are real hard. You really have to get creative to find someone."
Reyes said for customers, it's important for people to maintain their air conditioning units. It is important to keep air conditioning units clean, so they operate efficiently and have the freon levels checked. It is important to check air conditioning filters, as a dirty filter causes the unit to use more electricity. A dirty air filter restricts air flow, making it harder for the unit to operate.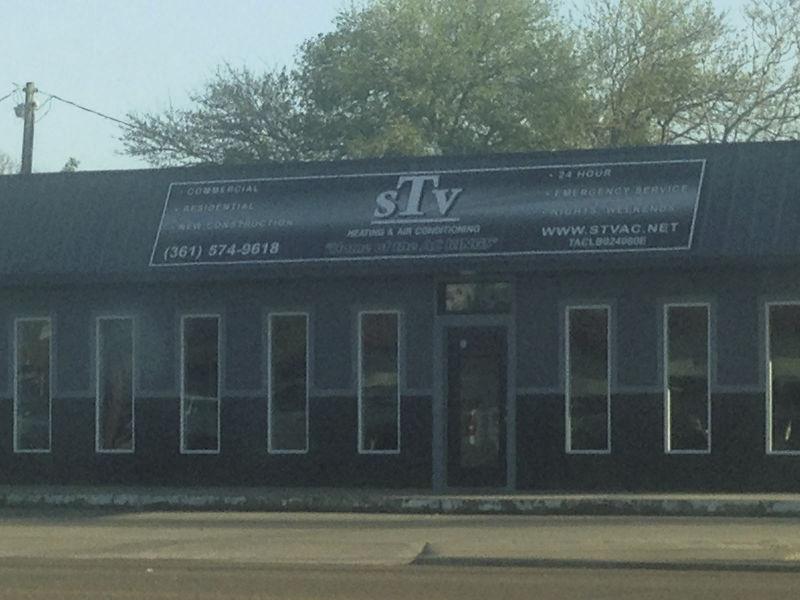 Best Heating and Air Condition: South Texas Ventilation

Contributed Photo

This time of year, Reyes said his crews perform between 25 and 35 service calls a day. He said they typically install one or two units a day, with three installation crews working year-round. South Texas Ventilation is a member of the Builders Association of Victoria.
"I love what I do," Reyes said. "We sell indoor comfort."
Reyes said people should have their air conditioning units inspected at least yearly, because unless they are inspected, the warranty on the unit could be voided. He said people must clean units' drains, check electrical components, make sure that cold air can easily pass through and check the filters monthly.
The HVAC contractors work on any residential or commercial heating and air conditioning issue. A veteran-owned business, Reyes said the company carries Goodman/Amana products and said that sometimes existing systems are beyond repair, requiring the installation of a new unit or units. Because indoor air quality can be worse than outdoor, due to allergens, mold spores or bacteria being recycled by existing air conditioning systems, the company has multiple cleaning methods designed to remove allergens or bacteria.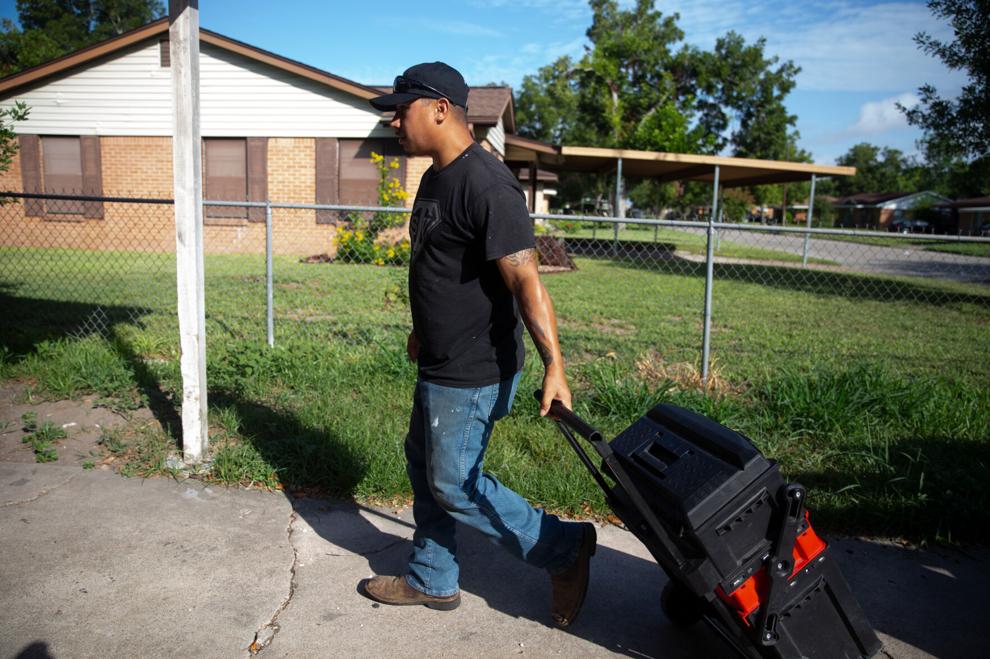 Lead Flores, lead installer with South Texas Ventilation, carries in tools Friday to replace an air conditioning unit at a house in Victoria.

Duy Vu | [email protected]
According to the Energy Information Administration, air conditioning accounts for about 12% of the average energy bill in the United States. Southern states such as Texas typically use more air conditioning in the summer than those who live in the Northeast. The EIA estimates that yearly air conditioning costs range from $60 in cooler climates to as much as $525 in hot and humid areas. The national average is $265 each year. According to June figures from the EIA, Texans paid about $137 on their monthly bill.
Reyes said he has been in the air conditioning business for 33 years, but lately it has become harder to find people who want to work. He said that many don't pass the drug test, and unlike earlier decades, a labor force wasn't lined up looking for work.
Other problems include the current gas prices and the difficulty in getting items such a motherboard for some units from overseas. He said he currently has nothing in his warehouse and is pulling some units in from other states. While some parts for air conditioning repair are universal, many parts are specific to units from original equipment manufacturers. In winter, Reyes said there were less problems with heaters, because they run so little, there was less breakage.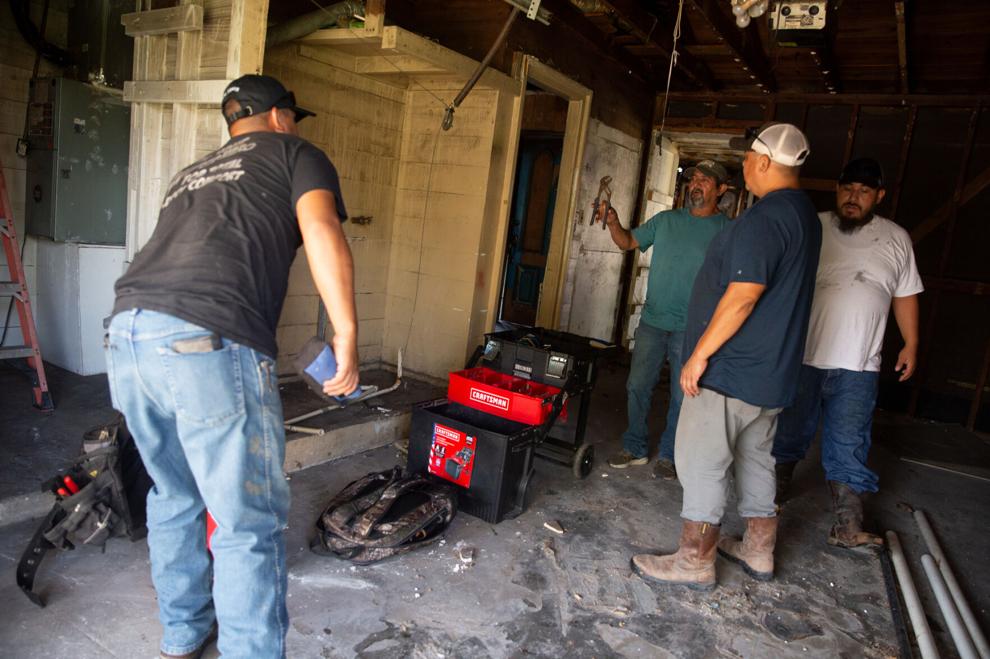 The team from South Texas Ventilation gathers for a quick talk before beginning work on replacing the air conditioning at a burnt down house on Friday in Victoria.

Duy Vu | [email protected]
A long-time journalist, George likes 60s musclecars and firearms.