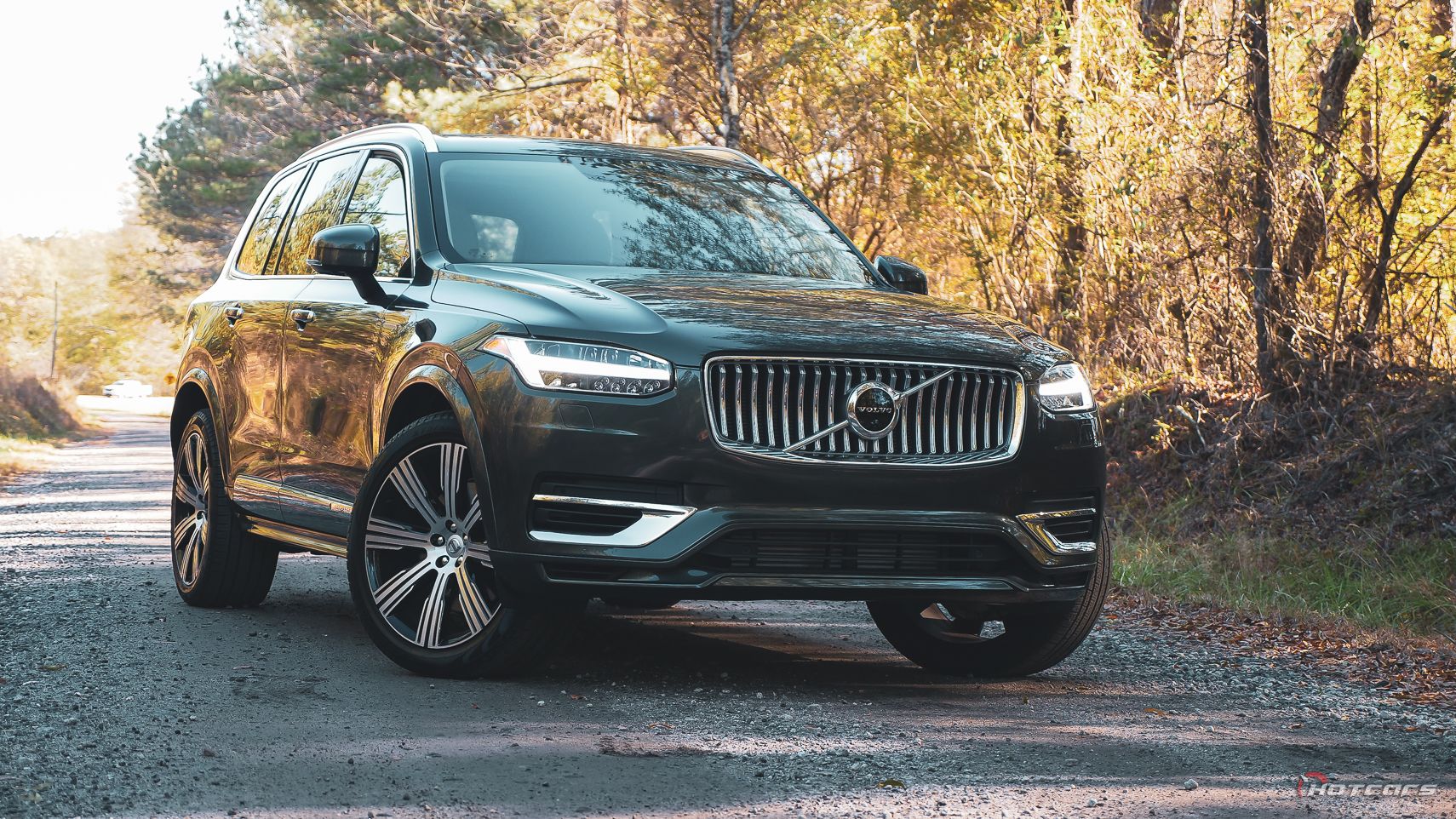 Smoking or non-smoking? AM or FM? Manual or Automatic? Those were the choices people had to contend with just a few decades back. Now if you want a vehicle you have to ask: sedan, truck, SUV? Sub-compact, compact, cross over, full-size? Now, powertrains are just as confusing. Gas, Hybrid, Plug-In Hybrid (PHEV), EV?
Volvo is here to help with the 2022 Volvo XC90 Recharge T8 Inscription Extended Range. It has an absurdly long name but despite that, looks to bridge that gap between pure electric and traditional gas. Like other PHEVs, the XC90 Recharge offers electric range and then a hybrid engine to pick up where the battery leaves off.
The second-generation XC90 has a number of reasons as to why it's a great buy. That said, it's getting a little long in the tooth as competitors have more visually exciting offerings. Does this variation have a place for those needing three-rows and some guilt-free miles? We spent some time in the plush Swedish seats to find out.
Key Features
21″ Wheels
38 Miles Of Pure EV
2.0 Liter Turbo-Charged In-Line Four-Cylinder Engine
Three-Rows Of Seats
455 hp And 523 lb-ft Torque
Specifications
Model: XC90
Engine/Motor: 2.0-Liter In-Line 4-Cylinder
Horsepower: 455 HP
Torque: 523 LB-FT
Transmission: 8-Speed Automatic
Range: 38 Miles
Battery: 14.9-kWh
MSRP: $72,100
Pros
Very Comfortable
Amazing Audio System
Refined And Smooth Ride
38 Miles Of Pure EV
Cons
Cramped 3rd-Row Seating
Small Vertical Screen
Aging 2nd Generation Design
The Minimalist Exterior On The Volvo XC90 Is Old But Still Appeals To Enthusiasts
Via: Bradley Hasemeyer
The exterior for the 2022 Volvo XC90 Recharge is relatively unchanged since the award-winning model of 2016 turned our heads. The 2022 (and 2023, for that matter) do seem a little stuck in their styling. No one has ever accused Volvo of being too playful–they have historically made safe, boxy, serious vehicles–but after more than seven years, we wished they were shaping some new metal now instead of having to wait for the 2024 Volvo EX90!
Via: Bradley Hasemeyer
That said, we still think there is a place for the minimalist, clean, and purpose-driven shape of the 2022 Volvo XC90. Ours arrived in a beautiful Pine Grey Metallic–somewhere between green and grey. The Inscription trim brought elements like chrome bars in the front grill as well as window trim, and unique 20″ wheels. Moving around the XC90 we noticed the chrome grill with vertical slats, the "Thor's Hammer" (what a name?!) headlights, then on around to the slight flares at the wheel arches. The sides feature wide, long pieces of sheet metal all leading around to the characteristic wide hips accentuated by the tall vertical taillights. Despite being seven years old, it's still a handsome SUV.
RELATED: 10 Reasons The Volvo V90 Cross Country Is The Perfect Winter Wagon
The Performance Of The XC90 Belies Its Swedish Stoic Style
If we know German cars for engineering, we know Swedish style for ease and minimalism. Volvo has managed to make this 5,000 lb three-row safety box on wheels feel quick, light, and surprisingly fun to drive. It's no Volvo C30 R-Design, but they have waved a magic Swedish wand to create a 455 hp family hauler. The 2.0-liter inline four-cylinder brings 312 horses to the table and the electric motor zaps 143 extra ponies into the mix and boom, 455. It's the best of both worlds–efficient small engine, but loads of torque from the electric motor off the line.
Via: Bradley Hasemeyer
Speaking of the electric motor, the initial Recharge launched with a head-scratching 18 miles of EV range. Volvo clearly noticed that was an issue so halfway through the year they offered the "Extended Range" which doubled it to 36 miles of electric-only power when in "Pure" driving mode. When in Sport, it decreased quite a bit. Not only did that mean we were able to run errands, get our production shots done, and meet up with friends for pizza without having to use a drop of gas the day it arrived, but when we arrived back to the office, we plugged it in and the battery charged up in 4 hours (costing us about $6). Even after the battery is dead–on a roadtrip or if you ended up driving around more than expected between charges, Volvo claims the small 2.0-liter will return 27 mpg combined. Not too shabby.
Via: Bradley Hasemeyer
We loved how quick and nimble the 2022 Volvo XC90 Recharge drove. Part of that dynamic was thanks to the $1800 optional Air Suspension With CCD package. This, of course, helps balance the car loaded with people, luggage and a Christmas tree as it rounds a corner to offset the natural tendency to lean. It's also helpful when loading large items in the trunk as there is a button in the rear which allow you to manually raise or lower the rear. Just in case you can't quite get that 4th bag of mulch up into the back. Yeah, you are loading bags of mulch into your $84,000 luxury SUV in this world. All-in-all this three-row Swedish cruise-liner was surprisingly planted, quick out of corners, and butter smooth on long family trips.
Via: Bradley Hasemeyer
RELATED: Here Are 10 Things You Need To Know About The Upcoming Volvo EX90
Step Inside The Cozy, Comfortable, Cramped (In The Third Row) XC90
Via: Bradley Hasemeyer
Opening the large driver's door, the 2022 Volvo XC 90 Recharge greeted us with natural elements like leather, wood, and aluminum. The Nappa Leather (heated/ventilated) perforated seats, leather steering wheel and dash with contrast stitching, wood deco inlays, and even the crystal shifter, all gave the interior a calm vibe like a well-paid Manhattan therapist office. It felt relaxing and almost trustworthy. That sounds strange, but we loved sitting in the quiet of the cabin.
Via: Bradley Hasemeyer
The aforementioned crystal shifter is an interesting piece of decoration all on its own. Volvo tapped a 100-year-old glass company called Oreffors (you can see the name in the shifter) to create this single piece which would refract natural the natural light streaming into the car. In Sweden, light is very important because they experience short winter days with lots of dark. The car maker found this a simple nod to the homeland while also being a subtle centerpiece for the driving experience. Other brands have been using crystal/glass in their shifters recently like the Genesis GV60 and the BMW iX M60 but those seem gimmicky and gaudy. We thought this was nice.
Via: Bradley Hasemeyer
The luxury shines in the 2023 Volvo XC 90 but the technology lags behind. The driver gets a 12.3″ digital display but not as customizable as some competitors. When you start the car, however, it shows a graphic as the Volvo runs through a checklist of all the safety systems and lets you know with a small reassuring check next to each of the names. The 9″ vertical touchscreen on the center console was a bit of a letdown as well. It uses Volvo's Sensus Connect platform, which was fine. But when using Apple CarPlay, we had to plug in our phone (no wireless), and it only displayed horizontally using about half of the vertical screen. That meant our $84,000 luxury SUV offered as much screen space to our maps and music as a Mazda CX-5. Once we got over all that, the $3,200 upgraded Bowers & Wilkins audio blew us away. The "Concert" setup, especially, brought a whole new level of listening to our ears.
Via: Bradley Hasemeyer
The 2022 Volvo XC90 interior was good for our ears and our eyes. The panoramic roof was giant, and we loved how that aided in the airy cabin feel. Both passenger in the second row enjoyed their own climate options bringing the total temperature variations to four in the XC90. Additionally, everyone enjoyed cleaner air thanks to the air purification feature included in the $1650 Advanced package (which also added a head-up display and 360-degree camera). Like many other 3-row SUV options, the Volvo, skimps on comfort for those sad souls in the rear. Certainly, no adult would be happy, but even taller kids may annoy their parents until they finally extract them from the tight fit. Instead, they are great for folding flat and making more room for luggage.
Via: Bradley Hasemeyer
RELATED: A Detailed Look Back At The Legendary Volvo 850 T-5R Station Wagon
The 2022 Volvo XC90 Recharges Our Excitement In The Future of EV
Via: Bradley Hasemeyer
Volvo as a brand is like the best roommate you've ever had: clean, nice, and pays the bills on time. They continue to hold to their luxurious Swedish roots of minimal design with form and function transitioning seamlessly. The 2022 Volvo XC90 Recharge makes good on this and more. It brings some impressive driving dynamics (for a large SUV) to the table and of course, offers nearly 40 miles of pure electric range.
With all of their 2023 models being only hybrid or electric (and Google equipped), clearly they are aiming to be purely electric by 2030. The transition to electric will take time and be confusing to a lot of people. Remember when people were like, "How does this Prius work?" Something like a plug-in hybrid makes sense as a gateway to the next gen of fully electric vehicles. So it's o.k. if the EV component is only part of the story… that is for another few years as Volvo has committed to being fully electric by 2030.