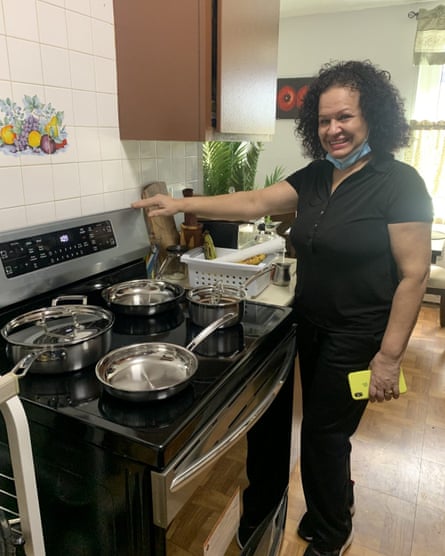 What happens when you replace a gas stove, recently linked to one-eighth of all US asthma cases, with an induction stove? A program in New York offered tenants the chance to do just that and found striking differences in the levels of harmful indoor chemicals after the switch.
The pilot program took place in a 96-unit public housing building outfitted with gas stoves in the Bronx. Twenty low-income households participated, and at the beginning of the study half were given induction stoves, which use electricity to heat the cookware directly and don't emit pollutants.
Researchers performed a controlled cooking test and found that the baseline level of nitrogen oxide (NO2) – which forms in the air from burning fossil fuels – in homes with gas stoves was 18 parts per billion (ppb).
It rose to an average of 197ppb during cooking. That is almost twice the Environmental Protection Agency's (EPA) threshold for outdoor exposure deemed unhealthy for sensitive groups, such as people with respiratory illnesses, seniors and young children. Long-term exposure to NO2 can exacerbate asthma, lung disease and increase the risk of respiratory and cardiovascular illnesses.
(The EPA does not have standards for indoor air pollution, even though Americans on average spend 90% of their time indoors.)
In the homes with induction stoves, by comparison, the background NO2 level of 11ppb saw a negligible change to 14ppb during cooking.
Bronx resident Maria Leger with an induction stove. Photograph: We Act for Environmental Justice
On average, households with gas stoves were exposed to nitrogen dioxide (NO2) concentrations 190% higher than those with induction stoves when cooking a meal. Over 10 months of air quality monitoring, households with induction stoves experienced a 35% drop in daily NO2 concentrations in their apartments.
"One of our participants who has asthma said that when she would turn on the gas stove she would always start coughing," said Annie Carforo, a climate justice campaigns coordinator at We Act for Environmental Justice, a New York City advocacy group that spearheaded the pilot with Columbia University and Berkeley Air Monitoring Group. "And she noticed that now with the induction stove, that doesn't happen. Her assumption is that it was the gas that was leading to that reaction and she does feel a sense of relief knowing when she turns her induction stove on she's not breathing in air pollutants that are exacerbating her asthma."
In the focus group conducted by Columbia University researchers, all participants said that one of their greatest fears around gas stoves was their homes catching fire due to a gas leak, a stove malfunction, or the gas not being turned off properly. Participants overwhelmingly preferred cooking with induction stoves and at the end of the study no one asked to return to gas. The entire building is scheduled to be fully electrified by the New York City housing authority, which also partnered in the pilot program.
"Intervention studies such as this one are important to determine the benefits of electrification, especially for people living in lower-income housing who are most at risk," said Rob Jackson, a professor of earth system science at Stanford University, who was not involved in the New York program.
A recent study he co-authored revealed that gas stoves are constantly emitting methane, even when turned off. "I'm not surprised to see higher NO2 measured in homes cooking over gas stoves compared with induction stoves. I'm also not surprised to see NO2 concentrations rise quickly above safe thresholds. Gas stoves pollute more than electric stoves, especially compared to newer induction technologies."
Households buying a new induction stove can apply for credits and rebates available in the Inflation Reduction Act, but these incentives leave out low-income renters, who often do not have a choice over their appliances. A similar gas stove replacement study is in the works in multifamily housing units in Buffalo, New York, with data collection anticipated to begin this year.
"We should always be using the cleanest energy we have access to," said Darby Jack, an associate professor of environmental health at Columbia University and one of the authors of the report about the program. "For a long time, induction electric was really expensive and the cost of induction stoves has come way down."