Many university students are now allowed to leave Shanghai for their hometowns — but the journey isn't easy.
It's a tedious process that starts with applying for permits to leave their dormitories, securing a train seat, and having a negative nucleic acid test result 48 hours before boarding. And that's just half the hassle.
Some students from several provinces have complained of poor sanitation in quarantine facilities, costly fees for the 14-day stay, and an unwelcoming attitude in their hometowns. Some cities have waived such fees, with Chengdu in the southwestern Sichuan province exempting them Monday.
Sixth Tone spoke with two students — both using pseudonyms for privacy — who shared their arduous journey to Chengdu. The interviews have been edited for brevity and clarity.
Luo Rui, 18
Freshman at Shanghai Ocean University
We were locked inside the campus from late February and confined to our dorms from mid-March.
For over 50 days, we would do two antigen self-tests and a nucleic acid test every day. As a volunteer, I would get up at 6:15 a.m. every day to distribute antigen test kits to students.
I was desperate to return home. We didn't eat very well.
On Sunday, we set off from campus on school buses early in the morning. About over 1,000 students left that morning. We were excited and took photos nonstop after being confined for over 70 days.
I arrived at Hongqiao Railway Station about two hours before the train's departure at 10:36 a.m.
An interior view of the Hongqiao Railway Station, May 2022. Courtesy of Luo Rui
When the train started moving, several people around me cried. I nearly cried when my mother kept calling me to check on the train status.
The carriage was almost full, and the majority of passengers were university students. Many either chatted with others, watched dramas on their phone, or slept. But it was quieter than normal train rides that would otherwise have children and businessmen making phone calls.
I wore an N95 mask and a blue surgical mask beneath throughout the trip. About 70% of the students around me also wore hazmat suits with glass face shields. I also kept a 1-meter distance while lining up for the toilet on the train.
During the entire journey, I kept disinfecting my hands with alcohol wipes as soon as I came across another passenger, touched a surface, or used the toilet. I used two packets with about 30 wipes each.
For lunch and dinner, I ate a boxed meal and rice noodles that were sold on the train. It tasted better than meals at school. I finished eating within 10 minutes without using my phone, and quickly put on my masks. I was also carrying some snacks distributed by our school.
I hoped the train could go faster and send me home soon. I made a date with my high school friends to go out soon after the 14-day quarantine.
We arrived at Chengdu East Railway Station late at night and waited until about 2 a.m. to check into the quarantine hotel. The hotel asked us to pay 6,000 yuan ($900) for a 14-day quarantine, which was unreasonable, as centralized quarantine is required to last for only seven days. We refused to pay without having an official document from the government.
From left to right, students arrive and wait at a railway station in Chengdu, and then wait to be transferred outside, Sichuan province, May 2022. Courtesy of Qu Lei (pseudonym)
I had mixed feelings while negotiating with the hotel employees for more than 30 minutes: anxiety, uneasiness, aggrievement, and desperation. We thought we would ultimately settle down after arriving home, but weren't expecting a debate over quarantine fees.
I went to bed at about 3:30 a.m. after taking a shower and woke up at 6:15 a.m. despite feeling tired. Perhaps because my body was used to it.
Now the 295 yuan accommodation fee has been exempted. We just need to pay 100 yuan per day for meals for seven days.
During the past three months of lockdown, I could not focus on studying in the dorm, eating what I wanted, or living a carefree life. The lesson is that I could manage better if I were in lockdown again.
Wen Sen, 19
Freshman at Shanghai Jian Qiao University
As soon as we were notified of the policy for returning home in mid-May, I immediately applied to book a ticket. The situation here changes quickly.
I was locked inside the campus as soon as I returned from the winter holidays on February 17. I have lost 20 kilograms since being confined to our dorms since early April, as meals were allocated and we had fewer choices.
Going home was a torturous journey, though I feel more secure now.
After the flights I booked were canceled three times, I bought a high-speed railway ticket to Chengdu.
We set off at 2 a.m. on Sunday from campus on buses provided by the school. It cost us 50 yuan each. I stayed up the whole night so I wouldn't miss any announcements.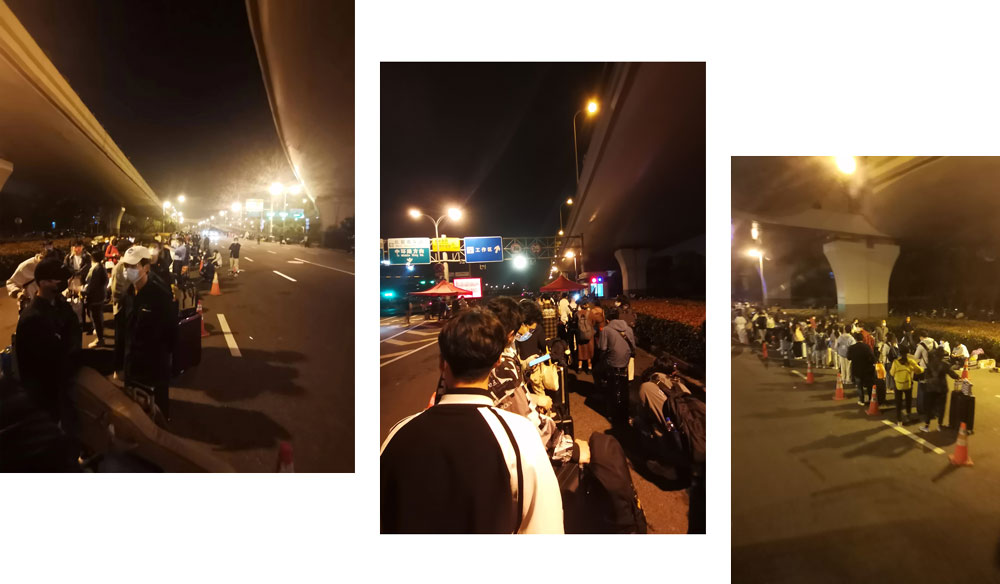 Students line up to enter Hongqiao Railway Station, May 2022. Courtesy of Chen Xin (pseudonym)
It was about 4 a.m. by the time we got to Hongqiao Railway Station. We then joined a line to enter the station — it took us an hour and a half to get inside.
The station was particularly crowded and there were no empty seats. I think that about 80% of passengers were students that day.
After five hours of waiting, and 12 and a half hours on the train, we arrived at Chengdu East Railway Station. We waited another four hours there before we were transferred to the quarantine hotel, by which point it was 3 a.m.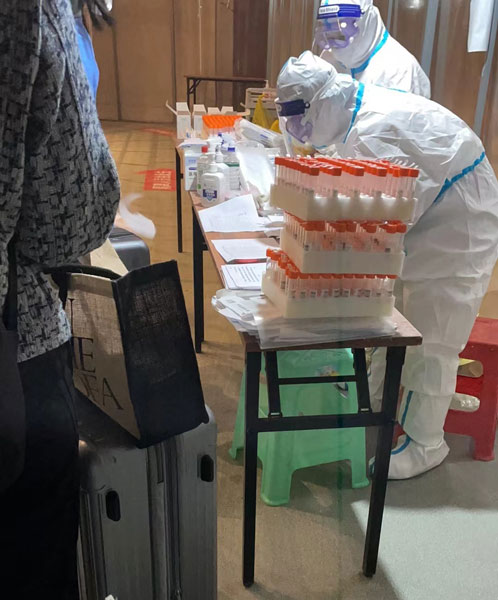 Students check in at a quarantine hotel in Chengdu, Sichuan province, May 2022. Courtesy of Zheng Lingling (pseudonym)
I went to bed at about 4:30 a.m. on Monday and had to wake up at 8 a.m. I had classes all day that day. I was very sleepy and couldn't focus. My body ached and felt like I had gone rock climbing.
It's a pity that I have been in lockdown the entire semester. I hoped to walk around Shanghai and visit nearby areas. But I just turned to my phone, edited videos, raised flowers, and painted on campus instead.
When preparing for the college entrance exams at high school, we were always told about how life on campus is unique. But we're living a college life as if we are still in high school, or even worse. There's little freedom and our experiences are so limited.
Editor: Bibek Bhandari.
(Header image: Passengers line up at the Hongqiao Railway Station, Shanghai, May 17, 2022. Yin Liqin/CNS/IC; Map from Ministry of Natural Resources; Route based on information from 12306 China Railway, edited by Ding Yining/Sixth Tone)