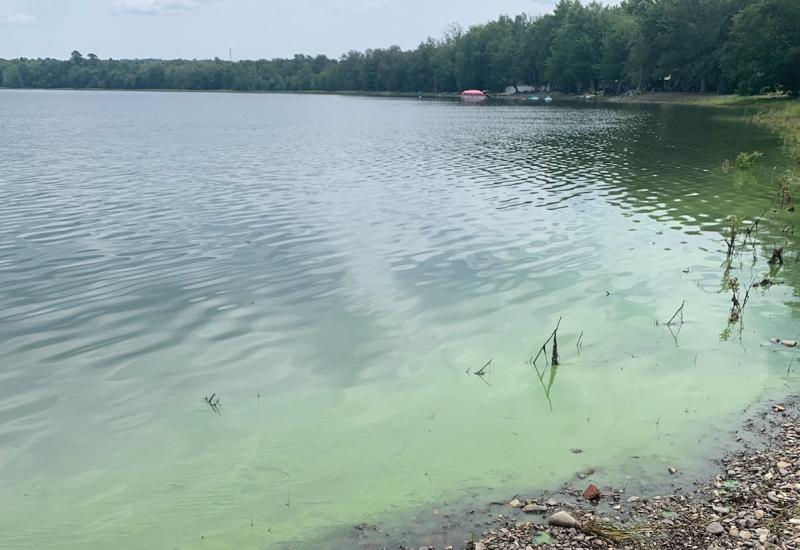 On Thursday, October 27, from 6:30 to 8 p.m., Friends of Lake Winnecook and the Waldo County Soil & Water Conservation District will host a public meeting to update Unity Pond watershed residents living in Troy, Unity, Burnham, and Thorndike, lake users, and all interested parties about current efforts to restore water quality in Unity Pond.
The lake association and its partners are in the process of completing a two-year study to update the Unity Pond Watershed-Based Management Plan. The last watershed plan was completed in 2007 and expired in 2017.
Meeting attendees will hear from project scientists including Jennifer Jespersen of Ecological Instincts and Dr. Ken Wagner of Water Resource Services to learn about the current state of water quality and management strategies for improving the water quality of Unity Pond over the next 10 years.
The meeting will be held in person at the Community Center in Unity (32 School Street), and online via Zoom webinar. The meeting will include a Q&A session to allow the public time to ask questions about the plan.
Public feedback is needed to help inform the plan and to successfully carry out restoration efforts. Interested stakeholders are encouraged to pre-register to attend the meeting by contacting FOLW [email protected], or visit the FOLW website or Facebook page for a direct link to register for the online webinar and to preview a draft of the 10-year action plan. 
Unity Pond is a 2,569-acre lake with a 30-square mile watershed located in the towns of Unity, Troy, Burnham, and Thorndike.
Unity Pond's outlet, Sandy Stream, flows into Twenty-five Mile Stream, which flows into the Sebasticook River in Burnham and then into the Kennebec River in Winslow.
Unity Pond is on Maine DEP's 303d list of impaired waters due to changes in water quality over time and specifically because of persistent, nuisance summer-time algal blooms that occur near annually.
Water quality data collected in Unity Pond since 1977 indicates a decrease in water clarity starting in the middle to late 1980s that persisted into the 1990s before leveling off.  
In 2021, FOLW led a watershed survey which identified 109 sites where pollution (primarily soil erosion) is entering the pond. The updated WBMP is the next step in the process to allow local conservation partners to access state and federal grants to improve water quality. In addition to FOLW, the project steering committee and technical advisory committees include representatives from the Waldo County Soil & Water Conservation District, USDA/Natural Resource Conservation Services, the towns of Unity and Burnham, Center for Wildlife Studies, Maine DEP, Ecological Instincts, and Water Resource Services. Funding for this project, in part, was provided by the U.S. Environmental Protection Agency (EPA) under Section 604(b) of the Clean Water Act. The funding is administered by the Maine DEP in partnership with EPA.  
The public's participation will help experts protect this valuable resource through the sharing of knowledge and by helping to shape the plan. For more information, or to register for the public meeting contact FOLW by email at [email protected], or register for the online webinar on the FOLW website (lakewinnecook.org) or FOLW Facebook page.