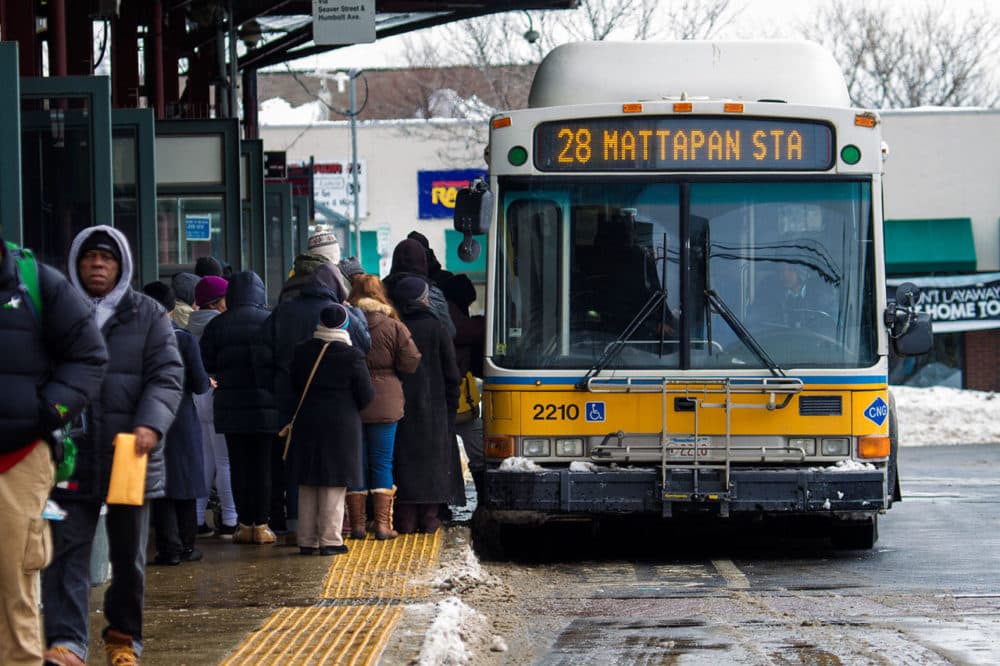 It came down to the wire and required suspending some parliamentary rules, but the Massachusetts Legislature got a robust climate bill to Gov. Charlie Baker on Thursday night.
The bill represents a compromise between the House's offshore wind-focused legislation and the Senate's wider reaching clean energy and climate bill.
Baker now has 10 days — or until July 31 — to sign or veto the bill. July 31 is also the final day of the legislative session, meaning if there's a veto, lawmakers might only have a few hours to override it.
Putting that drama aside for a moment, there's a lot in this bill. And if it's passed, it will have a big impact on climate and clean energy policy in the state. So here, in plain English, is what you should know about it:
Clean energy
Invests in offshore wind industry
Given that the original House bill was all about offshore wind, there's also a lot in this new compromise bill about growing the industry — specifically, growing it in a way that maximizes economic and environmental benefits in the state.
The bill says that when the state is selecting projects, it must give more weight to project bids that promise manufacturing investments, employment opportunities for low income and minority workers, supply contracts with minority and women-owned small businesses, job training opportunities, project labor agreements and other environmental and socioeconomic benefits.
If this bill becomes law, the solicitation process for offshore wind will also change. Currently, the big utilities like Eversource and National Grid help choose the winning bid, which many have criticized as a conflict of interest. The bill puts the job of selecting projects solely in the hands of the Department of Energy Resources and an independent evaluator.
Another controversial measure that made it into the final bill: removing the price cap for new projects. Under current law, every new offshore wind project must deliver cheaper electricity than previous projects. The House wanted to scrap this rule altogether, but under the compromise legislation, it remains in place unless a solicitation has three or more bidders.
And finally, to help invest in the sustainable future of the offshore wind industry, the bill puts the Massachusetts Clean Energy Center in charge of making sure the state has the necessary infrastructure and training programs, establishes large tax breaks for companies helping to build a domestic supply chain, creates a new state-funded offshore wind training program for high schoolers, and sets up commissions to help mitigate impacts on fisheries and wildlife.
Solar panels on the rooftops of passive house buildings at the Hillside Center. (Robin Lubbock/WBUR)
Updates to solar
The bill takes aim at several solar "loopholes" in the current state law. Right now, only one solar installation per property can qualify for net metering. The bill would not only scrap that rule, but allow homeowners to be compensated for up to 25 kilowatts of solar power instead of just 10.
The bill would also make it easier for farmers and ranchers to put up solar panels in fields where they grow food or raise livestock. And it would establish a state commission to look into opportunities for expanding this practice.
Catalogs energy storage
From various batteries to pumped hydro, the bill directs the Department of Energy Resources to catalog all of the energy storage technologies available and under development in the state, and to issue recommendations about how to add more storage capacity to the grid. The department could also issue solicitations for up to 4,800 gigawatt-hours of storage, which is a lot more than the state currently has.
Invests in the electricity grid
Building renewable energy projects is one thing, but getting that power to households across the region is a whole other issue. New England's transmission system — the high voltage wires that carry electricity long distances — is not ready for the energy transition legislators are banking on. So the bill does a few things to address this.
It establishes a Clean Energy Transmission Working Group to study the best ways to work with other New England states to build new transmission capacity or upgrade existing lines. And it establishes a Grid Modernization Advisory Council, which will help ensure utilities make proactive and cost-effective transmission upgrades.
The bill also authorizes the Department of Energy Resources to start soliciting bids from companies that want to build an offshore transmission system to help bring power from offshore wind projects to shore.
Declares biomass electricity isn't renewable
The original Senate bill had language saying that biomass cannot be considered renewable energy in Massachusetts and that biomass facilities cannot qualify for any clean energy subsidies. Full stop.
The compromise bill only excludes biomass from something called the RPS, or the Renewable Energy Portfolio Standard. This is the program that gives clean energy credits to power generators. Biomass can still get credits under the Alternative Portfolio Standard, which is a different program that gives subsidies for facilities that generate "clean" heat.
It's a complicated distinction, but advocates are still calling this bill a win. And they say they'll try to get biomass removed from the APS next session.
Invests in other carbon-free energy
The bill creates a clean energy investment fund that the Massachusetts Clean Energy Center can use to help fund clean energy research, build relevant infrastructure and otherwise assist these industries in the state.
The bill also gives MassCEC the ability to help companies working on nuclear fusion, networked geothermal and deep geothermal energy technology. And, in an effort to help people in underserved communities access clean energy jobs, it aims to help MassCEC expand its workforce development programs.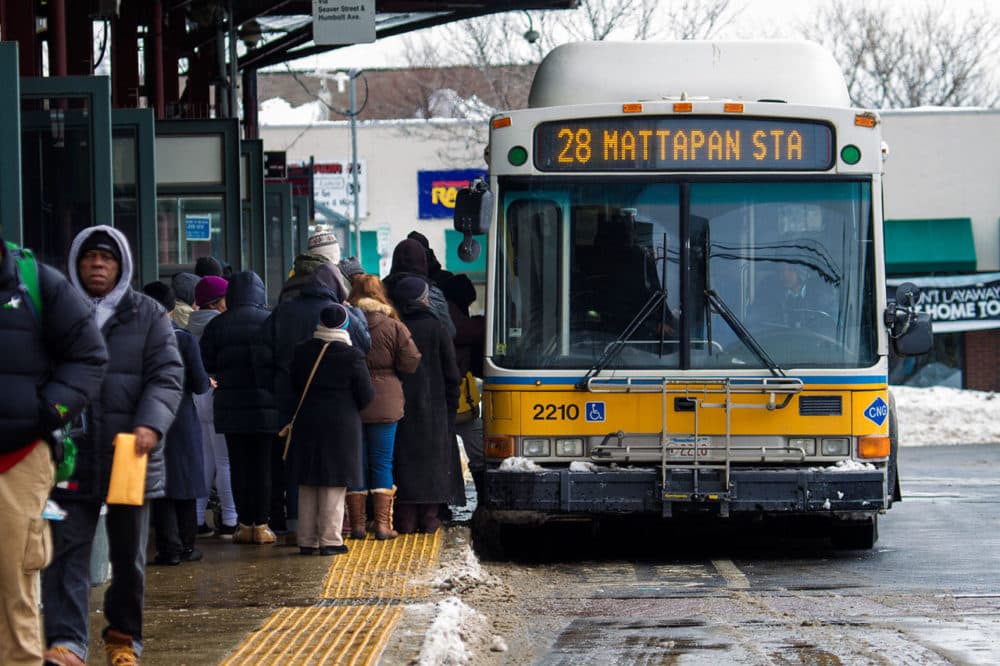 Commuters board an MBTA bus. (Jesse Costa/WBUR)
Transportation
Bans internal combustion vehicle sales
If this bill passes, Massachusetts will join the growing list of states banning the sale of new gasoline or diesel-powered vehicles. Beginning in 2035, only zero emissions vehicles could be purchased here. (This does not apply to used internal combustion engine vehicles.)
Increases EV rebates
The current state rebate for a new electric vehicle is $2,500. The new bill increases this amount to $3,500 for new and used vehicles costing $55,000 or less, and throws in an extra $1,000 for residents who trade in a gas powered car or truck. There will also be some incentives for medium and heavy duty zero-emission vehicles.
Adds more EV chargers
The bill makes it clear that in order to get more people to use electric vehicles, the state needs more charging infrastructure. To that end, it would create a single state council to oversee the deployment of charging infrastructure, with an eye toward building it out in an equitable and accessible way.
If passed, the state Department of Transportation will be required to install chargers at all Mass Pike service plazas, five commuter rail stations, five substation stations, and at least one ferry terminal. The department will also need to collect and report data about issues with charging infrastructure.
Expands access to EVs
Electric vehicles aren't cheap. Beyond the new rebates described above, the bill allows lower-income residents to get an extra $1,500 on new and used EV purchases. It also mandates that the state do more outreach about EVs in lower income neighborhoods in and places with a lot of vehicular air pollution.
The state will need to track this effort and report annually about EV adoption among low- and moderate-income households and people of color. It will also need to build a website to help people find available EVs at car dealerships.
Greens public transit
Many environmentalists have taken issue with the MBTA's ongoing purchase of diesel powered buses, but if this bill becomes law, it can only buy zero emission vehicles beginning in 2030. And by 2040, the entire fleet needs to zero emission vehicles
What's more, the MBTA needs to prioritize putting zero emission vehicles on the road in environmental justice communities, and it needs to start factoring emissions and climate resiliency into its capital planning.
Outside of the MBTA, the bill requires various state agencies to help regional transit authorities develop electrification plans, study the challenges of electrifying all school buses and oversee emissions reductions from ride hailing programs like Uber and Lyft.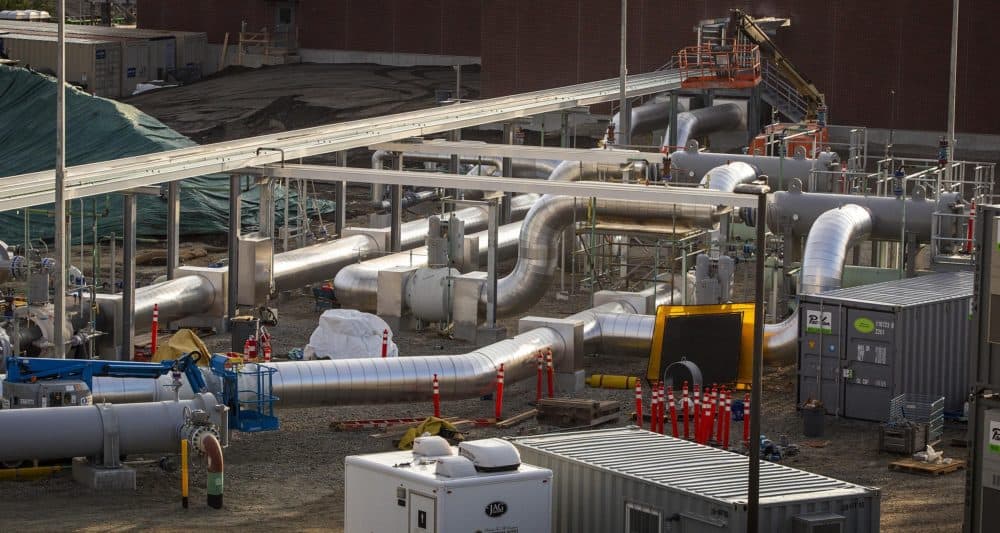 Pipes at the Weymouth gas compressor station. (Robin Lubbock/WBUR)
Fossil fuels and buildings
Lets some cities ban fossil fuels
One of the more controversial aspects of the Senate's bill was a provision giving 10 municipalities the ability to ban fossil fuel hookups in new construction. This pilot program is still in the final bill, but comes with two caveats: First, it doesn't apply to health care facilities and science labs. And second, that only cities and towns that have met the state's 10% affordable housing target can qualify. (Of the 10 municipalities that have expressed interest, the bill's authors say that Arlington, Newton and West Tisbury have not met the target.)
As the state embarks on this new pilot program, municipalities must also collect data about emission reductions, construction costs and utility bills.
Incentivizes electric appliances
Beginning in 2025, the bill would prevent Mass Save from offering incentives or rebates for fossil fuel powered heating and cooling systems, except if they are a backup to an electric heat pump. It would also require Mass Save to step up in lower income neighborhoods and publish data annually about this work.
The bill also requires utilities to establish off-peak rates for electric vehicle charging — meaning you'd be charged less for electricity you used to charge an EV when demand is low — and it directs the Department of Public Utilities to find ways it make it easier for residents and communities to install geothermal heating and cooling systems.
Targets large buildings and school
The bill requires that all buildings over 2,000 square feet report their emissions annually, and that the state look at ways to make K-12 school buildings all electric, more energy efficient and improve indoor air quality.
Addresses future of natural gas
The bill takes aim at the Department of Public Utilities' ongoing work on the future of natural gas in the state. The department has been criticized for letting the utility companies write their own plans, and this bill would give environmental groups and the public a bigger role in the planning process, while also making the whole procedure more transparent and open.
Relatedly, the bill would require that the state's program to replace aging and leaking natural gas pipelines doesn't run counter to the state's decarbonization goals.